A Texas high school has been criticized for including Kenosha shooting suspect Kyle Rittenhouse among a list of individuals for a writing project about a "hero for the modern age."
The teenager, who was charged with killing two people and injuring another during protests against the police shooting of a black man in Wisconsin in August, was named alongside civil rights campaigner Malcolm X and anti-colonial protester Mahatma Gandhi for the assignment.
Also on the list were César Chávez, the Latino American civil rights activist, George Floyd, whose death sparked a global wave of anti-racism and police brutality protests, and Joseph Rosenbaum, one of the two protesters Rittenhouse is accused of killing.
For part one of the assignment, students at the W.T. White High School in Dallas were invited to write a half-page biography of one of the six men.
Part two involved students writing a page-long essay on which of the individuals "demonstrates best your concept of a hero."
One relative of a student at the school, who gave her name only as Kristian, told CBS 11 News that she was shocked not only about the inclusion of Rittenhouse but a lack of women on the list.
Others described the assignment as "appalling and unacceptable."
A spokesperson for the Dallas Independent School District said: "An unapproved assignment posted in Google Classroom yesterday has been brought to our attention.
"Understandably, this caused some concern for the impacted students, and we apologize. Campus administration immediately removed the unapproved content and students are not required to complete that assignment.
"Due to personnel policies, we are not able to comment further, however, the appropriate steps are being followed pending investigation.
"Racial equity is a top priority in Dallas ISD, and we remain committed to providing a robust teaching environment where all students can learn.
"It is important that we continue to be culturally sensitive to our diverse populations and provide a space of respect and value."
Newsweek contacted WT White High School for further comment.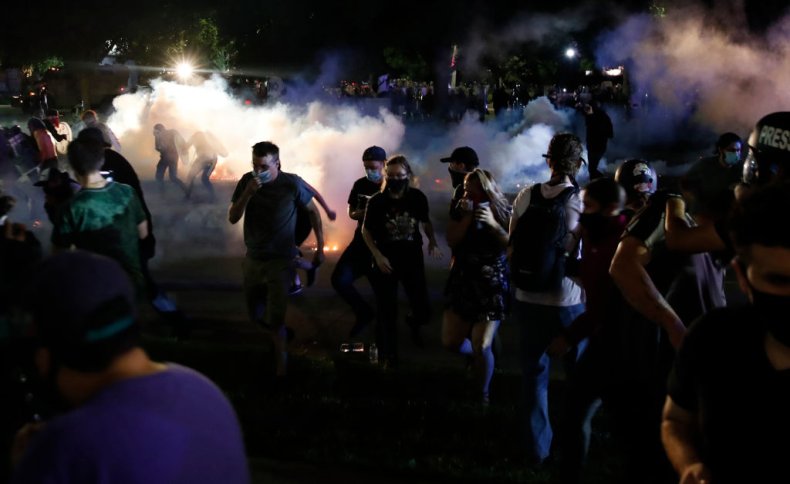 Prosecutors say 17-year-old Rittenhouse, of Antioch, Illinois shot and killed two men—36-year-old Rosenbaum, of Kenosha, and 26-year-old Anthony Huber, of Silver Lake—and injured a third.
He was arrested shortly after the incident on August 25 and taken into custody on suspicion of first-degree intentional homicide. He is awaiting extradition to Wisconsin.
The shootings came as protests erupted in Kenosha when a white police officer shot Jacob Blake, who is Black, in the back seven times as Blake walked away from officers.