Texas Senator Accused of 'Discrediting Experts' by Democrat Challenger After Doubting Kids Catch COVID-19
Senator John Cornyn (R-TX) has questioned what experts he should listen to amid the COVID-19 pandemic as coronavirus continues to blight Texas—with speculation it could be forced to return to lockdown to stem infections.
On Sunday, former Democratic presidential hopeful Pete Buttigieg tweeted: "Listening to medical experts should not be political."
To which Cornyn responded: "Which ones?"
In a subsequent post, someone recommended National Institute of Allergy and Infectious Diseases Director Dr. Anthony Fauci, to which Cornyn replied that Buttigieg had mentioned experts, "not expert."
Amid further criticism, highlighting hospitalizations and positivity rate in the state of Texas, he said: "Guess you can't answer the question."
Following Cornyn's response, Buttigieg subsequently wrote: "Once again, sincerely astonished at which positions @GOP Senators choose to double down on."
After suggesting people Cornyn could listen to, including doctors in his state and Fauci, he added: "If it was just politics, we wouldn't mind seeing you make these strange decisions about which hill to die on. But the thing about this particular hill is there are a lot of Americans on it with you, with a lot more than politics at stake."
MJ Hegar, who is hoping to become the Democratic candidate to take on Cornyn for his Senate seat in November, shared screengrabs of Cornyn's comments and wrote: "Texas is setting records for COVID-19 cases, hospitalizations, and deaths. John Cornyn is picking fights, discrediting experts — even denying that children have died from COVID-19.
"Texans need a real leader right now. Lives are at risk."
John Weaver, a strategist and co-founder of the anti-Trump group The Lincoln Project also pounced upon his comments, asking: "Truly what happened to you?"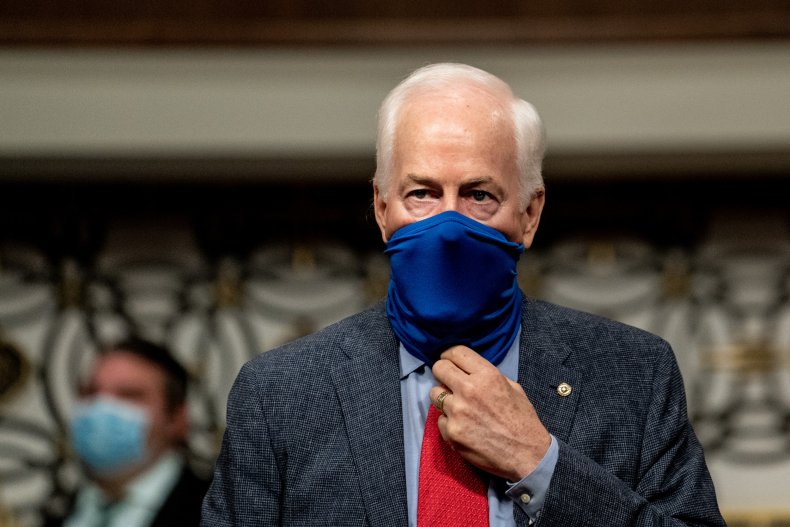 Cornyn's latest comments come after he previously expressed doubt over children being able to get coronavirus, despite hundreds of cases among people under the age of 19 in his state and the death of a Texas 17-year-old after they suffered complications due to coronavirus.
In an interview with KXAS-TV, when asked about schools reopening in fall, he said: "No one under the age of 20 has died of the coronavirus.
"We still don't know whether children can get it and transmit it to others."
Cornyn's office later said he had been referring to a tweet from former FDA commissioner Dr. Scott Gottlieb, who said data has shown children are "less likely to become infected and less likely to transmit infection."
A spokesperson for the senator suggested his remarks were being misinterpreted for political reasons.
Newsweek has contacted Cornyn for comment on his latest remarks.
Texas has experienced a spike in cases in recent days, as infections surge across several states following lockdown measures beginning to be lifted across the country.
On Friday, Texas Governor Greg Abbott suggested the state could reenter lockdown due to its rising cases.
According to the Texas Health and Human Services site, there had been 258,658 confirmed cases of COVID-19 cases in the state as of Sunday. Of those, 122,828 were estimated to be active.
The graphic below, from Statista, shows the recent surge in coronavirus cases across the United States.