Texas Woman Buys Priceless Roman Bust for $35 at Goodwill Store
For the humble sum of $34.99, a woman walked out of a Texas Goodwill store with a priceless, 2,000-year-old Roman bust that had gone missing since World War II. But her incredible discovery turned out to be tainted by a dark past.
Laura Young, of Austin, did not really know the value of what she had purchased, or the history of the sculpture when she spotted it in her local Goodwill in 2018. Young, an antique dealer, told The Art Newspaper that she found the bust beneath a table of the Far West Goodwill in Austin, dirty and in poor condition.
She bought it and brought it home, where doing a little research online she discovered that the sculpture was more valuable than she had imagined, Texas Public Radio reports. Young got in touch with an auction house in London which told her the bust was likely Roman and had certainly been looted during World War II.
"At $35 I wasn't asking questions, it was an old marble sculpture. By the time I got him home I thought he might be very old," Young responded to someone on Instagram asking her if she had any idea of the treasure she was getting her hands on.
The bust—all marble and weighing about 50 pounds—was identified by one of the auction houses Young contacted in a catalog of items from a German museum—Pompejanum, in the city of Aschaffenburg—in the 1920s and 1930s, where the bust was listed as a portrait of Drusus Germanicus, a Roman general.
The bust had been owned by King Ludwig I of Bavaria and was hosted in the Pompejanum museum, an 1840s replica of a villa in Pompeii, the city which was famously destroyed by the eruption of Mount Vesuvius in 79 CE.
The museum was bombed and heavily damaged during a battle between the Nazis and Allied troops almost a hundred years later. The bust was then either looted by an American solider or purchased by an American soldier after the sculpture had been looted by someone else, Texas Public Radio writes.
The bust then likely traveled with the American soldier back to the U.S. and sat in someone's house for years, before somehow ending up in a Goodwill store—not the usual place where you'd expect to find a 2,000-year-old Roman bust.
Knowing that the bust had been looted was not good news for Young. She was not able to keep it or to sell it. For the following four years, she tried to get rid of the looted treasure.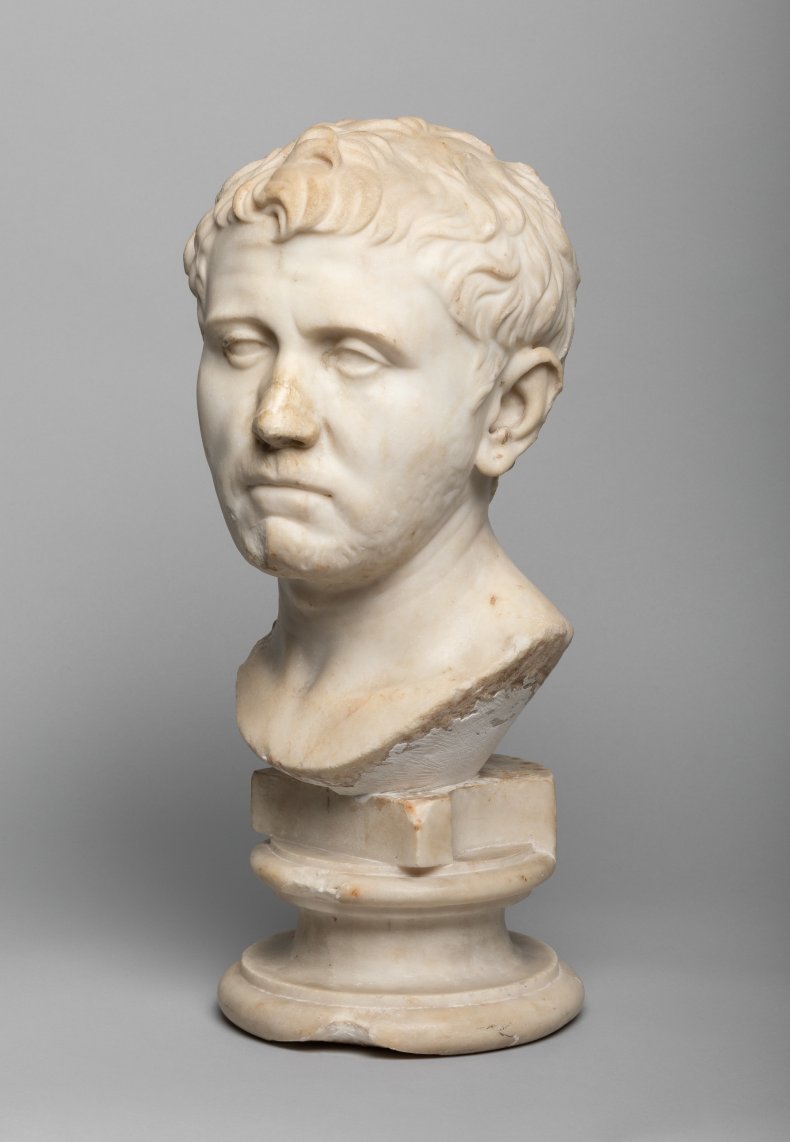 Young then hired an international art lawyer and tried to get the Germans to take back the bust, according to Texas Public Radio. She managed to succeed, although the terms of the deal are confidential.
The bust of the Roman general does not sit in Young's living room anymore, and will be exhibited at San Antonio Museum of Art for a year before being shipped to Germany.
But before letting go, Young made sure to keep some sort of memory of the bust: she now has a half size copy of the sculpture in 3D printing among her collection.