'Knock Knock! Who's There?' Texas Woman Finds 8ft Alligator on Door Step
A woman in Clear Lake, Texas, received a scaly surprise when she opened her front door on Wednesday morning only to find an eight-foot-long alligator, curled up on her doorstep.
"When I first saw her, I thought my kids were pulling a prank until she moved and breathed," Alexis Harmon told Newsweek of her reptilian encounter.
Harmon called the police, who arrived at the scene. "They sent three cars within 5 minutes," she said.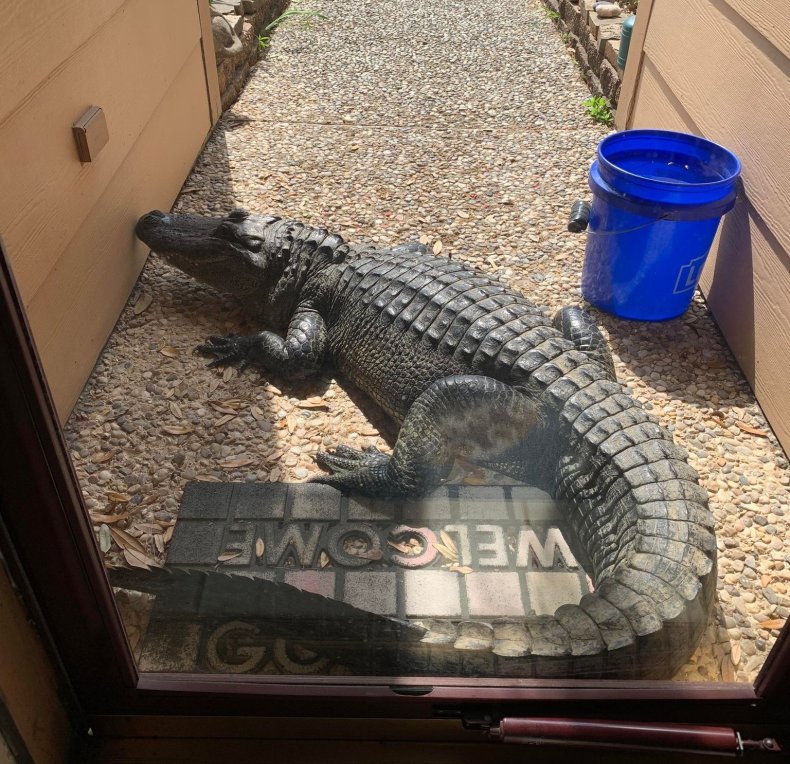 "Knock knock! Who's there?" said the Harris County Precinct 9 Constable's Office in a Facebook post. "Yesterday, Sergeant McCulloch was dispatched to the 15000 block of Seahorse Dr in the Oakbrook West subdivision after the homeowner discovered an alligator at their front door."
Alligator wrangler Tim DeRamus was also called to the scene.
"The deal is, is you're going to see an alligator at this time of year," DeRamus told KHOU 11.
According to the Texas Parks and Wildlife Department, March through to May is the peak time for alligator breeding and nesting, when they tend to be more active and are more likely to encounter humans.
DeRamus said that, at this time of year, he catches around 100 gators.
"Alligators are not uncommon in my direct area, but they normally are sighted in the bayous ... not on a front porch," Harmon said.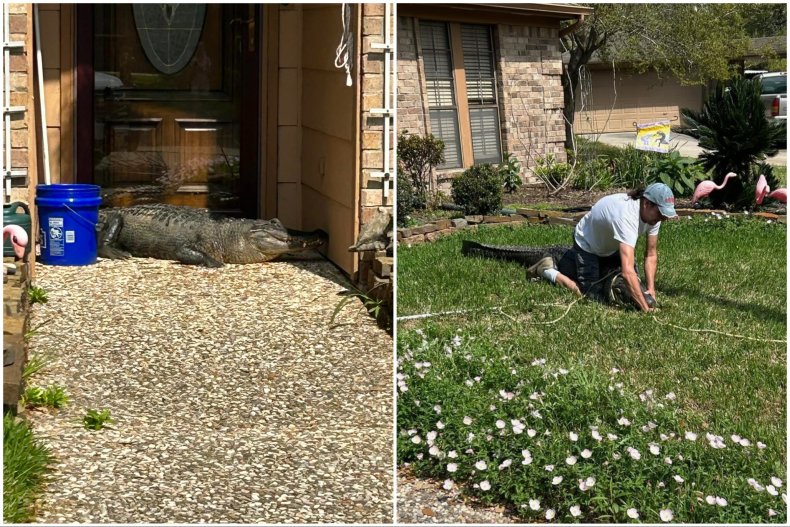 American alligators are found along the east coast of the U.S., from as far north as North Carolina to as far west as the Texas Gulf Coast, according to the U.S. Geological Survey.
They are mostly found in marshes, swamps and rivers but occasionally find their way into residential areas. Golf courses are a particular favorite and alligators are often filmed strutting across greens.
The average size for an American alligator is somewhere between 8 to 11 feet, but they have been known to grow to over 14 feet long and weigh in at more than 780 pounds.
"The main thing about these animals is they're not attacking animals. They're not going to just run out and attack you," DeRamus said.
However, if you ever see an alligator, he said that you should keep your distance and call for help. While alligator bites are rare, they are still very dangerous and, on February 20, an 85-year-old woman was killed by a 10-foot gator while walking her dog at a retirement community in Fort Pierce.
After wrangling the alligator that paid Alexis Harmon a visit, DeRamus relocated it to an alligator sanctuary.
"Clear Lake's getting wilder all the time," said one Facebook user in respond to the police department's post.
"He was just trying to have a conversation with them about our lord and savior Jesus Christ," said another.
Update 03/12/2023 02:55 a.m. ET: This article was updated to include an interview and photos from Alexis Harmon.