Texas Women Are Now Going Online for Abortion Pills Info After State's New Ban, Says Nonprofit
Women in Texas are now looking into online information about abortion pills after the state has banned the procedure on September 1, says a nonprofit organization.
Established by abortion-rights supporters, Plan C launched a guide on its website that pregnant women can use to read about abortion pills and care providers. The organization is made up of a small team of public health advocates, researchers and activists, among others.
More women in Texas flooded the Plan C website days after SB8 was implemented, the organization's co-founder, Elisa Wells, told Newsweek.
"Our web traffic went from an average of about 500 hits a day to more than 25K/day in the days following implementation of SB8. People are looking for the type of information we provide about where to find abortion pills, with about a third of our overall traffic coming from Texas," she said.
The new Texas abortion law, which is also known as SB8, bans women from having the procedure as early as six weeks into their pregnancies. The law doesn't provide an exception for rape or incest and paves the way for legal action against anyone who helps a woman end her pregnancy.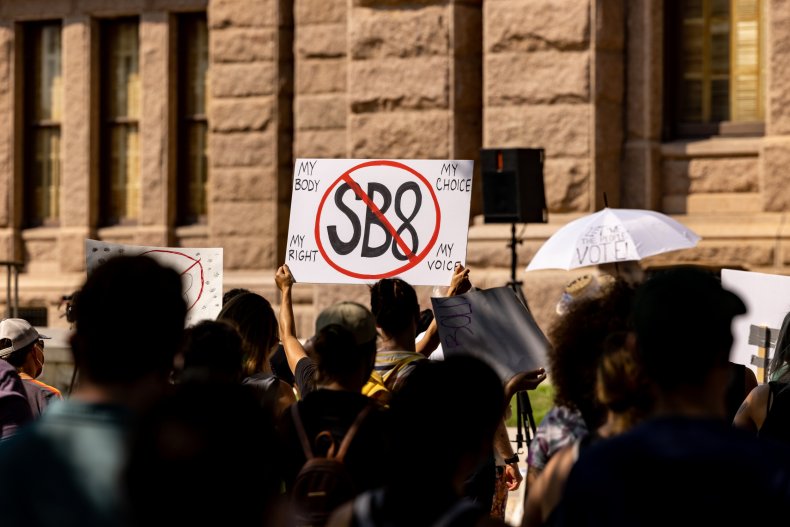 Wells said that they're not worried about falling into legal disputes since the team only provides information.
"We believe that providing this information is free speech, which is protected under the Constitution," she said.
According to its website, Plan C only offers information and doesn't sell abortion pills, offer medical or legal advice, or connect people with sources of pills.
Wells also added that she hasn't heard of any online abortion pill providers avoiding Texas.
"People are outraged about what is going on in Texas and doing everything possible to try to help those who need abortions get the care they need," she said.
The Plan C co-founder also noted that even with the SB8 severe restrictions implemented, women can still access abortion pills beyond the state of Texas through international doctor-supported telemedicine services and online pharmacies. For instance, Aid Access provides abortion pills that are prescribed by a doctor and shipped from a pharmacy in India.
Wells also added that some people have been crossing borders to get access to abortion pills.
"We've heard of many people crossing the Mexico border to purchase misoprostol pills at a pharmacy. [This] is a medication used to safely and effectively self-manage an abortion," she said.
Some anti-abortion supporters are concerned about pregnant women who are going online to look into abortion options and criticized out-of-state physicians offering help.
According to Texas Right to Life, the new law doesn't apply to out-of-state physicians but the group is hoping that the Senate Bill 4 would be enacted soon. The bill reportedly prohibits mailing abortion pills and therefore stopping pill providers from out of Texas, according to Elizabeth Graham, vice president of Texas Right to Life, KHOU reported.
"This is a very careless effort by physicians in another state who are offering people long distance chemical abortions," she said, according to the outlet.
Wells also pointed out: "Mail forwarding is another creative way people are accessing pills. People use mail forwarding services to rent an address in a state that allows telehealth abortion. The person then does a telehealth consultation in the state that allows it and has the pills shipped to the rented address. Once they arrive, they are forwarded to the person's home address in a different state."
The Texas law has stirred controversy nationwide with some officials taking steps to fight it back. On Thursday, U.S. Attorney General Merrick Garland announced a lawsuit against the state, describing the abortion law as "clearly unconstitutional." He said that the lawsuit was filed in federal court in Texas in an effort to invalidate the ban and "to protect the rights that Texas has violated."
On September 3, New York Democratic Representative Alexandria Ocasio-Cortez criticized the Supreme Court's decision to uphold the Texas law, saying that women who need to terminate their pregnancies can purchase abortion pills online.
"Christian extremists are passing forced birth laws to intimidate & cut off abortion services - including for victims of rape, incest, & child abuse," Ocasio-Cortez tweeted at the time.
Newsweek contacted Texas Right to Life for comments, but didn't hear back by the time of publishing.
Updated 9/17/21, 1:47 PM ET, to include comments from Plan C co-founder Elisa Wells.