Thailand Bomb Blasts at Tourist Hot Spots Kill Four
A series of bomb blasts across five of Thailand's southern provinces targeted popular tourist destinations on Thursday and Friday, leaving four people dead and many more injured, after the country voted to approve a military-backed constitution.
Two explosions first hit the seaside resort of Hua Hin on Thursday night, before another blast struck on Friday morning. The town is located some 200 kilometers south of Bangkok. The first blast killed one Thai woman and injured 20 people, 10 of them foreigners, police said.
Authorities confirmed that other blasts had targeted the southern cities of Phuket, Trang and Surat Thani. Two bombs exploded in the town of Patong in Phuket and two more in Phang Nga, another tourist region just north of Phuket. A total of 11 bomb blasts struck the country over the last 24 hours.
The blasts were not linked to Islamic extremism but acts of local sabotage, Royal Thai Police official Col. Krisana Patanacharoen said on Friday.
"It's too soon to jump to any conclusion," he said. "But what we know for sure is that the incidents are not linked directly to any kinds of terrorism, in fact it's local sabotage and we are trying to identify those responsible behind the scenes.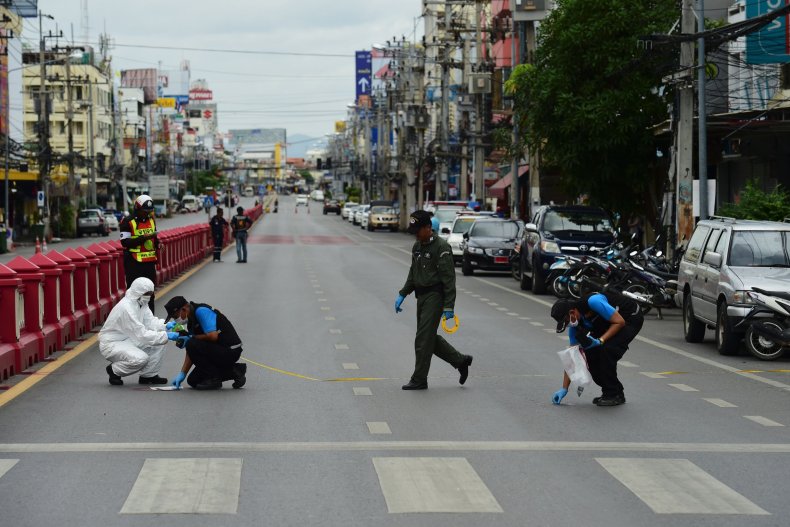 "There are no conflicts in the country that may lead to terrorists being in the country. That's why we can say that these incidents are not terrorist attacks," he continued.
No group has yet claimed responsibility for the attack and authorities have not accused any particular group, but the explosions occurred in the same week that Thai voters approved a new constitution.
The three southern provinces of Hua Hin, Phuket and Phang Nga all rejected the military-backed referendum, and the Muslim-majority southeastern provinces of Thailand have faced an insurgency that has left more than 6,500 people dead since 2004.
The blasts came on the birthday of Thailand's Queen Sirikit, a public holiday in the country. Hua Hin hosts the Klai Kangwon royal palace, or "Far From Worries Palace," where the country's monarchy have often stayed. King Bhumibol Adulayadej is the world's longest-serving monarch.