Thanksgiving Celebrations Could Double U.S. COVID-19 Death Rate to 4,000 a Day, Professor Predicts
Dr. Jonathan Reiner, a professor of medicine at George Washington University, has predicted that the daily death rate connected to new COVID-19 infections will double in the next 10 days, bringing the national rate to over 4,000 deaths a day.
"It takes about five to seven days to become symptomatic," Reiner told CNN on Wednesday. "Usually, it takes about another week to be sick enough to be hospitalized so that's two weeks at least, and then it takes usually another week for folks to succumb to the illness."
Over the last month, the number of daily COVID-19 deaths has trended upwards. On November 25, 2,313 deaths were reported, the highest daily toll in five months and the second-highest daily toll in six months.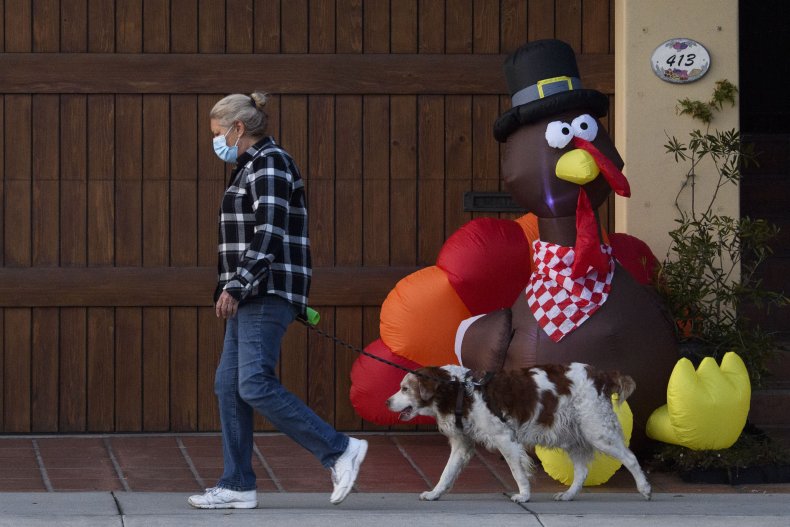 Throughout autumn, Dr. Anthony Fauci, White House coronavirus task force member and director of the National Institute of Allergy and Infectious Diseases, has warned Americans that traveling and gathering with family and large groups could worsen the ongoing COVID-19 pandemic.
"I don't want to be the grinch that stole Thanksgiving," Fauci told GHB News on Thursday, "but what we are learning, sadly now, is that a lot of the new infections are occurring [in homes]."
He said that many asymptomatic people may falsely assume that they're not infected and unknowingly spread the virus when they remove their masks to eat, drink, and talk excitedly when they're happy. "hat's how infections get spread," he said.
While state and local leaders have issued lockdown restrictions against large gatherings in people's homes, some sheriffs have said that they won't enforce such orders. Other people are defying the orders because they consider them a restriction on their personal freedoms.
On Wednesday, the U.S. Centers for Disease Control and Prevention said that it expects the total number of deaths in the nation to increase to 294,000 to 321,000 coronavirus deaths by December 19.
As of November 26, the national COVID-19 death total is around 263,000. To reach the CDC's estimates, anywhere from 1,015 to 2,251 people would have to die each day.
A separate CDC report issued this week estimated that the U.S. is undercounting COVID-19 cases, missing around eight coronavirus cases for every single new one detected.
On Wednesday, a survey of national data and a tally conducted by the news site STAT found that hospitals in at least 25 states are facing staff shortages amid increasing COVID-19 case counts.
Newsweek contacted the CDC for comment.