Thanksgiving Travel Warnings Are Being Ignored the Most in These 10 States—They Were All Won By Trump
People living in states which voted for Donald Trump in the election are on average more likely to dismiss COVD-19 guidelines and celebrate Thanksgiving with people from outside their households, according to a survey.
A poll conducted by data and survey firm Dynata at the request of The New York Times found that Louisiana and Oklahoma are the top two states where people said they intend on mixing households over the holiday period with 35 percent stating they will, with South Carolina third on 34 percent.
The results found that the entire top 10 states in which people are more likely to eat thanksgiving dinner with those outside their own household all voted for Trump. Alabama, Tennessee, and Indiana are fourth, fifth and sixth respectively, followed by Iowa, Missouri, North Carolina and Kansas.
Red states are also found to be more likely to ignore guidelines outside the top 10, with West Virginia, Arkansas, North Dakota and Mississippi taking the 11 to 14 spots.
The highest placed state in the list of people planning on eating Thanksgiving dinner with those outside their household which voted for Joe Biden is Arizona—which chose a Democrat president for the first time in 24 years this month—in 15th place.
The Centers for Disease Control and Prevention (CDC) recently issued a number of guidelines and suggestions on how to safely celebrate Thanksgiving this year as the number of COVID-19 cases surges uncontrollable.
As more than one million new cases were confirmed in just seven days last week, the CDC urged people not to travel, wear masks with two or more levels and to consider celebrating virtually or only people you currently live with.
The Times noted that the CDC guideline announcement on November 19 may have had some effect, with the percentage of Republicans saying they would eat Thanksgiving dinner with people outside their household falling to just over 28 percent in the days after they were issued.
Samara Klar, an associate professor of political science at the University of Arizona, said that the split between Republican and Democratic leaders on COVID-19 guidelines such as wearing masks appears to have been reflected in the Thanksgiving survey.
"There's nothing inherent about Republicans that make them less concerned or inherent about Democrats that make them more panicky," Klar told The Times. "But when you have an issue people don't know a lot about, people will reasonably look to their leaders for cues, and that's why we see a gap."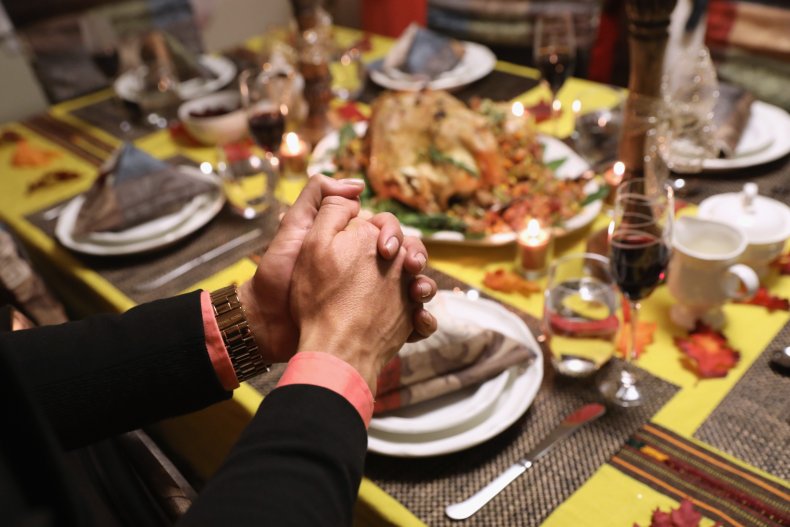 Iahn Gonsenhauser, one of the co-authors of that survey, said the data of more than 150,000 survey answers may be skewed by people's responses, as some may be embarrassed to admit they are ignoring guidelines and others having flexible definitions of different households.
However, Gonsenhauser said that most people in the survey appeared willing to follow the Thanksgiving guidelines.
"It's so easy to key into the people who are not following the guidelines or who are adamantly antagonizing the guidelines or the recommendations right now," Gonsenhauser told The Times.
"That's a much louder message right now than the message of people who are just saying this is not a good idea right now, and I'm not doing in-person Thanksgiving."
Elsewhere, a recent YouGov survey found that 84 percent of people said they do not plan on traveling to celebrate Thanksgiving this year, but 30 percent said they still will gather indoors with family or friends from other households.
This map, provided by Statista, shows the number of COVID-19 cases across the country as of November 23.