'That's a Big Snake': Florida Family Fights 16-foot Python Outside Home
A family was caught by surprise when they discovered a 16-foot, 300-pound python outside their home in Florida.
Aaron Brown found the Burmese python on the family residence in Zolfo Springs in Hardee County, WTVT reported.
"I drove past it and said, 'That's a big snake'. I had my mother with me and she said, 'Well, get out and get it.' I said, 'You get out and get it. If that joker catches me, you can't help me.'"
Burmese pythons are one of the largest species of snakes in the world and are usually found in southeast Asia, but are an invasive species elsewhere, including the Florida Everglades. It is believed Burmese pythons became an invasive species in the area as a result of escaped or released pets.
After spotting the snake, Brown asked his son and his cousin William Wilkinson to help trap the animal.
The three men tried to catch the python after it found its way into a culvert, but it attempted to strike them as they cornered it.
"We were trying to pull him back and pull him back but he got back on us," said Wilkinson. Eventually, the trio managed to get a hold of the snake and shot it, which is when they realised how big it was.
The species' invasive status means they can be legally and humanely killed on private land without a permit. According to the U.S Geological Survey, Burmese pythons are "one of the most concerning invasive species" in the Everglades National Park because they compete with non-native wildlife for food and eat native animals.
Because they have no natural predators in the region, they have been able to reproduce rapidly. They can live to around 20 years and sexually mature females are capable of laying up to 100 eggs per clutch, once per year.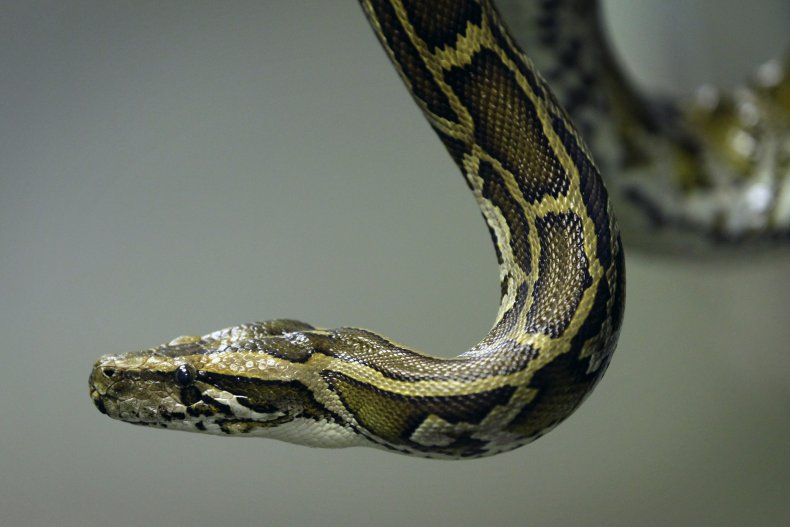 Last year, snake hunters captured a massive Burmese python in Florida that is the largest specimen of this invasive species ever caught in the state.
The Florida Fish and Wildlife Conservation Commission (FWC) said the snake measured 18 feet and 9 inches in length.
The record-breaking snake was caught on October 2 near the L-28 Tieback Canal, around 35 miles west of Miami, by snake hunters Ryan Ausburn and Kevin Pavlidis who work with the South Florida Water Management District (SFWMD) and FWC respectively.
SFWMD Governing Board Member Ron Bergeron said in a statement: "Today's record breaking capture shows that our increased efforts are working to get harmful pythons out of the precious Everglades ecosystem.
"Together with our partners and the public's help, we can restore the Everglades and combat the harmful pythons that hurt Florida's native wildlife."