Postpartum Depression: Can It Be Prevented?
One in 10 new moms admit to experiencing postpartum depression, according to the Centers for Disease Control and Prevention (CDC). It is normal for new mothers to experience "baby blues," which include mood swings, crying spells, and anxiety. But if the feelings of sadness and inability to bond with their baby persist for longer than two weeks, then it is likely to be postpartum depression.
Usually, moms are treated with psychotherapy and medication like anti-depressants, but a group of researchers has discovered therapy ahead of the baby's birth may alleviate the common condition.
The mental health condition is currently trending on TikTok, where hundreds of thousands of moms are sharing their experiences. In total, the hashtag 'postpartum depression' has 113,000 views in the U.S.
TikTok user @tushita.h shared a montage of videos showcasing the highs and lows of being a new mom. Tushita Hariharan posted the clip posted on January 3 and it now has 17,900 views. The on-screen text describes how she felt after giving birth to Rían Rogers, now 1. It says she felt isolated and struggled to make time for her relationship and figuring out what it means to be herself again.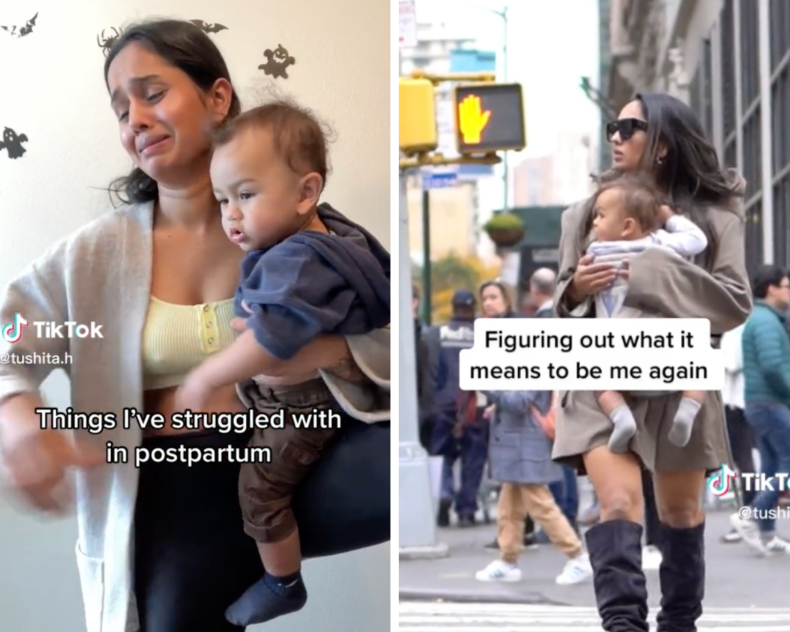 'I Don't Think I Could Have Done Anything To Prevent My Postpartum Depression'
Speaking to Newsweek, Hariharan said: "Postpartum depression feels like someone has dimmed your light and there's a giant cloud above your head.
"I was diagnosed but I didn't take medication. Instead, I opted to work on my mental health by spending time in nature, going to therapy, and working with plant Medicine (specifically iboga), I went to a retreat called 'Awaken Your Soul' in Costa Rica.
"This really helped me separate myself from my mind and remember that I am not my thoughts and it empowered me to find that inner peace and stillness which led me to feel a lot better.
"I don't think I could have done anything to prevent it but I do think that focusing more on my mental wellness during pregnancy and postpartum from early on would've helped me manage it. By this, I mean dedicating a little time daily to practice meditation, a walk in nature or journaling."
'It Felt Like I Was The Only Person In The World Awake At Night'
Another mom shared a clip highlighting how she felt during the early stages of her child's life.
TikTok user @_mamatoone revealed she had trouble adjusting to her new life and couldn't recognize herself anymore.
During the viral clip that has over 565,000 views and 59,500 likes, she also describes herself as "overwhelmed" and admits to feeling bad for missing her old life.
She said: "I did not recognize myself in the mirror. I had anxiety adjusting to my new life, and felt guilty for missing my freedom."
Can Therapy Prevent Postpartum Depression?
Data from The American Journal of Obstetrics and Gynecology (AJOG) has revealed that talk therapy may be useful as an intervention for postpartum depression.
From July 2021 to March 2022, a total of 27 women who were 20 to 35 weeks pregnant were admitted for obstetric complications with an expected hospital stay of one week.
Fourteen of the women were assigned to receive the intervention and the rest received treatment as usual.
Those who took part in the intervention had four antenatal sessions and one postpartum session performed by a non-specialist with brief training.
The results found the low-resource and low-cost intervention was a success as there was a statistically significant decrease in symptoms of depression in participants receiving the intervention compared with treatment as usual at six weeks postpartum.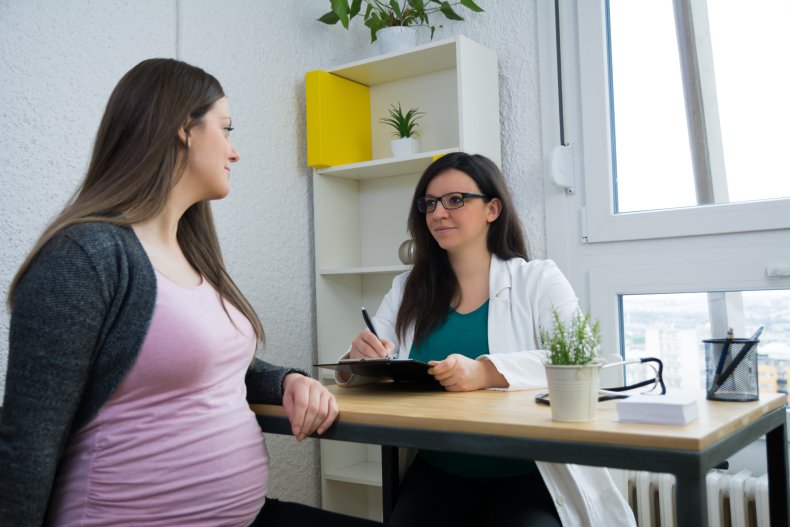 The intervention is "logical" according to Dr. Lauren Demosthenes, an obstetrics and gynecology specialist, who spoke to Newsweek about the study.
"Patients admitted to the hospital for obstetric complications have an added layer of stress—and this group had preterm deliveries—most likely from the ob complications. We know that support is critical in dealing with depression—offering this to hospitalized women appears to provide that support, which may likely reduce postpartum depression," said Demosthenes, the senior medical director with Babyscripts, the leading virtual care platform for managing obstetrics.
However, it "cannot fully prevent" a patient from postpartum depression according to Jonathan Power, an assistant professor of psychiatry.
He told Newsweek: "The study demonstrates an implementation of talk therapy for these inpatient women, which is important. But because of the baseline differences (which randomization is supposed to prevent), it is hard to say that the 'improvement' was due to the therapy or that anything was prevented."
Power, who is a research fellow for the 1907 Foundation, said that treatment and prevention of depression does not have to involve medication. Therefore, encouraging women to speak more is a good thing "but it cannot and does not fully prevent a patient from having episodes of major depressive disorder," he said.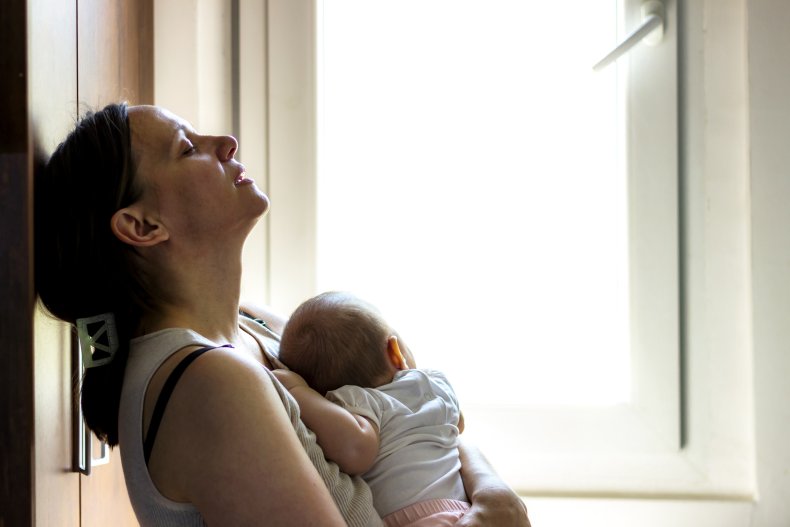 He said: "Talk therapy is a cornerstone of good psychiatric practice. And it can build resilience in a person. But it cannot and does not fully prevent a patient from having episodes of major depressive disorder. The symptoms of postpartum depression are shared by other depressive syndromes, but the biological cause of these symptoms may be different in pregnancy than in other syndromes.
"For example, the body undergoes tremendous hormonal and inflammatory changes during and after pregnancy, and many hormones and inflammatory compounds act directly on the brain. In fact, the newest category of antidepressant medication is a natural sex hormone of the body—allopregnanolone—and it is specifically used to treat postpartum depression. The more we understand how pregnancy-related depression develops, the better we will become at targeting biological root causes to prevent and treat it with medications."
Overall, Power believes that talk therapy during pregnancy should make women "more resilient."
"But talk therapy will not be sufficient for all women, and some will still suffer postpartum depression. For these women, the main treatment should be a combined approach selecting from antidepressant medication, talk therapy, and neuromodulation techniques. Additionally, identifying who is likely to develop postpartum depression is important so that care can be concentrated on those who are likely to need it most," he said.
Is there a health issue that's worrying you? Let us know via health@newsweek.com. We can ask experts for advice, and your story could be featured on Newsweek.