Is There Mail Delivery Today? USPS Cancels Post in These Areas Including Michigan, Indiana and Missouri
The U.S. Postal Service has suspended its delivery service across several states due to the potentially life-threatening Arctic Blast due to hit the Midwest.
Areas in states including Illinois, Michigan and Indiana will not get any post today due to the extreme cold weather which could see record-breaking low temperatures, as well as dangerous wind chills.
"Weather forecasters are warning of dangerously cold conditions in parts of the nation," The U.S. Postal Service said in a statement.
"Some places could see wind chill readings as low as 60 below zero. Due to this Arctic outbreak and concerns for the safety of USPS employees, the Postal Service is suspending delivery January 30 in the following 3-digit ZIP Code locations:
Michigan: 486-491, 493-499
Indiana: 460-469, 472-475, 478, 479
Chicago: 606-608
Lakeland: 530-532, 534, 535, 537-539, 541-545, 549, 600, 602, 601, 611
Detroit: 480-485, 492
Central Illinois: 601, 603 - 605, 609, 613, 614, 616, 617
Northern Ohio (Cleveland and Lima areas): 441, 458
Ohio Valley (Cincinnati and Columbus areas): 452, 430-432
Western Pennsylvania: (Erie and Bradford areas): 165, 169-177, 188
Northland: 540, 546-548, 550, 551, 553-564, 566
Hawkeye: 500-514, 520-528, 612
Dakotas: 580-588, 570-577
Eastern Nebraska: 680-689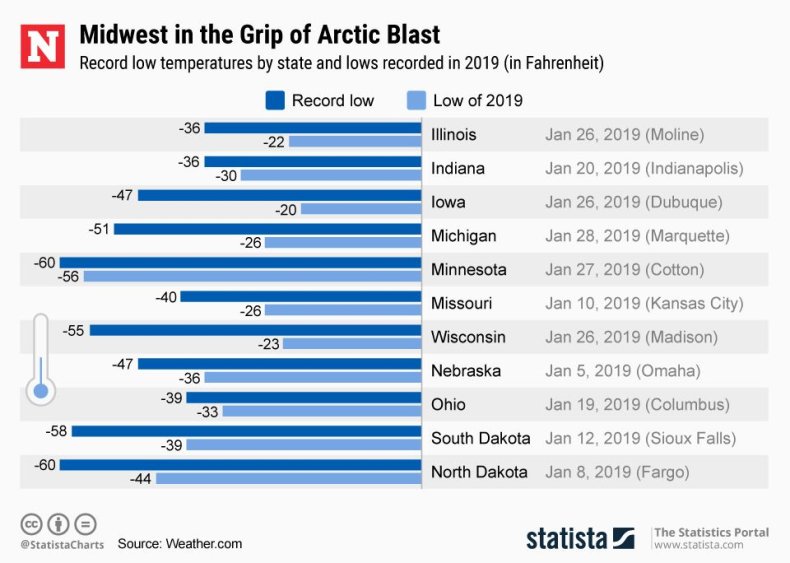 The graphic above was provided by Statista.
According to AccuWeather, Minneapolis could experience low temperatures the likes of which have not been seen since the 1800s, while Chicago is expected to challenge its all-time record low of minus 27 degrees Fahrenheit, set on January 20, 1985.
Residents across the Midwest have been warned to stay inside during the upcoming severe weather. Those who must venture outside over the next few days have been warned to cover exposed skin properly with layers in order to reduce the risk of frostbite or hypothermia.
A state of emergency has also been declared in states including Wisconsin and Michigan.
In a forecast warning of the "very dangerous and life-threatening Artic Blast," the National Weather Service said: "One of the coldest arctic air mass intrusions in recent memory is surging south into the Upper Midwest before spreading across much of the eastern two-thirds of the country.
"Through late week, expect frigid temperatures, bitterly cold and life-threatening wind chills, likely leading to widespread record lows and low maximum temperatures from the Upper Midwest to the Great Lakes and Ohio Valley."
Illinois Governor JB Pritzker, who issued a disaster proclamation for the entire state ahead of the severe winter storm, added in a statement: "This storm poses a serious threat to the well-being of people around the state, and we will use every tool at our disposal to keep our residents safe."