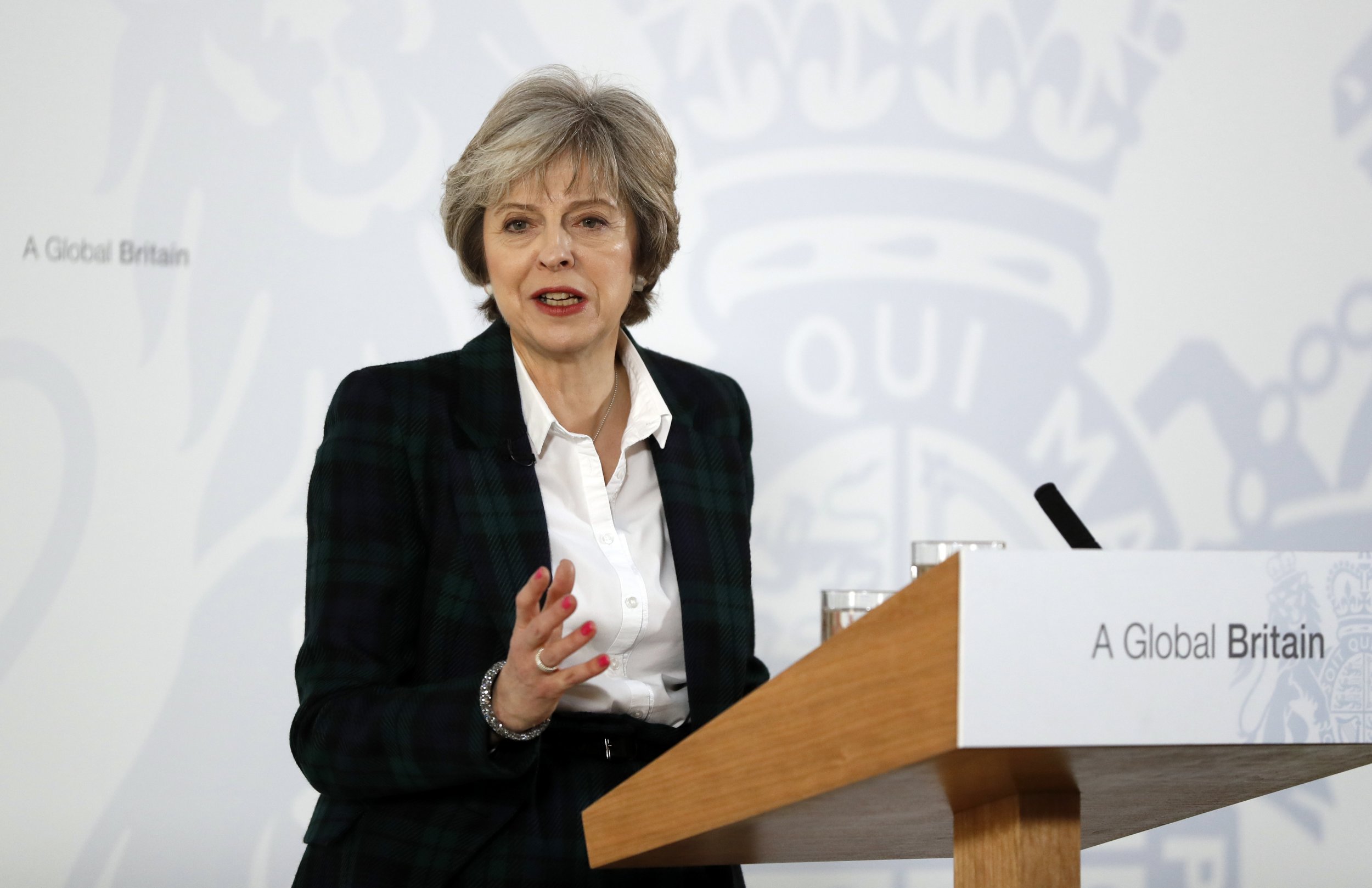 Updated | The British government has confirmed it plans to take the country out of the EU single market after Brexit.
In a speech on Tuesday, Prime Minister Theresa May said that other EU leaders had "said many times" that membership of the single market would mean accepting its "four freedoms;" of goods, services, capital, and people.
Being out of the EU but a member of the single market, May said, "would mean complying with the EU's rules and regulations…without having a vote on what those rules and regulations are.
"It would to all intents and purposes mean not leaving the EU at all.
"So we do not seek membership of the single market. Instead we seek the greatest possible access to it through a new, comprehensive, bold and ambitious Free Trade Agreement."
May was speaking at Lancaster House in central London, in a highly anticipated speech giving details of her planned Brexit negotiating strategy for the first time.
In particular, May reiterated her intention to gain substantial new controls over EU immigration, which European leaders, including German Chancellor Angela Merkel, have suggested would be impossible within the single market.
"Brexit must mean control of the number of people who come to Britain from Europe. And that is what we will deliver," May said.
The prime minister said she wanted to build "a truly global Britain… a great, global trading nation that is respected around the world and strong, confident and united at home."
As such, she said, she also wanted to remove Britain from some aspects of the EU customs union, an area within which European countries apply a uniform system for handling goods and implement a common set of rules. May said she wanted to remove the restrictions that prevent the U.K. negotiating its own trade deals. She plans that the U.K. will not be bound by the EU's Common Commercial Policy and Common External Tariff.
However, May said that the government wants to negotiate an ambitious customs agreement with the EU that will allow tariff-free trade. "Whether that means we must reach a completely new customs agreement, become an associate member of the Customs Union in some way, or remain a signatory to some elements of it, I hold no preconceived position," May said.
Many mainstream economists and representatives of major businesses have warned that leaving the single market could have troubling economic consequences for Britain.
May herself, while campaigning for "remain" in the referendum, said that leaving the single market could prove damaging. But asked about this today, she suggested she had changed her view.
"Just look at what has happened [since the referendum]," May said, "What we've actually seen is that all the economic indicators have been more positive than people predicted."
The British Chambers of Commerce issued a lukewarm reaction, stressing that the reality of May's proposed deal was yet to appear. It released a statement saying, "In business, what you achieve in a negotiation, not what you bid for, is what really matters."
But the Institute of Directors business lobby group was more positive about the speech. Allie Renison, head of Europe and Trade Policy, said: "We now know that we will be leaving the single market, and while there will be firms who regret this, they will at least be able to plan on that basis."
"Business leaders will be heartened by the prime minister's strong argument for the value of free trade," Renison continued.
Pro-EU campaigners have emphasized that the ballot paper for the June 23 referendum last year mentioned nothing about the U.K.'s future economic relationship with the EU.
Speaking to the BBC, the pro-EU Liberal Democrat leader Tim Farron said, "This is a theft of democracy, a presumption that the 51.9 percent of people who voted to leave meant the most extreme version of Brexit available."
But prominent Euroskeptic politicians have insisted the spirit of the vote, in which Britons elected to break with the bloc by a margin of 52 percent to 48 percent, was that the U.K. should make a "clean break" with Brussels.
Nigel Farage, the former UKIP leader and a leading campaigner for Brexit, said on Twitter the speech represented "real progress."
"I can hardly believe that the PM is now using the phrases and words that I've been mocked for using for years," he said.
This article has been updated with statements from politicians and business bodies.