These Are the States Where You Can Track Your Mail-In Vote
As a large number of Americans prepare to vote by mail in November's presidential election, the majority of states have developed systems where residents can track the status of their ballot.
Currently, 39 states and Washington, D.C., have the capability to track mail-in ballots, according to an interactive map published and updated by NBC News. These states are: Alabama; Alaska; Arkansas; Arizona; California; Colorado; Delaware; Georgia; Florida; Idaho; Iowa; Kansas; Kentucky; Louisiana; Maryland; Massachusetts; Michigan; Minnesota; Montana; Nebraska; Nevada; New Hampshire; New Jersey; North Dakota; Ohio; Oklahoma; Oregon; Pennsylvania; Rhode Island; South Carolina; South Dakota; Tennessee; Texas; Utah; Vermont; Virginia; Washington; West Virginia and Wyoming.
Amber McReynolds, CEO of the National Vote at Home Institute, previously recommended that states develop tracking mechanisms as more Americans prepare to vote by mail, Fast Company reported in May.
The technology is similar to how Americans would track a package they ordered, and the updates provide peace of mind for voters who want to ensure their ballot is properly received.
Some states have used sophisticated ballot tracking systems for years. Denver County in Colorado, for instance, developed its own in-house tracking system in 2009. Now called Ballot TRACE, the tool allows voters to get notifications about the status of their ballot.
Denver pioneered ballot tracking and notification systems, Jocelyn Bucaro, director of elections for the City and County of Denver, told Newsweek. The elections department had always looked for innovative ways to provide voter-centric services, she said.
Colorado residents for several years had the option to sign up to permanently receive their ballot by mail, and eventually the majority of Denver residents were voting by this method, Bucaro said. The state of Colorado in 2013 became an automatic mail-in ballot state, meaning that election departments automatically mail every registered voter in the state a ballot. Voters can still vote in person if they'd prefer, she added.
Ballot TRACE allows Denver voters to look up their current voter registration, view the status of their ballot, and sign up to receive text or email notifications alerting them any changes.
"It's peace of mind for a voter to know we've received and are counting their ballot, but also if there's any kind of problem with their ballot...they'll get notified through Ballot TRACE of that as well," Bucaro said.
Voters want an "extra layer of security" assuring they successfully cast their vote, she said, referring to the tracking system a "critical customer service to provide for voters."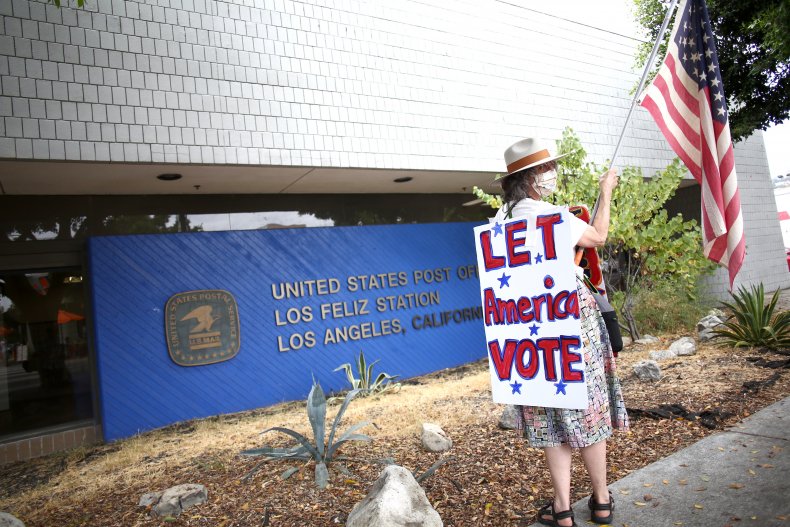 An estimated 80 million Americans will choose to vote by mail in the November election, The New York Times reported. While mail-in voting has been used in prior elections, the method's surge in popularity is largely because of the coronavirus pandemic, allowing Americans to cast their ballots from the comfort and safety of their own homes and avoid any unnecessary public interaction.
But the Postal Service (USPS), already facing a budget crisis, has warned of potential delays in receiving and counting ballots for the election. Last week, the government-run service told officials in 46 states and Washington, D.C., that voters might not have enough time to complete and return their ballots before the November 3 election due to service delays within the USPS.
President Donald Trump has come under fire for his role in the situation, with critics arguing that recent evidence suggests he is intentionally sabotaging postal operations to help him secure a second term, as the majority of mail-in voting proponents are Democratic voters.
Trump has repeatedly expressed his disapproval of universal mail-in voting, asserting it would cause "the greatest fraud in history." And during an interview Thursday, Trump said he didn't support House Democrats' efforts to secure additional funding for USPS in the next coronavirus relief package.
Democrats are seeking $25 billion for the Postal Service and $3.5 billion for election resources for the fall.
"They need that money in order to have the Post Office work so it can take all of these millions and millions of ballots," Trump told Fox Business host Maria Bartiromo Thursday. "If they don't get those two items, that means you can't have universal mail-in voting because they're not equipped to have it."
Trump has since attempted to walk back his comments, telling reporters Monday that he had "encouraged everybody to speed up the mail, not slow the mail." But people have raised eyebrows at Postmaster General Louis DeJoy, an ally and donor of Trump's whose so-called cost-effective implementations are being labeled as reasons for the predicted election delays.
DeJoy, who became postmaster general in May, has already banned overtime work and the extra routes necessary to deliver mail on time, NBC reported. House Democrats requested that DeJoy testifies in front of Congress next week over the changes.
Those wishing to vote by mail for November's election should familiarize themselves with their state's particular policies. As the NBC map points out, these policies are made at a state level and can vary significantly.
Voters in Pennsylvania who wish to vote by mail, for instance, will face the earliest deadline. The deadline for voters to request their mail-in ballots is October 5, according to the NBC data. Comparatively, 19 states have elected to automatically send all registered voters their ballots by mail.
Update 4:47 p.m. ET:This article has been updated to include comments from Jocelyn Bucaro, director of elections for the City and County of Denver.