These Companies Are Firing Unvaccinated Employees as SCOTUS Mulls Biden Vaccine Mandate
Several major U.S. companies are planning on firing employees who haven't been vaccinated against the COVID-19 virus, as the U.S. Supreme Court considers President Joe Biden's vaccine mandate for large employers.
Nike has told some employees it plans on firing them Saturday because they haven't verified their vaccine status with the company, or received a vaccine exemption, The Oregonian reported Wednesday.
The newspaper also reported that Columbia Sportswear will start terminating unvaccinated corporate employees on February 1, though the vaccine requirement won't apply to warehouse and retail employees.
In a statement to Newsweek, Columbia Sportswear said that it has been encouraging its employees to get vaccinated over the past year, noting it has offered paid leave for workers to get the shot and held mobile vaccine clinics on site.
"A small number of people have not been vaccinated and have not applied for medical or religious exemptions. As of February 1, we will put them on unpaid leave and move towards termination," Mary Ellen Glynn, a spokesperson for the company, told Newsweek in an email.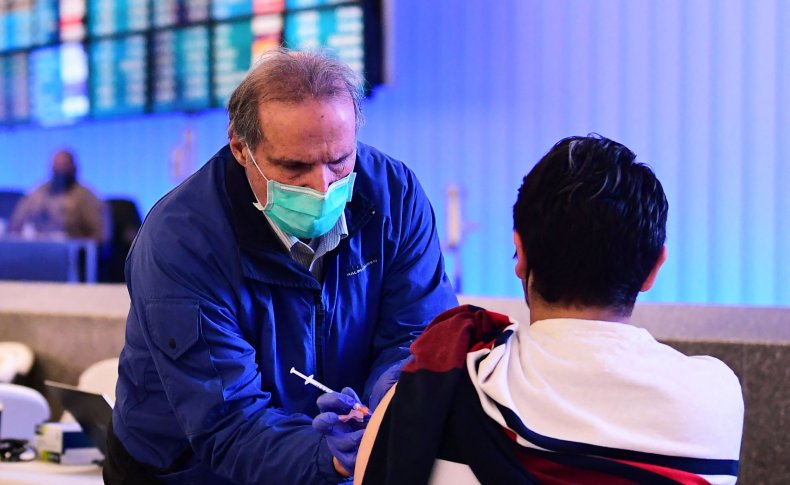 Last week, Reuters reported that Citigroup plans on firing employees who haven't been vaccinated against COVID-19 by January 14. Several other Wall Street banks, including Goldman Sachs and Morgan Stanley, have told unvaccinated employees to work from home, but have yet to fire staff over their vaccination status.
However, on Monday, Jamie Dimon, the CEO of JP Morgan Chase, suggested that it may also terminate its unvaccinated staff.
"If you aren't going to get vaxxed, you won't be able to work in that office. We're not going to pay you not to work in the office," Dimon said during an interview with CNBC.
Earlier this month, the Mayo Clinic fired 700 employees who declined to comply with the health system's vaccine mandate.
In recent days, the U.S. Supreme court heard oral arguments regarding Biden's vaccine mandate. Under the policy, large companies have to require employees to be vaccinated against COVID-19 or test for the virus on a weekly basis. The mandate would be enforced by the Occupational Safety and Health Administration (OSHA).
While liberal justices on the court have signaled support for the mandate, conservative justices, who hold the majority, have appeared more skeptical. Much of Biden's mandate took effect on Monday. However, the rule could be upended by a ruling from the Supreme Court.
Newsweek reached out to Nike for comment.