These Five Lawmakers Received Over $50,000 From Railroad PACs Last Year
A train carrying hazardous materials derailed in East Palestine, Ohio, on February 3, leading to the evacuation of about 5,000 people.
Rescue workers blew holes in five railway cars carrying vinyl chloride, a potentially dangerous gas, allowing it to be destroyed via controlled burning.
The crash sparked a renewed interest in lobbying and campaign donations from railway-associated political action committees (PACs). It has emerged that the Trump administration rescinded a safety rule in 2017 following pressure from the industry. Steven Ditmeyer, a former senior figure at the Federal Railroad Administration, told investigative news outlet The Lever that this could have increased the "severity" of the accident.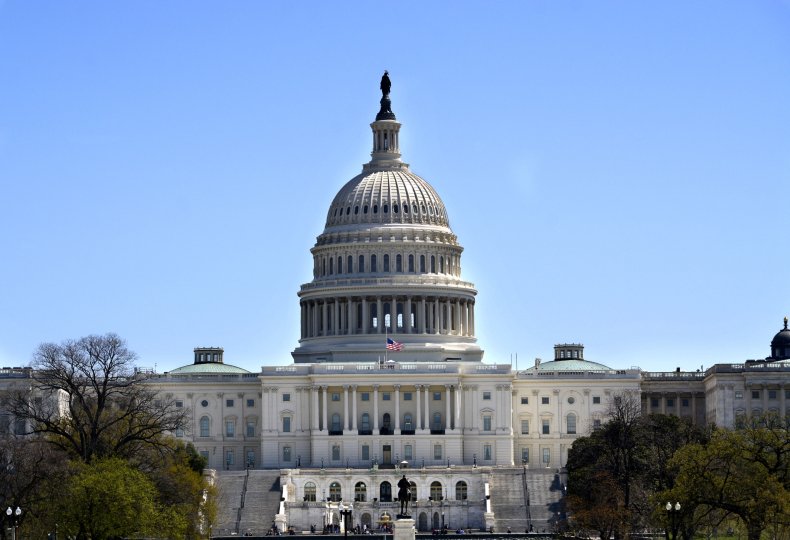 PACs and individuals associated with the rail industry donated $3,190,763 in total to political candidates in 2021-22. This data comes from OpenSecrets, a non-profit organization that tracks the impact of money on American politics. Of this total, $1,764,695 was given to Republican candidates, $1,408,068 to their Democratic rivals.
OpenSecrets identified 16 railway-related PACs that had been donating to candidates, of which three gave at least $500,000 in total. These were the Union Pacific Corp, Norfolk Southern and BNSF Railway.
Newsweek has gone through the OpenSecrets data to list the five members of Congress who received more than $20,000 from railway-related PACs and individuals, during 2021-22. The analysis is based on statistics from the Federal Election Commission, which recorded all campaign donations of $200 or more.
There is no suggestion that any of these lawmakers behaved improperly, either in receiving or recording these campaign donations.
Representative Sam Graves (Republican)
Sam Graves represents Missouri's 6th congressional district in the House of Representatives. He received the highest railway related donations during the time period, according to OpenSecrets. He also chairs the powerful House committee on transportation and infrastructure.
The congressman, first elected in 2001, received $107,343 from those associated with the rail industry. It's his third biggest source of donations following air transport and petroleum.
Senator Jerry Moran (Republican)
Jerry Moran is the senior senator from Kansas, a seat he has held since 2011.
The Republican received $146,796 worth of donations from the rail industry during 2021-22, though this was nowhere near his biggest source of donations. That was provided by the securities and investment sector, which stumped up $548,196.
Moran serves on the Senate committee for commerce, science and transportation.
Senator Eric Schmitt (Republican)
Republican Schmitt was elected as junior senator for Missouri in 2020, having previously served as Missouri attorney general. In total, he received $69,550 from rail-related PACs and individuals. Schmitt serves on both the Senate commerce, science and transportation and environment committees.
Senator John Thune (Republican)
John Thune, from South Dakota, is one of the most powerful Republicans in Congress, serving as minority chief whip. He also sits on the Senate commerce, science and transportation committee.
In 2021-22, Thune received $69,550 from rail industry-aligned PACs and individuals, according to OpenSecrets.
Representative Earl Blumenauer (Democrat)
House Representative Blumenauer is the sole Democrat in the top five members of Congress by railway-industry donations, receiving $61,015 over the period.
A politician from Oregon, he sits on the ways and means subcommittees for both trade and health.
Newsweek has contacted Representative Graves, Senator Moran, Senator Schmitt, Senator Thune and Representative Blumenauer for comment.