A group of Indian thieves returned 14 stolen idols to a temple priest after being "haunted" by "scary dreams," said The Guardian.
According to the outlet, the thieves stole a total of 16 idols last week from "a 300-year-old temple to Lord Balaji, an incarnation of the Hindu god Vishnu." On Monday, however, 14 of the stolen artifacts were found near the home of the temple's chief priest, located in Uttar Pradesh.
Speaking to the Times of India (TOI), police inspector Rajiv Singh said one of the idols was made of Asthadhatu, an alloy comprised of eight different metals: gold, silver, copper, zinc, lead, tin, iron and mercury.
"In Hinduism, the alloy is of great importance and is highly priced," said the official website for the Maa Vaishno Devi Dham, a Hindu temple in the Indian city of Vrindavan, adding that the alloy is thought to be "sacred" and "pure."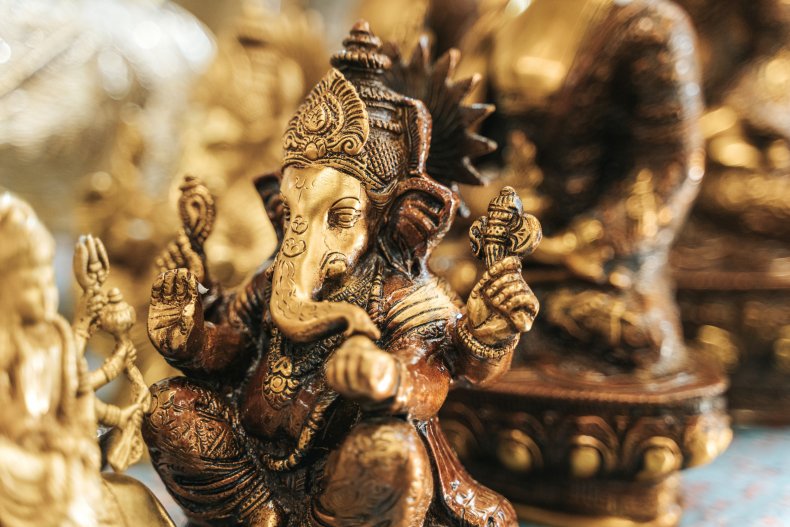 "Ashtadhatu is widely used for making idols of Hindu gods and goddesses...[which] are made so as to be durable and last for years without noticeable decay," the temple explained.
In addition to stealing an idol made of the "sacred" alloy, the thieves also stole idols and various artifacts made of copper, brass and silver, respectively, TOI reported.
TOI also stated that the thieves wrote a "confession" letter for the temple priest, stating they were returning the idols because they'd been suffering "nightmares."
"We have been suffering from nightmares since we committed the theft and have not been able to sleep, eat and live peacefully," the letter said, according to multiple reports. "We are fed up with the scary dreams and are returning your [valuables]."
The idols are now in the hands of the police, who have been ordered to arrest the thieves.
Interestingly enough, The Washington Post previously reported that thousands of idols have been stolen from Indian temples and sold to "museums and wealthy collectors via a flourishing international gray market."
"Because of lax law enforcement, India was always considered fair game for trafficking antiquities compared to places like Italy," amateur art detective S. Vijay Kumar told the paper. "The difference between India, Italy or Egypt, is you're stealing a god that somebody was literally worshiping the day before. These are living gods that we're trying to bring home."
Since 2008, Kumar has recovered nearly "300 antiquities" stolen from Indian temples.
Monday's news isn't the first story from Uttar Pradesh to break headlines within the past year. Sadly, one of the state's cops made headlines last week after allegedly raping a 13-year-old girl, who was attempting to file a report that she'd been gang-raped.
In February, 13 people died during a wedding ceremony held in Uttar Pradesh after falling into a well. And last summer, an Uttar Pradesh bride collapsed and died at the altar, leading her groom to marry her sister instead.