What We Know as U.S. Shoots Down Third Object Over North America
A U.S. fighter jet shot down an unidentified object that was flying high over the Yukon in northwest Canada on Saturday—the third such instance in North America in just over a week.
Canadian Prime Minister Justin Trudeau said on Twitter that he had ordered the "take down of an unidentified object that violated Canadian airspace."
Both Canadian and U.S. aircraft were scrambled, Trudeau said, and it was a U.S. jet that "successfully fired at the object." Canadian Forces "will now recover and analyze the wreckage of the object," Trudeau said.
North American Aerospace Defense Command (NORAD) detected the object flying at a high altitude over Alaska on Friday evening and it crossed into Canadian airspace on Saturday, Brigadier General Pat Ryder, the Pentagon press secretary, said in a statement.
Ryder said jets were scrambled following a call between Trudeau and President Joe Biden, who also ordered the object to be shot down. "A U.S. F-22 shot down the object in Canadian territory using an AIM 9X missile following close coordination between U.S. and Canadian authorities," Ryder said.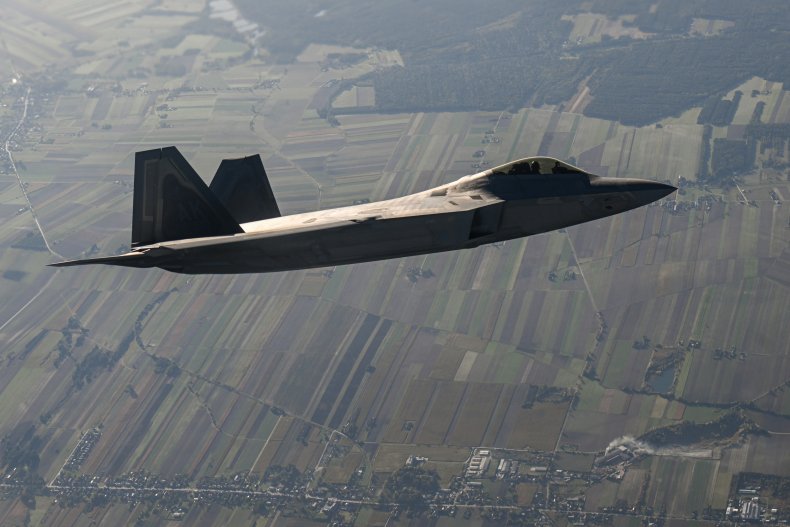 A recovery operation for the wreckage is underway involving the Canadian Armed Forces and the Royal Canadian Mounted Police (RCMP). Ryder said the Federal Bureau of Investigation would be "working closely" on the investigation with the RCMP.
F-22 fighter jets have taken out three objects in the airspace above the U.S. and Canada this month.
The first—shot down off the Carolina coast on February 4 after it traversed sensitive military sites across North America—was said to be a spy balloon from China, but the others haven't yet been identified publicly.
An unknown object was shot out of the skies off above Alaska on Biden's orders on Friday, White House National Security Council spokesman John Kirby said during a briefing.
Kirby described it as about the size of a small car, but officials haven't said where it came from or whether it contained any surveillance equipment. It was downed because it was flying at an altitude of 40,000 feet and posed a "reasonable threat" to the safety of civilian flights, Kirby said.
Recovery operations for the wreckage continued on sea ice near Deadhorse, Alaska, U.S. Northern Command said in a statement on Saturday.
"Arctic weather conditions, including wind chill, snow, and limited daylight, are a factor in this operation, and personnel will adjust recovery operations to maintain safety," the statement said. It added that there were no new details on what the object was, nor its capabilities, origin, or purpose.
Meanwhile, Canadian Defense Minister Anita Anand said it was too soon to speculate where the object shot down over the Yukon on Saturday came from.
But she said it was "potentially similar" to the balloon that was shot down off the Carolina coast on February 4, "though smaller in size and cylindrical in nature."
That balloon was part of a large surveillance program that China has been conducting for "several years," the Pentagon has said.