The 'Thirteen Lives' Cast and Their Real-Life Characters
It has been four years since 12 young boys of the Wild Boars soccer club and their coach, Ekkapol Chantawong, were rescued from Tham Luang Cave in Chiang Rai Province in northern Thailand.
They were stuck inside the cave for 18 days in total and the rescue effort had the world gripped, with an international team of divers working to ensure the boys and their coach made it out alive.
The rescue effort was led by four British divers, John Volanthen, Richard Stanton, Jason Mallinson, and Chris Jewell, and two Australians, Richard Harris, a physician specializing in anesthesia, and Craig Challen. Thankfully, the Wild Boars and their coach were rescued safely, escaping a few cuts and bruises.
Now, the story of their rescue has been brought to the screen.
Newsweek has everything you need to know about the cast of Thirteen Lives and the real-life people who were involved in the rescue.
The Thirteen Lives Cast and Their Real-Life Characters
Richard Stanton — Viggo Mortensen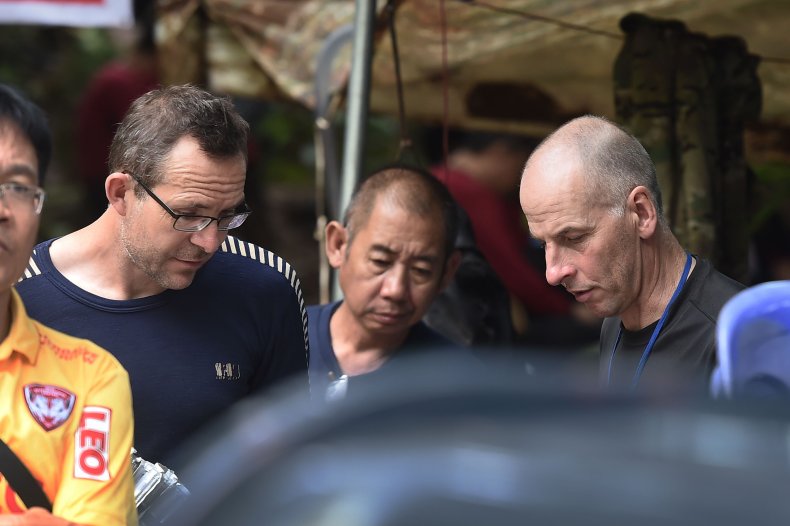 Three-time Oscar nominee Viggo Mortensen portrays Richard Stanton, MBE, GM, in Thirteen Lives.
Stanton was a member of the British Cave Rescue Council, who alongside John Volanthen traveled to Thailand, offering their expertise to help rescue the boys.
Together, they were the first divers to make contact with the 12 boys and their coach, who were perched on a narrow rock shelf in the "Pattaya Beach" chamber. They had been trapped there for nine days when Stanton and Volanthen found them alive.
Speaking to CNN about the rescue missions, Stanton said he is not "declaring it a miracle."
He shared: "I'll stretch it to say that it was miraculous that all these things happened sequentially. It was a collaboration between thousands of people, it was exceptional planning. It was miraculous that everything happened but I'm not declaring it a miracle."
Mortensen is well-known for his role as Aragorn in Peter Jackson's The Lord of the Rings and Sigmund Freud in A Dangerous Method.
His other well-known credits include Captain Fantastic and Green Book, receiving Academy-Award nominations for his performances.
John Volanthen — Colin Farrell
Irish actor Colin Farrell stars as British diver John Volanthen, GM, in Thirteen Lives.
Volanthen cave dives as a hobby and serves as a rescue volunteer, with his day-to-day job being an IT consultant in Bristol, England. However, in 2018, his life changed when he led a cave diving team alongside Stanton, who rescued the 12 boys and their coach between the July 8-10, 2018.
Speaking to Insider about having Golden Globe winner Colin Farrell portray him on screen, Volanthen said: "It's quite strange trying to teach someone to be you. It's not something I had ever expected to have to do, but what I found having seen the film is that a lot of the mannerisms he's picked up are not the ones that I was perhaps expecting or trying to teach him."
Most recently, Farrell starred as Oswald Cobblepot/The Penguin in The Batman, a role he will reprise in the HBO Max self-titled spin-off.
He is also well known for playing Detective Ray Velcoro in True Detective, David in The Lobster, and Percival Graves/Gellert Grindelwald in Fantastic Beasts and Where to Find Them.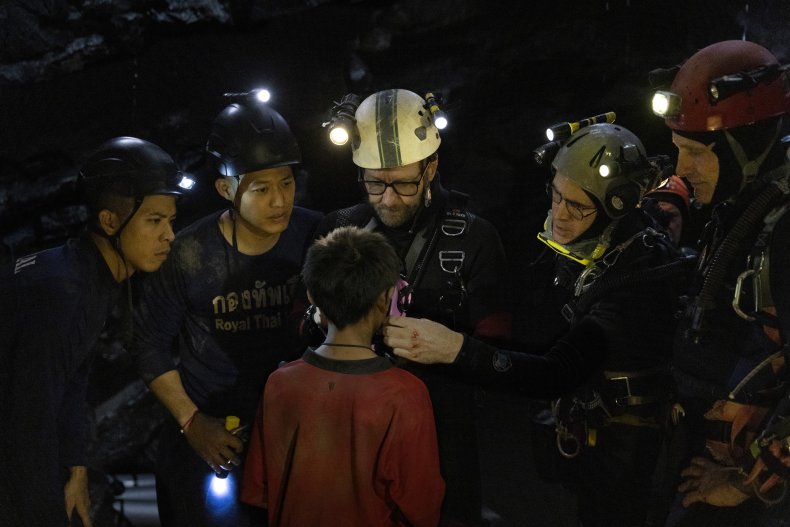 Richard "Harry" Harris — Joel Edgerton
Joel Edgerton portrays Australian anesthetist and cave diver, Richard "Harry" Harris in Thirteen Lives.
In July 2018, Harris and his dive partner Craig Challen were contacted by the Thai government at the request of Stanton and Volanthen to help them with their efforts to rescue the Wild Boar soccer team and their coach from the Tham Luang Cave.
Harris played a vital role in the rescue effort. He conducted a medical assessment of all of the boys and their coach when he made it into the cave and on his medical advice, he ruled it safe for them to be rescued by the team, using anesthesia to give them the best hopes of surviving.
As seen in Thirteen Lives, Harris administered each boy with ketamine to put them to sleep and atropine to suppress saliva production to prevent the boys from choking. He trained the rescue team on how to administer the injections and re-sedate the boys during the three-hour rescue mission.
Harris and Challen were jointly awarded 2019 Australian of the Year as a result of that rescue.
Edgerton who portrays Harris in Thirteen Lives is best known for his role as young Owen Lars in the Star Wars franchise and the Disney+ series, Obi-Wan Kenobi.
His other well-known credits include Zero Dark Thirty, The Great Gatsby, The King, and The Underground Railroad.
Chris Jewell — Tom Bateman
Tom Bateman stars as British diver and computer software consultant Chris Jewell in Thirteen Lives.
Alongside Stanton, Volanthen, Jason Mallinson, Harris, and Challen, Jewell helped rescue the boys trapped in the cave.
Bateman is best known for his role as Giuliano de' Medici in Da Vinci's Demons and Bouc in Murder on the Orient Express and Death on the Nile.
Speaking to the BBC, Bateman shared that one day on set, he got stuck underwater for seven minutes.
He shared: "I can remember feeling really hot and thinking, 'I'm underwater, but I'm sweating. I could just see my heart rate going up and up and up [on a pulse monitor].
"But the beautiful gift of it was overcoming that... it's all in your head. It was a really safe environment, so getting over that hurdle of 'I can do this' is a small victory each time you do it."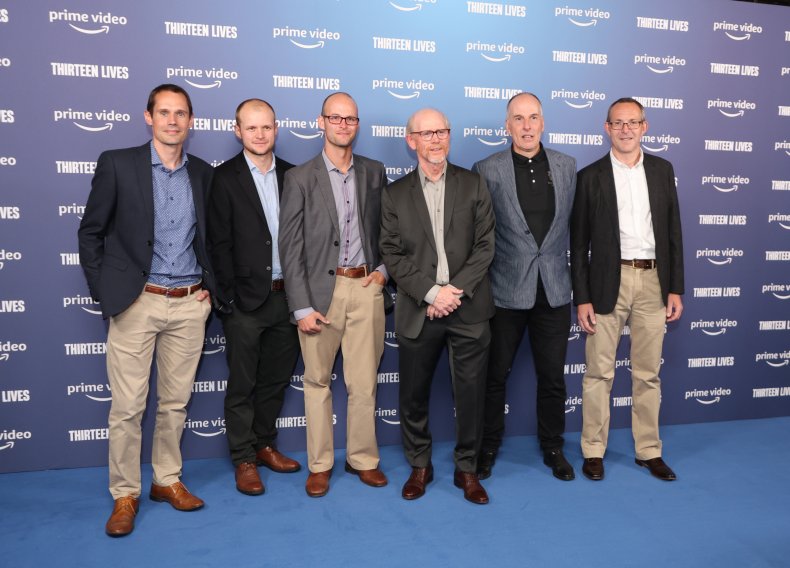 Saman Kunan — Sukollawat Kanaros
Thai actor, model and singer Sukollawat Kanaros portrays Saman Kunan in Thirteen Lives.
Kunan was a former Thai Navy SEAL who sadly died assisting in the rescue mission.
On July 5, Kunan made a dive to Chamber 3 to deliver three air tanks and on his return he ran into difficulty, losing consciousness underwater.
He was pronounced dead at 1 a.m. on July 6. He was 37 years old. He was posthumously promoted to lieutenant commander by the commander-in-chief of the Royal Thai Navy and awarded the Knight Grand Cross (first class) of the Most Exalted Order of the White Elephant by King Vajiralongkorn.
Ekkapol Chantawong — Teeradon Supapunpinyo
Thai actor Teeradon Supapunpinyo portrayed Ekkapol Chantawong in Thirteen Lives, the 25-year-old soccer coach of the Wild Boars.
Chantawong was the last of the group to be rescued from the cave on July 10, 2018.
At the time, Chantawong was stateless, alongside a few other boys on the football team but almost a month after the rescue, he received Thai citizenship. Today, he runs his own soccer academy in the Chiang Rai Province of Northern Thailand.
Supapunpinyo is best known for his role as Sun in Hormones, Pat in Genius, and Min in Homestay.
He is also a former member of the boy bands Nine by Nine and Trinity.
Also in the cast of Thirteen Lives are:
Thiraphat Sajakul as Anand
Sahajak Boonthanakit as Narongsak Osatanakorn
Vithaya Pansringarm as General Anupong Paochinda
Nophand Boonyai as Thanet Natisri
U Gambira as Kruba Boonchum
Thirteen Lives is streaming on Prime Video now.