This Cabin Village Will Be a Safer Refuge For Homeless Moms Than Shelters
Mothers with children will soon be able to live in a cabin village, an alternative to a homeless shelter, that is being built in El Cajon, California.
At a time when World Population Review says that California has 151,278 homeless persons in 2022, the most of any U.S. state, the nonprofit group Amikas is partnering with the city of El Cajon and Meridian Baptist Church to construct the community of six cabins, which will be called Meridian Village. The village will be built on the church's campus, according to an announcement from Amikas.
Amikas, a group founded to house women, children and female veterans in San Diego, has been fighting for this village for over three years. After building cabins at various local sites as demonstrations, the organization won a building permit in January and began construction last month. Volunteers will be working on the property every Saturday to complete the project by the end of April.
Amikas argued that individual cabins can provide privacy, uninterrupted sleep and a sense of autonomy, all of which are hard to come by in a typical homeless shelter. Homeless women have reported choosing the street over a shelter, due to sexual abuse and violence at the establishments, as well as the instability of an environment that often allows only one night's stay at a time and kicks people out at dawn.
Formerly homeless woman Esperanza Fonseca described the desperation of shelters to Vice in 2020. "In the shelter, I was subjected to violence, threats, harassment, discrimination," she said. "That is what we feared we would face in the streets, but we still experienced it at the shelter, just with more rules and expired milk."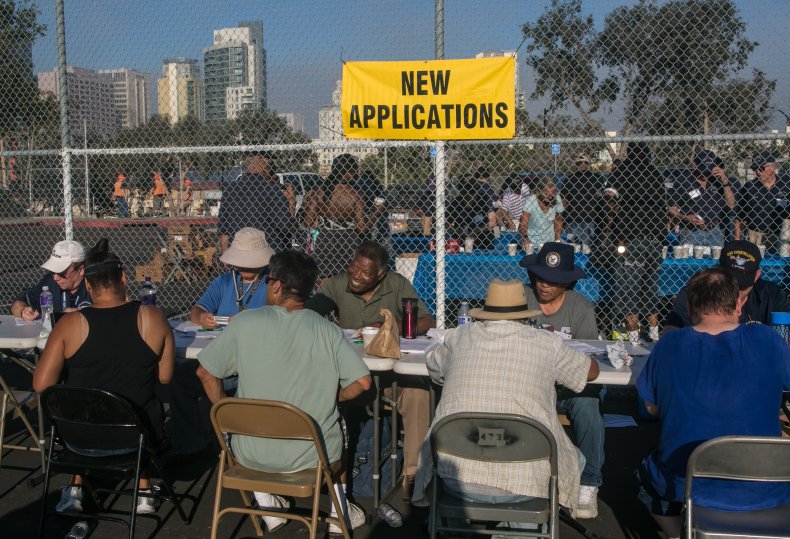 Tenants of Meridian Village will be referred by Home Start, a nonprofit that provides housing for young mothers and pregnant women. They will be allowed to stay in the cabins for 90 days. Each cabin will measure 12 feet by 12 feet with 96 square feet of living space and a porch. They will also have electricity, but no plumbing.
The organizers at Amikas hoped that their village would demonstrate a better way to serve the larger homeless population, not just women and children.
"This could be a model for many, many, places in San Diego County," El Cajon City Councilmember Steve Goble said to The San Diego Union-Tribune. "Not everyone can function well in a tent with 200 other people in bunk beds."
In 2020, 161,548 people were homeless on any given night, according to the National Alliance to End Homelessness. Across the United States, 580,466 people were experiencing homelessness in January 2020.
Newsweek reached out to Amikas for comment.