A neighbor's letter to a Native American family went viral this week, setting off a wave of fury online.
A photo of the note was shared anonymously by a 19-year-old woman under the Reddit username Iniminki on Monday. Her post in the forum "F**k You Karen" has racked up over 37,000 votes and reappeared in the forum "Mildly Infuriating," where it amassed a further 50,000 votes.
"Racist Karen left a second note on my dad's car," she titled the post. "The first one was her being mad at us for being Mexican...we're not [by the way]."
"Dear neighbor," the letter began. "I was recently informed that you are not Mexican, but Indian. I am not racist and wish for all kinds to love and be loved. But I would like to inform you that we, citizens of [redacted], pay taxes to live on this land and you do not."
The thinly veiled threat continued, "This is not your place. You are not welcome in this neighborhood. I kindly suggest, with the best of intentions, that you consider moving back in a place where you really belong."
The latter part of the note referenced the white neighbor's son, who had expressed that the Native family's 19-year-old daughter was "cute."
"I highly suggest that you tell your daughter not to dress inappropriately as it is confusing my son and possibly his friends," the writer said.
The writer added, "Please tell your daughter that if she expresses any interest in my son or any other young man in this neighborhood, that interracial dating or marriage is sin and punished by God."
Iniminki, the daughter in question, said in a comment below the post that her "inappropriate" clothing consisted of a tank top and shorts. She also noted that the white woman's son was around 14, questioning why the mother would invoke race instead of telling him that Iniminki was not in his age range.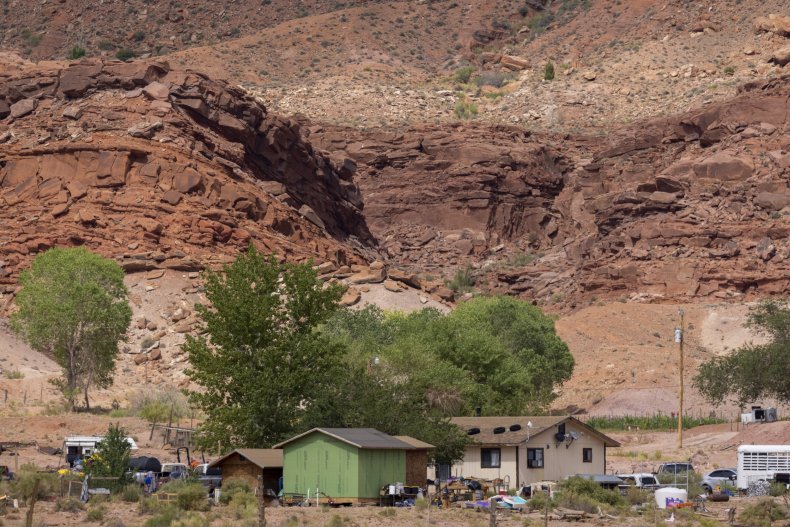 Outraged comments poured in from thousands of readers across Reddit communities. Many urged Iniminki's family to protect themselves in case their neighbor's actions escalated beyond a racist letter.
"Post on your NextDoor app and get a dash cam that records everything and then add it to your harassment report," counseled one comment. "If you live in a [homeowners association], send copies of everything and police report."
Another declared, "That's harassment. You can get a security camera for super cheap on Amazon. Sucks you'd even have to get one in the first place but you can get them on camera to have evidence against them if things escalate."
"Get a police report filed, it will make it far easier to get anything done legally if its [sic] all documented," advised a third reader. "If they trespass, vandalize, or assault you guys, it'll be a good thing to have in your back pocket."
Unfortunately, some Native Americans may be disinclined to turn to police departments for help, as they are more likely to be killed by police than any other demographic in the United States. Fatal injury data from the Centers for Disease Control and Prevention (CDC) showed that Native people were 2.2 times more likely to be killed by police than white people and 1.2 times more likely than Black people.
Native Americans have also faced high-profile threats in schools and private businesses this year. In April, protests erupted after a South Dakota woman banned Native guests from her hotel. In March, Minnesota students exchanged racist messages and bomb threats toward their Native classmates, drawing an outraged response from the local reservation committee.
Newsweek reached out to Iniminki for comment.