'Thor: Love and Thunder' Release Date, Cast, Trailer and Latest Marvel News
Thor: Love and Thunder sees the welcome return of Chris Hemsworth's eponymous God of Thunder in a new, delightful adventure for the Marvel Cinematic Universe (MCU).
Helmed once again by Taika Waiti, who previously directed Thor: Ragnarok, the film reunites Thor with his old flame Jane Foster (Natalie Portman), who has taken up Mjölnir and the mantle of the Mighty Thor.
Here is everything that you need to know about the next chapter in the MCU.
When Will Thor: Love and Thunder Be Out?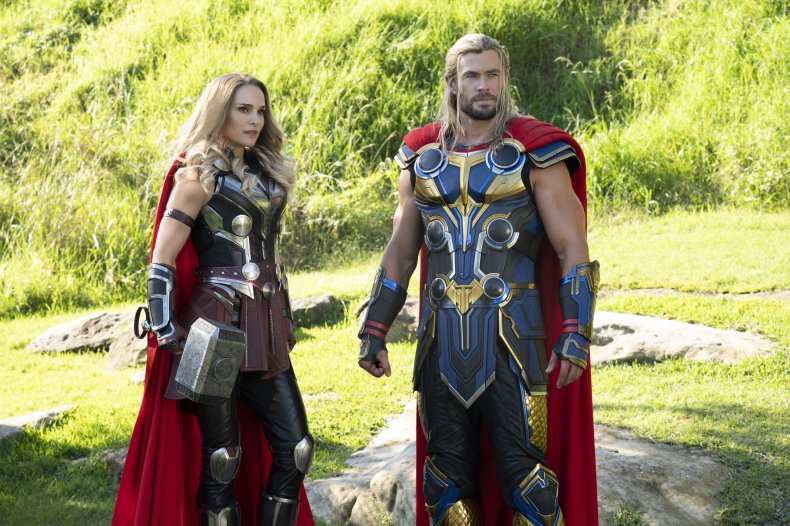 Thor: Love and Thunder will be given a theatrical release and premiere in the U.S. on Friday, July 8.
Unlike Black Widow, Thor: Love and Thunder will be exclusively available in theaters before being added to Disney+ at a later date.
For those looking to avoid any spoilers, it is important to note that the action film will premiere a day earlier in several countries, including Australia and South Korea, on July 6.
The film will is also being released in the U.K., Ireland, Mexico and a number of other countries on Thursday, July 7.
What is Thor: Love and Thunder About?
Thor: Love and Thunder finds Hemsworth's Asgardian deity in the aftermath of the events of Avengers: Endgame as he goes on a quest to rediscover himself.
While on this journey of self-discovery Thor comes across ex-girlfriend Jane, who now has her own powers and has earned Mjölnir in her own right.
Along for the ride are the likes of the Guardians of the Galaxy, though their role has not been clarified, Thor's friend Korg, and the new King of Asgard: Valkyrie.
But it's not all about Thor trying to find happiness as the hero will have to also go up against new villain Gorr The God Butcher.
Who Stars in Thor: Love and Thunder?
As previously mentioned, Hemsworth once again returns to portray Thor, his ninth outing as the character in the MCU.
He will be joined by Natalie Portman who returns to reprise her role as Jane Foster for the first time in almost 10 years.
Tessa Thompson will reprise her role as King Valkyrie, and Waititi will voice Korg.
Guardians of the Galaxy stars Chris Pratt, Karen Gillan, Dave Bautista, Pom Klementieff, Sean Gunn, Vin Diesel, and Bradley Cooper will also portray Peter Quill, Nebula, Drax, Mantis, Kraglin, Groot and Rocket, respectively.
One new member of the cast is Russell Crowe, who is taking on the role of Zeus, while Christian Bale takes on the villainous role of Gorr.
Is There a Trailer for 'Thor: Love and Thunder'?
Yes, a trailer has been released for Thor: Love and Thunder. The first teaser was released back in April and since then several trailers have been released in the lead-up to the film's release.
Thor: Love and Thunder will be released in theaters on Friday, July 8.