Threats Over Racist Prom Proposal Force Schools to Go Remote
A Minnesota school district has switched to distance learning for the rest of the week after schools were sent threats linked to a racist prom proposal.
The proposal photo, posted on Facebook on Tuesday, showed two white students holding a sign that read: "If I was Black I'd be picking cotton, but I'm white so I'm picking you. Prom?"
The image sparked outrage on social media and Big Lake Schools said it had launched an investigation after being made aware of the post on Tuesday.
In a message to parents on Wednesday, which was provided to Newsweek, the school district said it had received "a number of threats towards our schools" in connection with the prom proposal.
The message said all K-12 students would move to distance learning on April 29 and April 30 "in the interest of student and staff safety."
The school district's buildings will also be closed for the two days.
"We have had numerous conversations with local law enforcement and are working quickly to resolve this issue. Student safety is our top priority at all times," the message added.
A spokesperson for the school district declined to comment further.
Sherburne County Sheriff's Office has been contacted for comment.
In a statement posted on its website on Wednesday, Big Lake Schools said it had "addressed the actions of the individuals involved in this incident" in accordance with its policies.
It added that state and federal data privacy laws prohibited it from disclosing more information.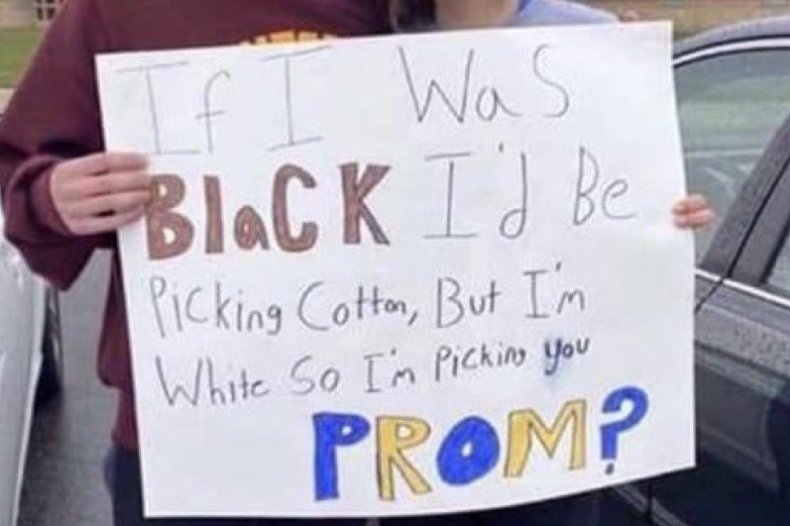 "What we can tell you is that Big Lake Schools recognizes that events of this nature can be traumatic to our students, staff and community," the statement went on.
"We, as a school, need to immediately and comprehensively respond to those concerns with understanding and support."
The school district said additional social workers and counsellors had been dispatched to schools on Wednesday, before the closures were announced.
"We also want to emphasize that the Big Lake School District does not condone racism or accept racism, intolerance or discrimination in any form," the statement said.
The school district's officials will seek to work with civil rights leaders and other professionals to hold discussions on "how we can better ensure acceptance, inclusion and respect for all members of our community," it added.
The racist phrasing seen in the Big Lake sign has been used before by teenagers asking someone to prom. A student in Sarasota, Florida, did it in 2018, followed by a couple in Vermontville, Michigan, a few days later. A high schooler from Clear Fork, Ohio, was photographed with a similar sign in 2019.