The Three Controversies Hanging over Chicago's Paul Vallas
Paul Vallas, the frontrunner to be the next mayor of Chicago, has come under fire over offensive tweets liked by his Twitter account, his relationship with Ron DeSantis and declaring a house in Palos Heights to be his legal residence in 2009 while being registered to vote from a different property.
Vallas, a former education superintendent running on a law-and-order platform, is seeking to unseat incumbent Mayor Lori Lightfoot, who has been criticized over her reaction to a Chicago crimewave, with the city seeing 2,278 homicides since she took office in May 2019, according to one count.
According to an M3 consultants poll of 416 likely Chicago voters conducted this week, Vallas now has a solid lead over his nearest opponent. The survey found Vallas on 32 percent of the vote, followed by Brandon Johnson, a former trade union organizer, on 18 percent and then Lightfoot on 14 percent.
A separate Victory Research poll, conducted between February 12 and 15, also put Vallas first, on 22.8 percent. He was followed by Lightfoot on 17.1 percent, with Johnson on 16.1 percent.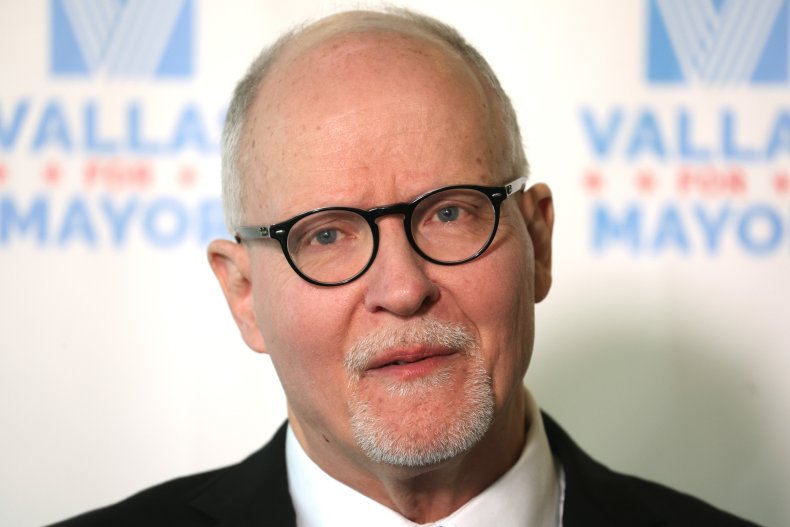 However, Vallas is battling a number of controversies, including the revelation, made by Tribune, that his Twitter account had liked a number of offensive and controversial posts.
Several of these targeted Lightfoot, with one calling her the "the Gnome on the 5th Floor" and another calling her "racist."
One of the tweets liked by Vallas' account, in response to one of his posts, said: "Just don't push that democratic agenda that the citizens of Chicago are tired of. You know defund this, reform that, color this, female that, we just want someone to do the job."
Another liked tweet referred to Chicago Police Chief of Detectives Brendan Deenihan announcing he was leaving the force, and suggested he saw "the writing on the wall" as "a white male."
Responding to the allegation, Vallas said he didn't "personally manage" the account, adding he was "shocked when this was brought to my attention because this kind of abhorrent and vile rhetoric does not represent me or my views."
In a statement sent to Newsweek he added: "While I had nothing to do with liking these posts, our campaign takes responsibility and apologizes, and we want it to be clear that we have already taken immediate steps to restrict access to the account to prevent anything like this from happening again.
"We are working on identifying who is responsible for liking these tweets as many volunteers have had access to the account in recent years, including some who are no longer with the campaign, and will take immediate action in removing them from our campaign if they are still involved."
Separately, Vallas was criticized after Florida Governor Ron DeSantis gave an address in Chicago to the Fraternal Order of Police, a group that had given him its endorsement.
In response, Lightfoot said: "If you reject the right wing and people like Ron DeSantis, then you've got to reject Paul Vallas."
Vallas said he was "disappointed" that the Fraternal Order of Police had issued the invitation, and called DeSantis a "right-wing extremist."
According to the Chicago Sun-Times, Vallas has claimed a property in Palos Heights as his permanent legal residence since 2009, despite being registered to vote in the Bridgeport neighborhood of Chicago.
Speaking to the newspaper, Vallas said this was because he and his wife had "lived apart" for decades.
He added: "Sometimes, people stay married because they make certain arrangements.
"I've always lived where I've worked. This has been our understanding. I wanted my wife to be in her most comfortable setting with her friends and family."
Update 2/25/23 03:15 a.m. ET: This story has been updated with comment from Vallas.