Lori Lightfoot's Chances Look Bleak Ahead of Chicago Mayoral Election
Chicago Mayor Lori Lightfoot is currently polling behind two competitors as she seeks re-election next week, according to a new survey.
The M3 consultants poll, details of which were obtained by FOX 32 News, put Lightfoot in third with just 14 percent support, following Paul Vallas on 32 percent and Brandon Johnson on 18 percent. M3 consultants surveyed 416 likely Chicago voters for the poll this week.
In total, nine candidates are standing to be the next mayor of Chicago, with the first round of voting due to take place on February 28. A second round, between the two leading candidates, is scheduled for March 4, unless one of the candidates gets at least 50% plus one vote.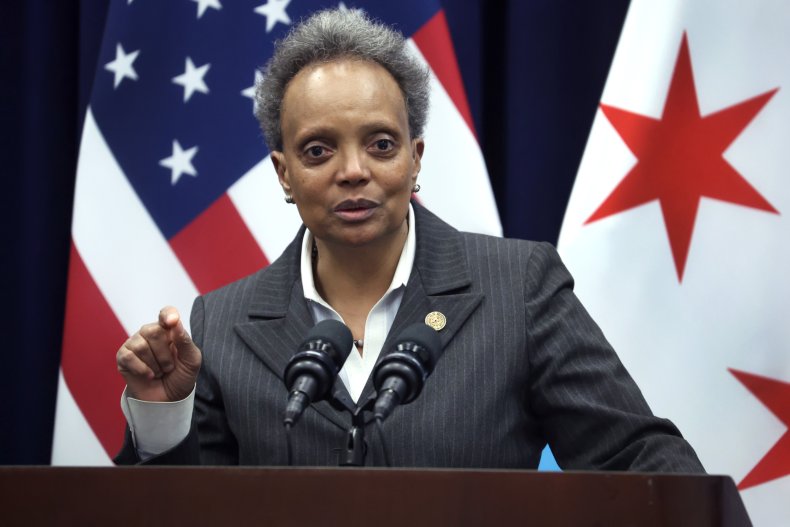 Mayor Lightfoot has been sharply criticized for her response to a Chicago crimewave, which has resulted in 2,278 homicide victims since she took office in May 2019, according to one count.
Former Chicago Public Schools CEO Vallas, like Lightfoot a Democrat, has positioned himself as the law-and-order candidate, claiming reducing crime is his "top priority." On his official website, Vallas argues the city appears to have been "surrendered to a criminal element that acts with seeming impunity," and vows to "to return CPD (Chicago Police Department) to its core mission to serve and protect."
On her campaign website, Lightfoot, generally regarded as on the left of the Democratic Party, claims "we cannot just arrest our way out of this problem" and instead "have to invest our way through it." She notes CPD hired 956 new police officers in 2022.
The M3 consultants poll results reflect similar findings from a Victory Research poll, conducted from February 12-15, which also placed Lightfoot behind Vallas.
According to the survey, of 806 "likely Chicago voters" Vallas is in the lead on 22.8 percent, followed by Lightfoot on 17.1 percent and Johnson, a former union organizer, with 16.1 percent.
Speaking to local network ABC 7about the findings, Victory Research pollster Rod McCulloch said: "I think Paul [Vallas] has solidified himself as the front runner in the race with his message of law and order.
"It appears unless something changes that Paul Vallas will be in the runoff with someone. I don't know who that is, lots of candidates are close enough to be there."
In September 2022, Lightfoot clashed with Greg Abbott, branding the Texas governor a "racist" after he bussed 95 migrants to Chicago.
Two months earlier, in July, Lightfoot was criticized for condemning "toxicity in our public discourse" just weeks after shouting 'F*** Clarence Thomas,' referring to the conservative leaning Supreme Court Justice, at an abortion rights rally.
Mayor Lightfoot has been contacted for comment.