Three-Quarters of Republicans Oppose Raising Minimum Wage: Poll
New polling shows that the vast majority of Republican voters oppose raising the federal minimum wage, although strong majorities of Democrats and independents support the idea.
President Joe Biden and progressive Democrats have pushed for raising the wage to $15 per hour. It is currently set at just $7.25 per hour and was last increased back in July 2009.
Progressive Democrats had hoped to push the wage hike through in Biden's $1.9 trillion American Rescue Plan, but the Senate's parliamentarian ruled that it could not go through the complicated budget reconciliation process. Democrats had turned to reconciliation, which requires only a slim majority to pass in the Senate, after it became clear that Republicans would not support the coronavirus relief bill.
As Democrats continue to push for the wage increase, a new survey published on Tuesday by Amazon and Ipsos shows that 92 percent of Democrats believe the federal minimum wage should be increased, as do 64 percent of independent voters. However, just 24 percent of Republicans support a wage hike, while about three-quarters (76 percent) oppose the idea. In total, 83 percent of respondents said a federal minimum wage under $15 per hour is too low.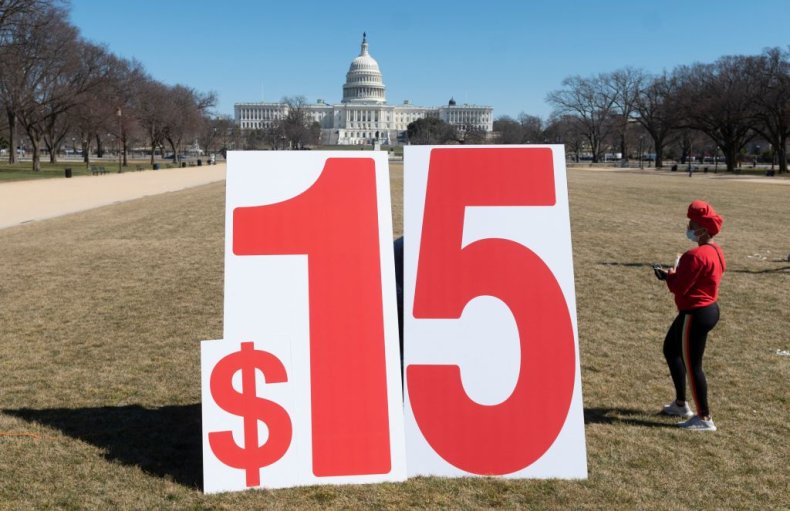 Notably, the poll found significantly greater support among Black and Latinx Americans for raising the minimum wage than among white Americans. Among Black Americans, 97 percent said they believe the wage should be increased, as did 80 percent of Latinx Americans. Meanwhile, only a slim majority of white American (52 percent) said the wage should be raised.
Although a $15 per hour minimum wage is widely popular with independent and Democratic voters, some moderate Democrats oppose such a substantial increase. Democratic Senators Joe Manchin of West Virginia and Kyrsten Sinema of Arizona have come out against the idea, and Manchin has suggested a more modest increase to $11 per hour. Meanwhile, Republican Senators Mitt Romney of Utah and Tom Cotton of Arkansas have proposed a hike to just $10 per hour.
Another recent survey, conducted by Morning Consult and Politico, showed that raising the federal minimum wage to $11 per hour would be more popular than raising it to $15—although both proposals enjoyed overall majority support.
While 60 percent of voters approved of an increase to $15 per hour, 71 percent said they backed raising wages to $11 per hour. The bump up to $11 enjoyed majority support from Republicans (56 percent), independents (69 percent) and Democrats (86 percent).