'A Thrill': Matt Doyle on Being in Sondheim's 'Company' With Patti LuPone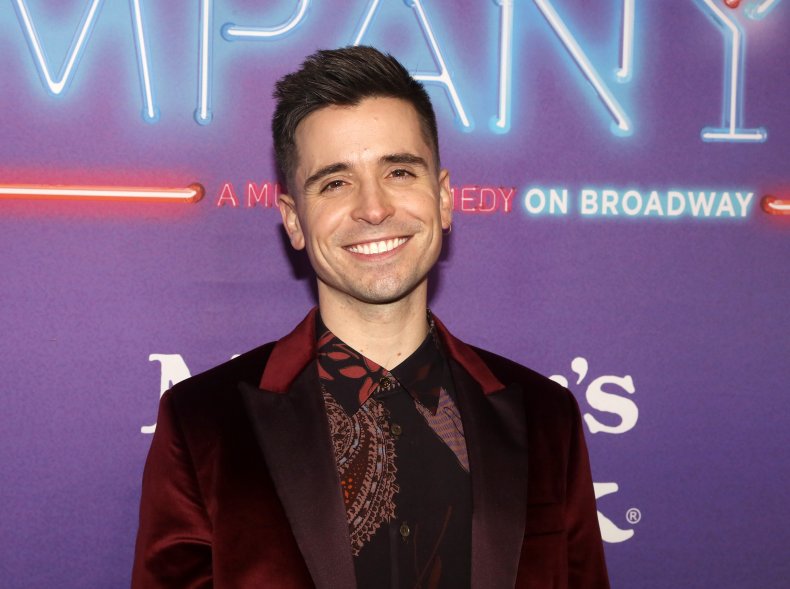 "I've just tried to remain present for all of it. But I don't think, moving forward in my career, anything will top this for me in terms of just how profound it is"
Imagine you're about to star in a big Broadway musical written by a legend of Broadway—Stephen Sondheim—and then a global pandemic comes along and puts all of those plans on hold.
That's exactly what happened to Matt Doyle, who stars in the newly re-imagined musical Company. Doyle, who received a Tony nomination for his performance in the show, spoke with Newsweek's Parting Shot with H. Alan Scott about the show, what it was like meeting Stephen Sondheim, and how he keeps it together working with Patti LuPone night after night.
SUBSCRIBE TO THE PARTING SHOT WITH H. ALAN SCOTT
ON APPLE PODCASTS OR SPOTIFY
Who do you play in Company?
So my character is Jamie, formerly known as Amy, and [he] is a groom who's having a mental breakdown on his wedding day and sings the big song "Getting Married Today." And he's having a panic attack on stage. And it's one of the most well-written panic attacks I've ever, ever come across.
He has this complete mental breakdown in hysterics, and the song just builds and builds with more and more irrational thought until we reach this cacophony at the end. And it's followed by a very hysterical scene where Jamie keeps pushing his wonderful loving partner Paul away and further away, mostly out of the fear of ruining this man's life, because he's such a disaster.
How do you relate to Jamie?
I've had an anxiety disorder and panic attacks my whole life. I've dealt with anxiety ... and that same kind of self-sabotage all the time. And I was so excited to be able to play this part because I get to bring so much of myself into it and identify with this character on such a deep level and know that kind of self-loathing and that fear, and not wanting to hurt people and not believing that you're deserving of that love. And I think right now, it's so nice to remind people that we all are deserving of somebody who can see past all of our flaws, and see straight through to who we really are.
It's a thrill to be able to be a part of it. We have a really diverse cast, obviously, and several people of color within our cast. But also it is a female-led show that was historically a male-led show and to have this feminist spin on this musical and see the perspective of a woman turning 35, and what that means for a woman—it's so much deeper than just the pressure of getting married. There's the pressure of a biological clock that we don't talk about.
And then my character, playing a gay male on stage right now—you know, it sounds like, "Of course, there's so many gay characters and media right now." Well, yeah, sure, but this character wasn't gay before. Gay marriage wasn't legal in 2006 [when the last time Company was revived].
And on top of that we're in this era [where] we wake up, [and are] given the news that's going on with the Supreme Court right now. We're in this era where rights are being taken away from us. So it's really important to remind people of this right of gay marriage, and also remind people how similar we all are, and that we all are deserving of the same equal rights.
There's such thrilling new material [on Broadway] right now, like with Strange Loop, which is about a queer Black man. And, it is so exciting to just hear this story, and it's so important to see through the lens of someone that we haven't seen through, and listen to struggles that we don't necessarily know about and understand. And [Strange Loop is] so beautiful, and relatable, and wonderful. And I think that that needs to keep happening, especially within media right now.
How does it feel to be working on a Sondheim musical that he worked on, but also have it be his last project? It must be scary.
It is scary, it is. I don't think I'll ever recognize how profound it is. I keep trying to take it all in.
Standing there that night, the night that we learned of his passing, was terrifying and heartbreaking. And I rolled out to do my song, which is a very difficult song, perhaps the most difficult song he wrote. And I just was mortified that I would just miss one syllable, you know? And that was an unbelievable night.
I've just tried to remain present for all of it. But I don't think, moving forward in my career, anything will top this for me in terms of just how profound it is, especially within theater. The last production. He worked on something he loved so dearly. And he was such a huge champion for this piece and for this production. Being involved in this work during that passing and during this moment is something that I just keep trying to take in because it's something I'll never top.
This revival was going into production pre-pandemic, and then of course, everything happened. Do you have a particular memory with Stephen Sondheim that stands out to you?
Yeah. I—he always loved the line "I'm the next bride." I tell the story all the time, because it means so much to me. It's the final line that my character says before he runs off. And Stephen kept on giving me note after note on it. He really wanted it as big as possible, just shouted up to the rafters. And I finally did it for him when we came back for our second first preview on the other side of the pandemic.
He was in the audience and he came up to me after the show and just placed a hand on my shoulder and said, "That's it." He had tears in his eyes, and he said "it can never be less than that. It's the most celebratory line. It's my favorite line in the show." And he said, "and now, from the perspective of a gay man, it's so, so important that we see that celebration and that joy."
Listen to H. Alan Scott's full conversation with Matt Doyle on Newsweek's Parting Shot. Available on Apple Podcasts and Spotify. Twitter: @HAlanScott