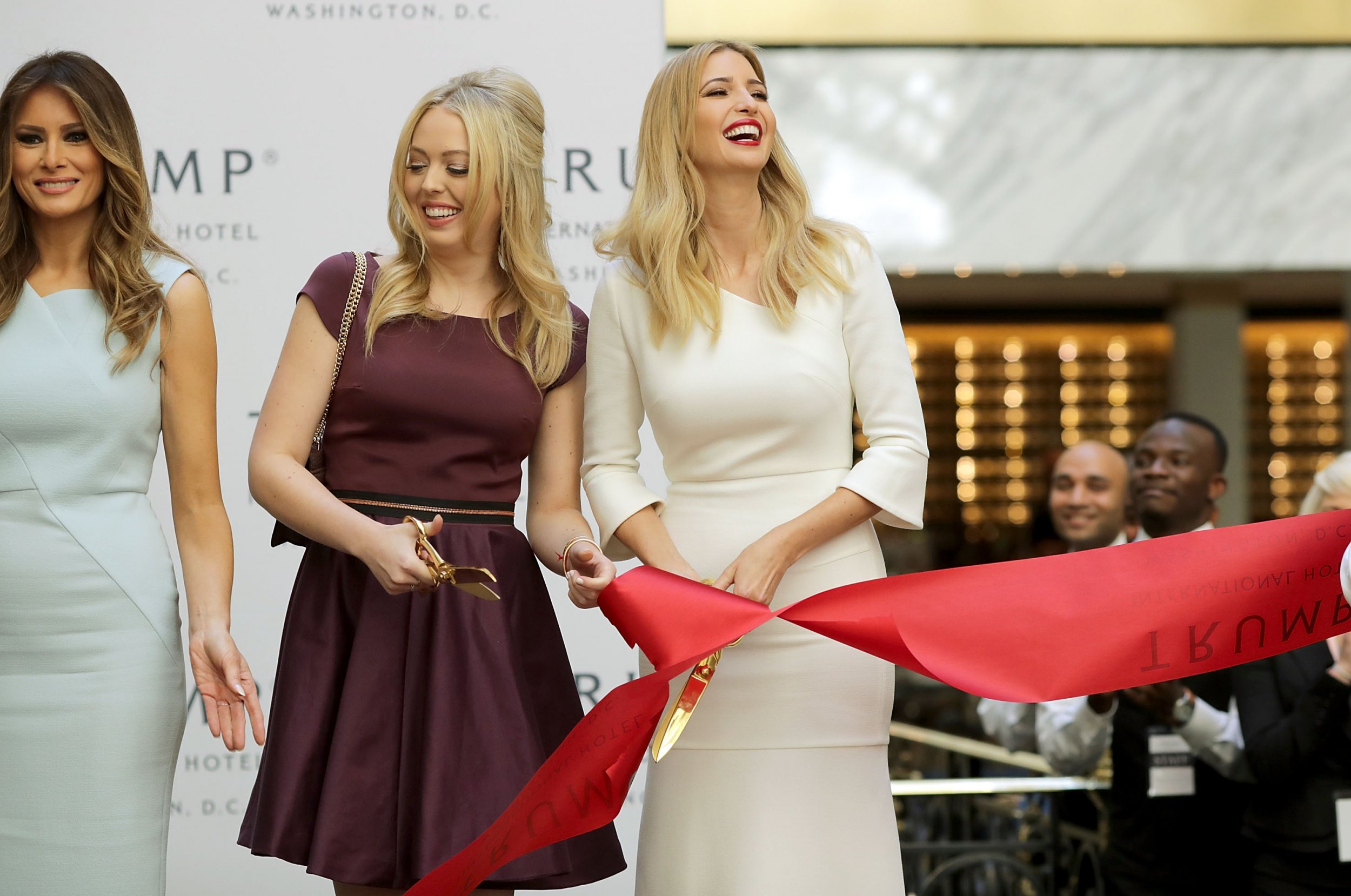 Ivanka and Tiffany Trump may be half-sisters, but the two first daughters live very different lives. The latest proof came this week, when Tiffany Trump was spotted at a Washington, D.C. Indian restaurant... as Ivanka Trump got ready to actually tour India.
The Washington Post reported that Georgetown Law student Tiffany Trump and a friend spent Monday night at Rasika, which includes such choices on the menu as tandoori chicken tikka (made with chili, garlic, garam masala and mint chutney) and Bengali shrimp curry (made with onion seeds, fennel and cumin).
Further details about the meal were scarce, but one thing is for sure: Ivanka Trump is about to eat much more authentic Indian food.
That's because Ivanka Trump, whose official position is White House adviser, is preparing to travel to Hyderabad, India, for the eighth annual Global Entrepreneurship Summit from November 28-30. The event's theme this year is women entrepreneurs, which falls in line with Ivanka Trump's previous pet projects: In July, she attended the G20 summit to launch her Women Entrepreneurs Finance Initiative—and then convinced her dad to commit $50 million to it.
Ivanka Trump's upcoming trip overseas already has India buzzing. In August, Prime Minister Narendra Modi tweeted that he was looking forward to having her at the summit. Then, on Tuesday, Hyderabad police commissioner M. Mahendar Reddy announced he was banning people from begging in the city until January 7. Reddy said the begging was "causing annoyance and awkwardness," but others immediately speculated that the decision was linked to Ivanka Trump's visit, according to the Hindustan Times.
On Wednesday, about 400 beggars were picked up off the streets and taken to a rehab center at a nearby jail. About 6,000 homeless people are expected to be taken to such centers in total, according to the Indian Express.
Ivanka Trump's glamorous life is constantly compared to Tiffany Trump's. The daughters are from different marriages, and Donald Trump lavishes the former with attention and compliments while sometimes ignoring the latter.
Last November, for example, Donald Trump praised his sons and Ivanka Trump before saying he was proud of Tiffany Trump "to a lesser extent."
In September, Newsweek revealed the billionaire had spoken with radio host Howard Stern in 2005 about how his kids planned to split his inheritance. Stern asked whether Donald Trump's kids were trying to "bump off the other child," and Trump responded by insisting "Tiffany is great."
And then, last month, nobody in the Trump family publicly wished Tiffany Trump a happy 24th birthday. But the president and first lady attended a surprise 35th birthday dinner for Ivanka Trump just two weeks later.