TikTok May Make Changes to Distance Itself From China Amid U.S. Pressure
Senior executives from TikTok's parent company are reportedly considering ways to distance the popular app from China, as U.S. pressure mounts.
Officials from ByteDance, the Beijing-based tech startup that owns the short-form video app, are now mulling a shake-up of TikTok's corporate structure that could see it launch a new headquarters outside of China, The Wall Street Journal reported.
According to the paper, early-stage talks raised the possibility TikTok could install a new management board that would further separate it from the operations of its parent firm. Possible HQ locations have been touted as Singapore, London or Dublin.
Plans are being accelerated due to "recent events," a source told the Journal, speaking after threats of an investigation or ban by Trump administration officials.
A TikTok rep told Newsweek: "As we consider the best path forward, ByteDance is evaluating changes to the corporate structure of its TikTok business."
"We remain fully committed to protecting our users' privacy and security as we build a platform that inspires creativity and brings joy for hundreds of millions of people around the world. We will move forward in the best interest of our users, employees, artists, creators, partners, and policymakers," a company statement added.
It is unclear if distilling TikTok's structure would allay the fears of U.S. politicians, who have repeatedly claimed the app's close links to China are a national security concern, leaving U.S. user data at risk of being exposed to a foreign government.
TikTok, which is hugely popular with teenagers across the world, had been downloaded more than two billion times globally as of April, according to Sensor Tower data. In the first quarter this year, TikTok attracted 165 million installs by U.S. users.
"While TikTok was on the ascent before 2020, the app has hit new levels of popularity so far this year. Its record-breaking Q1 came during a global pandemic, leading in part to an increase in downloads, engagement, and revenue," the analytics firm said.
Since May this year, TikTok has been led by ex-Disney streaming executive Kevin Mayer, who is based in California. Inside China, a version of the app is called Douyin.
While opposition to the app in the U.S. has existed for months, it surged this week after comments made by secretary of state Mike Pompeo, later backed up by President Donald Trump, suggested TikTok could be outlawed by the U.S. government.
When asked if U.S. citizens should ever download the mobile app during an interview on Fox News' The Ingraham Angle on Monday, Pompeo told the host: "Only if you want your private information in the hands of the Chinese Communist Party." His comments came after India banned TikTok and dozens more apps over security concerns.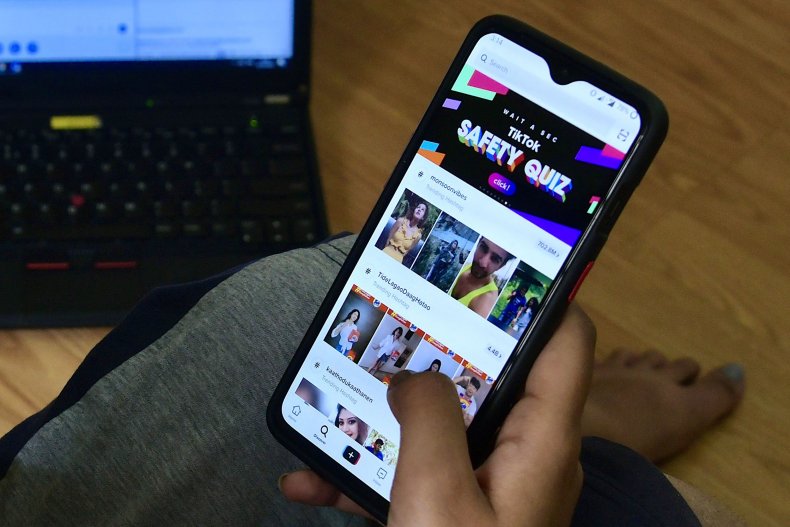 In its company statements, TikTok has repeatedly denied working with the Chinese government, asserting that it never hands over its users' data.
"TikTok is led by an American CEO, with hundreds of employees and key leaders across safety, security, product, and public policy here in the U.S. We have no higher priority than promoting a safe and secure app experience for our users. We have never provided user data to the Chinese government, nor would we do so if asked," the firm said.
In a previous blog, TikTok claimed that U.S. user data is stored in the U.S., with a backup redundancy held in Singapore. "Our data centers are located entirely outside of China, and none of our data is subject to Chinese law," it asserted.
This week, TikTok ceased operating in Hong Kong over a controversial new security law, following similar actions by tech firms Google, Facebook and Twitter.
Regardless, speculation of an imminent ban surged across social media this week, only made worse on Thursday after the app suffered a temporary service outage. If it were to go ahead, download statistics suggest it would affect millions of U.S. users.
The following graphic, provided by Statista, shows the countries where TikTok has been downloaded the most. It is based on app download figures as of June 30 this year.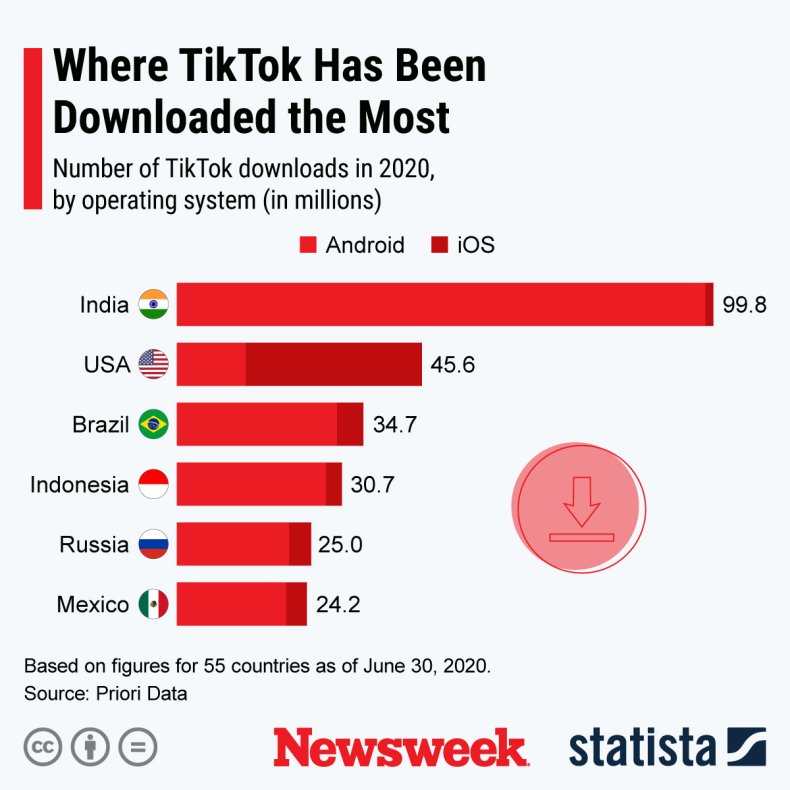 This article was updated to add a Statista graphic and a response from TikTok.