Cat Starting Fight With 60lb Dog Leaves Internet In Hysterics: 'Instigator'
The internet has been left in hysterics by a video showing a black cat throwing punches at a dog while he tries to sleep—as the feline refuses to be held back by his small frame.
Pet owner Katherine Kustas of Long Island, New York, noticed her rescue dog, Apollo, trying to catch some well-earned sleep. However black cat Domes had other plans.
The now viral video was shared on TikTok by @domesroams, with text reading: "Telling my 8 pound cat not to start fights with the 60 pound dog," showing viewers what Apollo has to put up with at the paws of Domes.
Play fighting is a common behavior in cats and usually isn't anything sinister. The American Society for the Prevention of Cruelty to Animals (ASPCA) suggests that while cats might have playful intentions, sometimes their behavior can go a bit too far.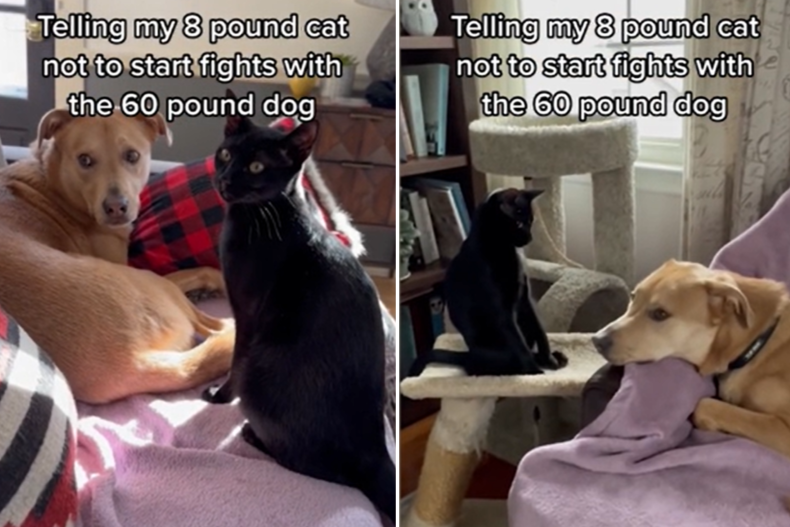 Playful aggression can be directed towards other pets or their owners, and it can include stalking, running, ambushing, pouncing and swatting with their paws.
The good news for Apollo is that cat aggression rarely causes any serious damage or injury, but if their behavior is too frequent then the ASPCA suggests owners find ways of redirecting their behavior with toys, and not condoning the cat's actions.
Fortunately, Domes and Apollo get on well most of the time, much to the relief of Kustas. Domes may be the smaller of the two pets, but his small size doesn't hold him back as he's usually the one to pounce on Apollo, who is generally more docile.
Kustas told Newsweek: "Domes and Apollo are actually really good friends! I found Domes alone in a car engine when he was only a month old, so I was a little worried about introducing him to Apollo because of their size difference. But their relationship really surprised me.
"Apollo is very gentle and tolerant, so generally Domes will hunt and pounce on him, but occasionally Apollo will start poking Domes with his snout until Domes starts playing.
"Once one of them starts the fight, Apollo usually chases Domes around the house for a bit, which is what Domes seems to want. They never seriously try to hurt each other though."
The duo appear to have become TikTok sensations after going viral, as the video already has over 629,000 views since it was posted on February 28. Plenty of TikTok users have been left in hysterics by the relationship between Domes and Apollo, as Kustas wrote: "He's an instigator."
"It's been pretty funny, a lot of people have similar stories that they've been leaving in the comments," she told Newsweek.
"I've been having a great time reading about how cats everywhere are taking advantage of the gentle nature of dogs much larger than them. It really shows how cats see themselves as the top of the food chain."
One TikTok user had sympathy for Apollo, as they commented: "Poor guy was just sitting there," and another person wrote: "There was malice behind those slaps."
Do you have funny and adorable videos or pictures of your pet you want to share? Send them to life@newsweek.com with some details about your best friend and they could appear in our Pet of the Week lineup.