'Who Saved Who?': Man Hilariously Falls in Pool While Trying to Rescue Dog
The moment a man fell into his pool head-first and fully clothed in a slapstick attempt to rescue his dog has gone viral online.
Marcela Wolf, owner of non-profit The Wolf Pack Rescue in Arizona, shared the Ring doorbell footage, though it's unclear if it was taken in her own garden or at the rescue.
To the tune of popular TikTok audio "Oh No," which often is paired with accidents and fails, the Ring camera captured the moment a man's attempted rescue of a dog half-succeeded.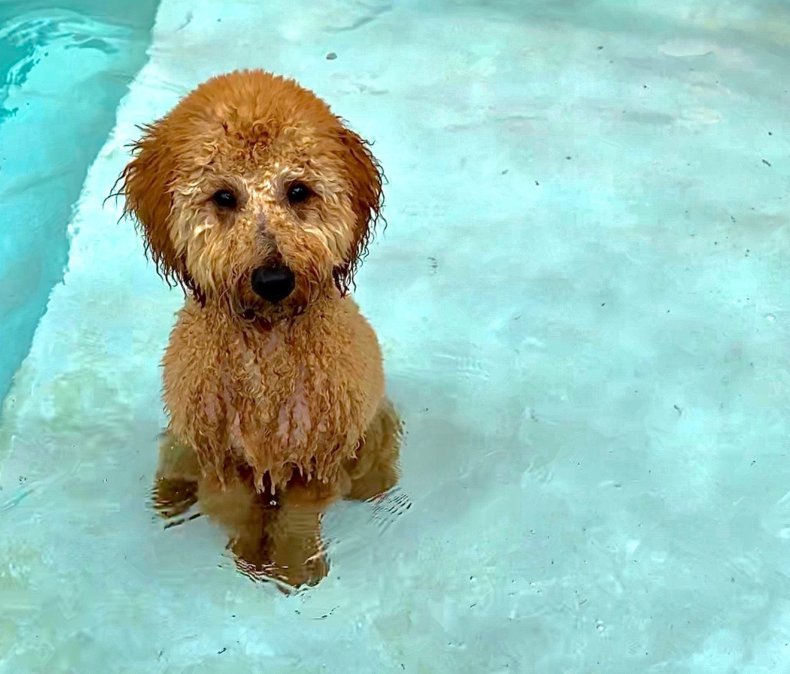 The footage, which gained over four million views, showed a tiny pup running and falling directly into the swimming pool, before beginning an attempt to swim to the stairs. One other dog simply ran away from the scene, while the other two sheltered in the shade to watch, seemingly unfazed.
In contrast, panic clearly set in to the man, who was left alarmed enough by the fall to instantly run after the dog. It didn't go to plan, however, as he followed suit and fell in himself, head first and fully clothed. He eventually grabbed the tiny dog, following lots of splashes and commotion, and placed it onto the safety of the patio.
With so many views on the clip, the internet was left entertained but noted how different the situation could have panned out.
"Who saved who?" joked one TikTok viewer.
"Dude almost drowned his dog and himself trying to save the doggy, who btw wasn't drowning," commented one user.
"All this man did was thwart the puppy's attempt to find a way out. That dog was swimming just fine," added another.
Despite potentially not being necessary, an attempt to save the dog was far from irrational. According to the Pool Safety Network, around 5,000 family pets drown every year in backyard pools, making it better to be safe than sorry in this particular case.
This is something noted by other viewers of the viral clip, who though appreciated the humor, pointed out the importance of taking such precautions. "I think the pup knew where the stairs were. Lots of pets do drown, so I applaud the effort," commented one user.
"So many dogs have died this way. Thank goodness he was there when it happened," added another.
In recent months, moments caught on Ring doorbell cameras have frequently gone viral on TikTok, becoming a genre within themselves, and often capturing the most unexpectedly hilarious moments.
Just this week, two bears were caught on a Ring doorbell camera peeking into the window and pawing at the door. The 43-second footage caught the mother and cub stroll over to the front door before investigating the house.