TikTok has come in for criticism from subscribers for not removing videos that depict teenage boys ripping open girls' shirts, or dreaming up scenarios of how they would attack a date.
The two themes have become trends on the video-sharing platform in recent weeks, with a number of young subscribers sharing their takes.
TikTok is particularly popular with teenagers, prompting actor and writer Tova Leigh to raise the alarm by sharing some of the clips on her own social media accounts.
Two of these videos showed teenage girls feigning shock as boys ripped open their tops. In a clip about dating shared by Leigh, a TikTok user wrote: "Imagine we're on a date looking at the stars by a cliff and then I just push you off and you die."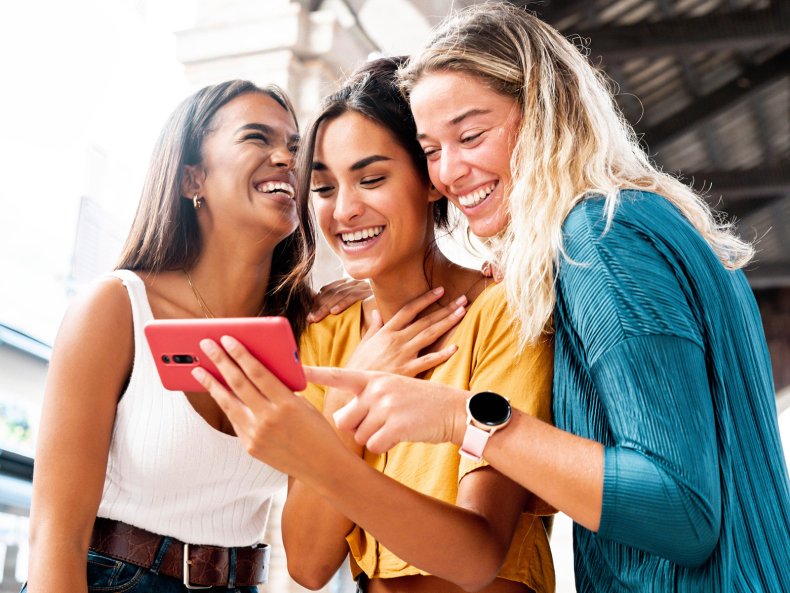 Another clip was captioned: "Imagine we went on a bowling date and while you weren't looking I threw the ball at your head and then threw you down the lane for a strike."
A third clip imagined a scenario where "we go out on a date and dig a hole and then trip you over and afterwards I push you down the hole, steal your phone and bury you alive."
Leigh described the trends as "basically rape culture at its finest" and "a whole bunch of guys describing how they would murder their dates" respectively, in an Instagram post on June 17.
She also shared the video on TikTok, where she has more than 400,000 followers, adding the caption: "A friendly reminder to parents - If you have kids on this app, time to get [them] off it."
Her post has ignited a debate among social media users, with the Instagram upload attracting more than 700,000 views and the TikTok version pulling in over 520,000.
Leigh told Newsweek that she happened upon the videos after falling "down a very dark rabbithole of lots of videos that basically normalize domestic abuse, sexual violence and rape culture. These are all topics I talk about regularly, so I mentioned it in my stories on Instagram and realised that many people were unaware that this type of content could be found on Tik Tok.
"Most of my followers are parents with children who use the app and it seemed to me that they should know what their kids are potentially watching."
She added: "It's actually quite scary to see how many creators hop on these trends and what's even more scary is the amount of likes and comments these videos tend to get.
"I don't know why they are popular, but I do know that they are very dangerous. I think that TikTok in particular is infested with misogyny. There are many young boys posting dangerous content that's very hateful towards women and girls.
"I'm not the first one to complain about it. I think in general social media platforms have failed to protect users, especially women, but TikTok are taking it to a new level potentially due to the young age of the users."
In her post, Leigh said she had flagged the videos to TikTok, but had been told none of them violated the platform's community guidelines—a response that she told Newsweek she was "in shock about."
"Since then, many of my followers have reported similar videos and received the same type of response," Leigh added. "I don't really understand how the video whereby someone is describing in detail how they would murder their girlfriend doesn't go against community standards.
"What's ironic about it is that many of my videos—and other female creators who discuss topics like feminism, and speak up against domestic violence, rape culture, sexism—these videos get flagged up all the time and removed from the platform.
"It seems like TikTok are happy for videos encouraging violence against women to be on their platform but not for people to speak against it."
A TikTok spokesperson told Newsweek: "Misogyny has no place on TikTok. Content that promotes hateful behaviour and violence against women goes against everything we stand for as a safe and inclusive platform and will be removed."
At least one of the TikTok accounts Leigh flagged appears to have been banned from the platform following Newsweek's inquiry.
The content creator, who is herself a mother, said she felt other parents needed to be made aware of what their children could be exposed to on the platform.
"I ran a poll on my Instagram stories and discovered that 20 percent of children under the age of 13 are already using the app," she said. "What parents don't know is that if even if their own children are not users, they might still be exposed to this content because it can be found on YouTube and they might be watching on their friends' phones.
"I wanted to encourage parents to have these conversations with their children and not trust that the app is doing enough to protect them."