Internet Left Feeling Envious of Rescued Dachshund Flying Business Class
"It's a dog life" is a common saying to describe an unhappy situation. However, that's far from true for a rescued dachshund living the high life.
Fifi, a four-year-old dog, has recently been caught on camera having a nap while 36,000 feet in the air, traveling in style in business class.
In a viral Instagram clip shared to @fifilittledarling, the pup is tucked up in bed during an 11-hour and 40-minute flight from China to Turkey.
So far, the adorable video of Fifi flying with Turkish Airlines has garnered over 8 million views and over 377,000 likes.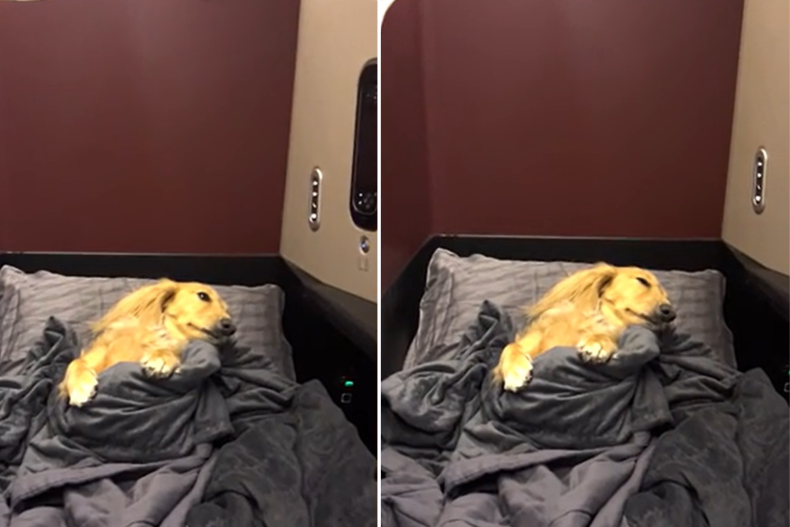 Newsweek reached out to her owner Helen, who doesn't wish to share her surname, and she said: "I adopted Fifi when she was one year old. We believe this is her first flight and we decided to fly business and have Fifi in the cabin with me because I couldn't deal with her being in the hold with the cargo.
"She's my sidekick and I don't like to be away from her. And she's the same.
"At home - she will always follow me into the restroom and come into the bedroom for a morning cuddle."
In 2018, Statista Research Department found 83 percent of 1,500 dog owners feel guilty if they go on vacation without their dog and 22 percent of respondents won't enjoy a holiday without their furry friend.
The data also revealed that 40 percent of canine owners believe their pup deserves a break. However, some dogs aren't lucky enough to even board the plane.
Due to International aviation regulations, Turkish Airlines doesn't accept the following breeds on their flights: American Pitbull Terrier, American Staffordshire Terrier, Pitbull Terrier, Japanese Tosa, Dogo Argentino, Fila Brasileiro.
But for those who can jet off with their pups, Helen has provided four tips for dog owners traveling with dogs:
Make sure your dog is comfortable being in the dog carrier and offer treats as a reward for spending time in the carrier.
To prevent any accidents, feed your dog a few hours before the flight and limit their water intake.
Make sure your dog has had plenty of exercise before arriving at the airport as some airlines don't allow your pet to leave the carrier.
Book a red-eye flight so your dog can get a full sleep.
She added: "Fifi made everyone smile and when we left the airplane people were surprised to see her on the plane as she was quiet."
The viral clip has gained a lot of traction online and many people wished they were not only sitting next to Fifi but flying in business class.
One user said: "Oh no, this dog is living a better life than me, I've never travel[ed] in business or first class before. Look how comfortable he is, oh Jesus."
"Dogs are classier and more polite than some human passengers," commented another.
Another said: "I want to be this dog."
Update 02/13/23, 02:13 a.m. ET: This article was updated with Fifi's Instagram.
Do you have funny and adorable videos or pictures of your pet you want to share? Send them to life@newsweek.com with some details about your best friend and they could appear in our Pet of the Week lineup.