Jeffree Star Returns to Makeup Reviews Amid Mikayla Nogueira 'Lying' Storm
Jeffree Star has vowed a return to makeup reviews after another influencer came under fire for being dishonest about a product placement.
Star, 37, is one of the most successful YouTubers ever and built his brand on makeup tutorials and he has since launched his own cosmetics and skincare line.
But he took to Twitter this week to call out "lying" influencers after popular makeup artist Mikayla Noguiera came under fire for a post about mascara.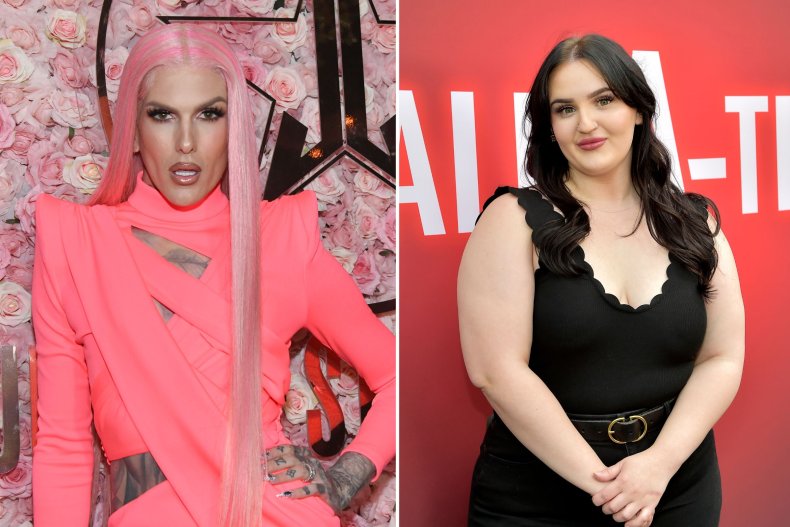 "I'll be BACK to reviewing makeup products next week. These f****** b****** can't stop lying to their audiences and it makes me SICK," he tweeted.
Noguiera was accused of misleading her 15 million TikTok followers in a video where she trialed a new mascara by L'Oreal.
She was trying the company's Telescopic Lift Washable Mascara, and showed one eye with the mascara on and the other without any.
"This looks like false lashes, how, what!?" she said as she applied a coat to the other eyelash.
"I'm going to add a second [coat], look at the length," Nogeuira added, but fans noticed an edit in the video and thought the eyelashes looked suspiciously full. Some accused her of putting on fake lashes to exaggerate the effect of the mascara.
"I am speechless and I'm not sure anyone's ever going to be able to compete with this mascara," she said at the end of the TikTok.
Her comments quickly became filled with people saying the results had been faked.
"Girl did u add falsies at the end ? we can see the length in the outer corner," asked one fan in the comments. But Noguiera denied she had, replying "Nooo just three/four coats and my tight liner."
But some also lashed out at the influencer for not being more clear that the video was a paid partnership with L'Oreal.
"Is this an ad? I don't see the disclosure, only a tiny "L'Oreal partner" label at the very beginning that disappears quickly so I'm not sure," wrote one person.
Another added: "Okay now how do we know when you're telling truth about a product now."
Noguiera had added "L'Oréal Paris Partner" in the bottom corner of the video but it was only there briefly and hidden by the caption. She also failed to include the '#ad' hashtag required by TikTok to alert viewers it was a paid promotion. The makeup artist did include "LorealParisPartner" in the caption, but it is not clear whether that was included in the original post or added later.
Newsweek reached out to Noguiera for clarification.
Following the mascara controversy with Noguiera, Star tweeted his return to makeup reviewing with many interpreting it as a direct diss to her.
"Mikayla lied so hard Jeffree Star is coming back from his farm to review makeup," wrote one person on Twitter.
Another added: "Mikayla summoning Jeffree out of Makeup review retirement is my favorite moment of 2023."
Star is no stranger to controversy and has been accused of having a racist past.
A 2004 photo of him resurfaced in June 2020 showing him promoting a website called "LipstickNazi.com" with a photo of him and a swastika on it.
Star was also accused of manipulating Black micro-influencer Kameron Lester, who said he used him as his "token Black boy."
In 2017, YouTuber Gabby Zamora called attention to Star's former MySpace posts, which included alleged common use of the n-word and derogatory statements about Black people.
Star later released an apology video on his YouTube following Zamora's revelations.