Jeffree Star Says Rumor He Dated Kanye West 'Untrue' But 'Makes Sense'
Jeffree Star has once again shot down a false allegation that he and Kanye West had a romantic relationship, though he added that the rumor "makes sense."
In January 2021, erroneous rumors circulated that rapper and entrepreneur West, 45—who is now known as Ye—was having an affair with the 36-year-old YouTuber. At the time, West was still married to his now ex-wife Kim Kardashian.
Soon after learning of the baseless accusation, Star—real name Jeffrey Lynn Steininger Jr.—released a YouTube video, in which he vehemently denied the claims that were made in a viral TikTok clip.
"Me and Kanye have never hung out, and this whole thing is really funny," said star, in his video, which was titled: "Addressing the Kanye Situation."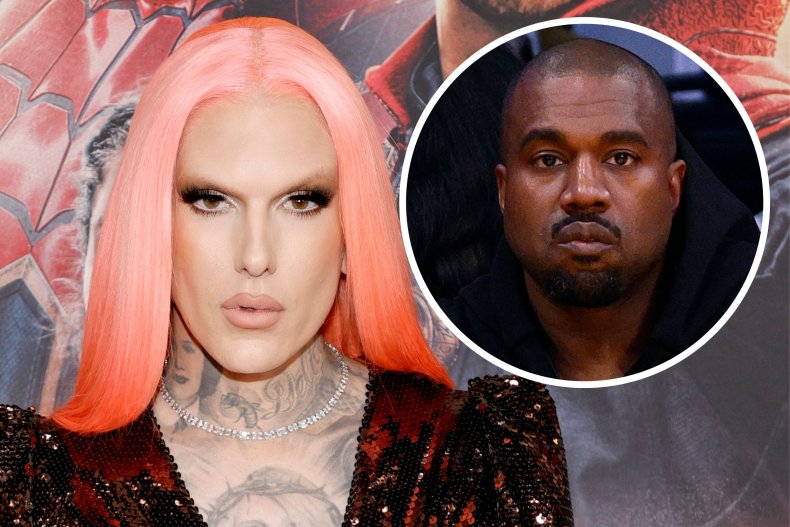 When the makeup guru sat down with Logan Paul on his Impaulsive podcast for an interview released last week, the subject was brought up once again.
Addressing the claim, Star said: "Someone made rumors about me and Kanye. It was so stupid."
Calling the rumor "very untrue," Star explained that "a girl on TikTok" started the chatter, adding: "She made it up and I guess it made sense. I live in Wyoming, I live in Hidden Hills [California]. We both live in the area. It's the way it was mapped out, I guess. It sounded good and started off the new year with a bang."
Elsewhere, after claiming that he's had trysts with more than 1,000 men, Star said that many of his experiences have been with men who identify as straight, explaining: "I don't out people, that's why people f*** with me."
Star added that "a lot" of the men he has had dalliances with are new to same-sex experiences, "because they can't trust people. A-listers, rappers, they can't trust anyone. They're afraid of people taking videos of outing them and doing all these things, where like I don't give a f*** about any of that."
"I think it's because hip-hop culture is so gangster and all about women and p**** and money and all this that it's like taboo to like be with someone that's trans or gay," he went on. "It's just like so shocking still to this day and it's such a news story."
In June 2021, Star spoke with Entertainment Tonight about the false claims regarding him and West, as he reiterated that he and the musician don't know one another, and also joked that the "Flashing Lights" rapper isn't his type.
"I know it sounds fun, but I prefer taller rappers and that's that," he told the entertainment news outlet. "That's on that. Look how tall I am. I can't."
However, he added at the time that was open to one day working with West, who has also enjoyed phenomenal success in the fashion world.
"Listen, we don't have to collab sexually, but if we want to collab with Yeezys, you know my address," Star said.