TikToker Shares the Contents of Teen Brother's Untouched Lunchbox from March 2020
In the latest stomach-churning internet news, a TikToker has revealed that her teenage brother, who is now resuming in-person schooling, never emptied his lunch box after returning from his last day of school pre-pandemic, on March 13, 2020.
That's right: the remainder of his lunch that day has been sitting, untouched, for a whopping 14 months.
Rachel Stecia on Saturday posted the first of three videos to TikTok, where it has already been viewed over 4 million times. The video shows a close-up of her brother, with the screeching violins of horror-movie music in the background. Stecia shows her hand reaching into her brother's backpack and retrieving the forgotten lunch box.
"I'm terrified to open it," reads the video's caption. "He said there might be a banana in there."
There was, in fact, a banana in there.
The third video features a "lunch box reveal," which shares pictures of the rotten meal taken by their mom upon cleaning it out. The photos show a time-capsule of sorts: alongside packaged snacks, there is what appears to be a very moldy sandwich and a blackened, nearly unrecognizable banana.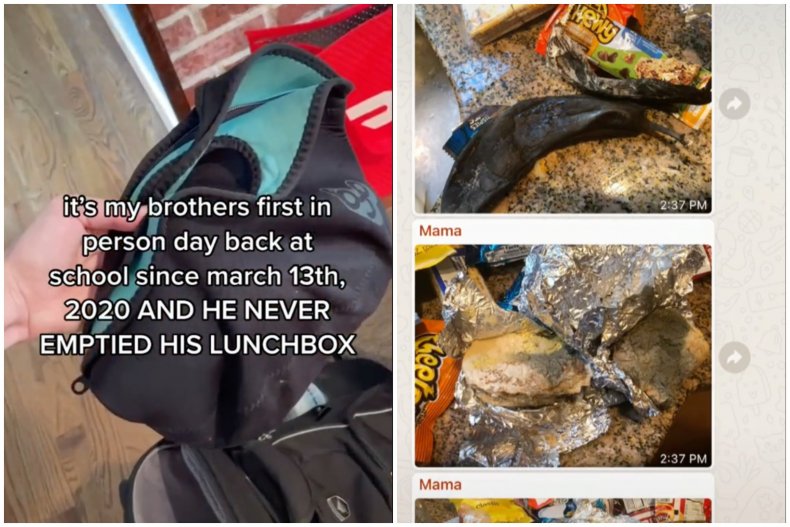 The second video rounds out the trio, with Stecia dramatically hurling and kicking the gnarly lunch box into their front yard.
As expected, viewers of the three videos appeared thoroughly appalled, and many even joked that the putrid lunch box could easily be the source of the next pandemic.
"That lunch box IS covid," wrote @earthvomit.
Another user, @dnfisass, referred to the meal as a "war weapon."
Several added that they wouldn't even attempt to clean out a lunch box whose contents had been sitting for so long.
"I would just throw the whole lunch box away," commented @layanoelle.
Several more warned Stecia, "Don't even open it."
One commenter joked that the rotten piece of fruit is "still good for banana bread."
Interestingly, it appears that the teenage boy and his forgotten lunch aren't alone—several commenters came forward to share that their lunch boxes had also been overlooked in the intensity of the early pandemic.
"Bro I just remembered I didn't either," @iimikotoii confessed.
However, some were unfazed by Stecia's pictures. User @clayfd24 wrote that it was "honestly not as bad as I was expecting," while @bibeembop thought that the lunch box would've been full of "maggots."
As schools increasingly plan to reopen nationwide, students and faculty are facing issues far greater than neglected lunch boxes. Last week, it was reported that one of the country's largest teachers' unions is pushing for continued mask-wearing in schools, until children under age 12 can receive their vaccinations. The announcement comes as a pushback against the CDC's new guidelines, which stipulate that, for the most part, fully vaccinated individuals can safely interact indoors without masks.
Meanwhile, there is growing concern regarding the long-term negative effects of remote learning on children, and educators nationwide are looking for ways to best support their students as they return to in-person schooling.