TikTokers Launch Spam Site to Curb Glenn Youngkin's 'Racist Snitch' School Tip Line
The Gen Z activists who launched a campaign to thwart Republican Virginia Governor Glenn Youngkin's tip line against "divisive" school practices—like "critical race theory" (CRT)—say they've also created a website that will allow people to submit false tips more easily.
Youngkin promoted the government email address in a Monday interview, saying he wanted parents "to send us any instances where they feel that their fundamental rights are being violated, where their children are not being respected, where there are inherently divisive practices in their schools."
In response, Olivia Julianna—a 19-year-old activist working with Gen Z for Change, a youth-oriented organization supporting social justice movements—tweeted, "Would be AWFUL if you sent fake tips about your children's school and education to helpeducation@governor.virginia.gov to flood this BS tip line created by Glenn Youngkin! Would NOT want to waste their time and resources."
Julianna has called Youngkin's tip line a "racist" "snitch" line. She said it places additional stress on teachers and sets them against one another at a time when Virginia faces a teacher shortage. Instead, she said, teachers deserve better pay and benefits.
She also repeatedly shared news of her campaign on her TikTok page, where she has over 174,700 followers.
Newsweek reported on Julianna's campaign. The article was soon mentioned by MSNBC host Joy Reid, CNN reporter Jim Acosta and shared widely on social media.
Since then, singer John Legend, the Republican-led Lincoln Project and Youngkin's press secretary Macaulay Porter have also mentioned Julianna's campaign. Thousands of TikTok activists have since flooded the tip line with fake reports, Business Insider reported.
"It has been an absolute whirlwind since my initial tweet," Julianna told Newsweek. "I have gotten hundreds of DMs and comments showing me the emails people have sent. My personal favorites are people sending sources about the history of racism in America and the American education system."
"While I am very happy with how much attention is being brought to the issue, I wish more people would focus on the state of education in Virginia instead of the political nature of Youngkin's tip line," she added.
"Virginia is experiencing a teacher shortage, teachers are criminally underpaid, overworked and underappreciated; and I wish the narrative of all of this would highlight the struggles of Virginia educators more in the discourse," she added.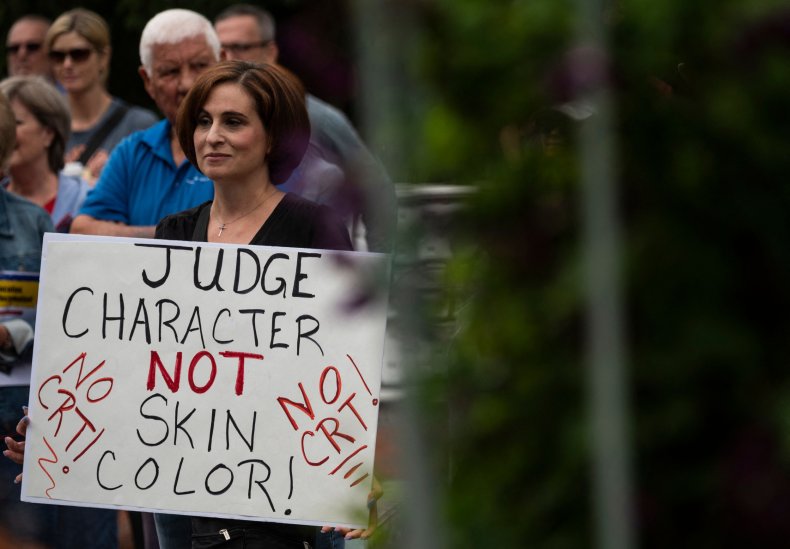 Julianna mentioned that fellow Gen Z for Change activist, 21-year-old Sofia Ongele, coded a website to allow people to quickly generate emails for Youngkin's tip line. The website launched on Wednesday.
Ongele's website generates emails that name actual Virginia schools, then uses pop music lyrics as "evidence" of CRT content in schools.
One email generated, but not sent, by Newsweek read, "I believe Granby High School in Norfolk is teaching CRT. My son's homework said 'Motorsport do the dash, drop the top in the Lamb.'"
The lyric is from the 2020 rap song "Material Girl" by Saucy Santana. The website also uses lyrics from the song "Hey Ya" by Outkast and "Bonfire" by Childish Gambino, as well as quotes from famous sitcom TV shows.
"My personal mission is to streamline digital civic engagement however I can," Ongele told Newsweek.
"I'm indescribably angry with right-wing pundits trying to stoke nonexistent division while the United States is actively being labeled a backsliding democracy. Disinformation breeds hate and violence, namely against marginalized communities. All the dominant talk about CRT is no exception," she added.
Ongele said that she would love to see Youngkin's tip line taken down. But even more, she hopes to show anti-racism in action and to spark necessary conversation about what CRT actually is, how American history is approached in classrooms and how communities can move forward from "this nation's fatally discriminatory past."
Youngkin signed an executive order on his first day in office, banning the teaching of CRT in Virginia. CRT is an academic framework developed in the 1970s and 1980s that examines how racism has persisted in national institutions.
While CRT isn't taught in K-12 schools, Republicans nationwide have publicly invoked it as "anti-white racism" and "indoctrination" that teaches students to "hate each other."
Ongele and Julianna have said they aren't worried that Youngkin or others might target them for prosecution.
"I don't shy away from good trouble. It's what drives me," Ongele told Newsweek. "As far as the rest of Glenn's reign goes, this CRT tip line will really be insignificant in comparison to the rest of the harmful changes he'll make to the state in the coming years. If I'm sued for standing up for my communities and raising my voice in the name of justice, then so be it."
Julianna said, "I am delighted to know that Youngkin's office is aware that his effort to harass teachers and uphold his racist ideologies through this 'snitch' line will not be tolerated by Gen-Z or by others who can see through his lame and lazy attempt at political marketing."
Newsweek contacted Youngkin's office for comment.