Michael Larson: Timeline of Allegations Against Bill Gates' Money Manager
Michael Larson, the man who has been the manager of the vast majority of Bill Gates' billion-dollar fortune has been accused of creating a "culture of fear" among staff.
According to a new report published by The New York Times, Larson, 61, presided over a misconduct-laden workplace at Gates's money-management firm, Cascade Investment.
The report states that Larson made inappropriate comments about female staff members and also made a racist comment to a Black employee.
His spokesperson has denied the claims in a statement to the NYT.
"During his tenure, Mr. Larson has managed over 380 people, and there have been fewer than five complaints related to him in total," Chris Giglio said. "Any complaint was investigated and treated seriously and fully examined, and none merited Mr. Larson's dismissal."
Cascade is also referred to as Bill and Melinda Gates Investments. (B.M.G.I)
Meanwhile, Larson himself said: "Calling B.M.G.I. a toxic work environment is unfair to the 160 professionals who make up our team and our culture."
Newsweek has reached out to Michael Larson's spokesperson for comment.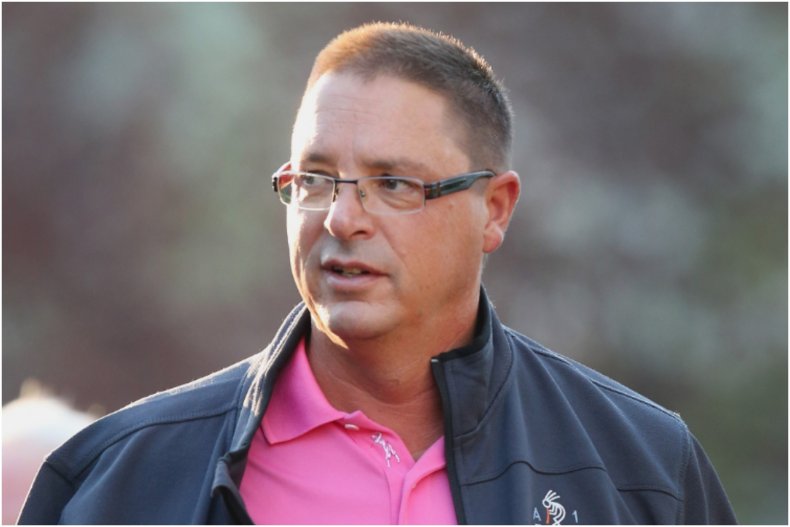 A timeline of allegations against Michael Larson.
1994
Larson becomes chief investment officer for The Gates Foundation and Bill Gates' fortune, through Cascade Investment after being headhunted.
He previously was a fund manager at Putnam Investments.
2000s
The NYT claims that Larson pursued numerous women who worked at the company.
Their investigation states that over the years, at least six people complained to Gates about Larson.
2004
In 2004, employee Stacy Ybarra alleges that Larson tried to stop her from leaving her role at Cascade to pursue a job at another company.
She also claimed that Larson made a racist comment towards her—which Larson's spokesperson has denied.
She quit the company in 2005.
"When these allegations were made more than 15 years ago, B.M.G.I. took them very seriously" and hired an independent lawyer to investigate," Larson's spokesperson, Giglio said.
2006
The Gates' received another complaint about Larson in 2006 from fund manager Robert E. Sydow.
Larson hired Sydow's firm, Grandview Capital Management to manage a large sum of the foundation's endowment.
Sydow wrote a letter to Bill and Melinda Gates saying that Larson abruptly ended Cascade's ties with Grandview.
2014
Larson was profiled by The Wall Street Journal, who describe him as the man whose job it is to "make Bill Gates richer."
Gates told the publication: "Melinda and I are free to pursue our vision of a healthier and better-educated world because of what Michael has done."
A source told The Journal that Gates and Larson rarely interacted socially and had a professional relationship. (via Business Insider.)
2017
Larson faced a sexual harassment allegation against a woman who managed a bike shop that was partially owned by Rally Capital, a firm that Cascade had invested in.
The woman hired a lawyer, who wrote a letter to the Gates' explaining how Larson had been sexually harassing her and sais she would have to pursue legal action.
2018
The woman settled and she signed a nondisclosure agreement in exchange for a payment.
Bill Gates' now estranged wife Melinda French Gates was not satisfied with how the then undisclosed claims against Larson was handled at Cascade and urged that there be an outside investigation.
Larson was put on leave during the investigation.
Courtney Wade, a spokeswoman for French Gates commented on the report against Larson this week
"Melinda unequivocally condemns disrespectful and inappropriate conduct in the workplace. She was unaware of most of these allegations given her lack of ownership of and control over B.M.G.I."
2019
An investigation was opened by Microsoft's board of directors after they were notified that Gates had "sought to initiate an intimate relationship with a company employee in the year 2000," Frank X. Shaw, a Microsoft spokesman, said earlier this month.
Gates' spokesperson Bridgitt Arnold said: "There was an affair almost 20 years ago which ended amicably. Gates's decision to transition off the board was in no way related to this matter."
2020
Gates stepped down from the board of Microsoft amid the probe into his relationship with a staff member.
"Microsoft received a concern in the latter half of 2019 that Bill Gates sought to initiate an intimate relationship with a company employee in the year 2000," a Microsoft spokesman said per The Wall Street Journal.
"A committee of the Board reviewed the concern, aided by an outside law firm to conduct a thorough investigation. Throughout the investigation, Microsoft provided extensive support to the employee who raised the concern."
Gates' spokesperson said his "decision to transition off the board was in no way related to this matter. In fact, he had expressed an interest in spending more time on his philanthropy starting several years earlier."
2021
Bill and Melinda Gates announced their divorce after 27 years together on May 4.
Since the announcement Gates has been the subject of claims of inappropriate behavior during his time at Microsoft as well as questions surrounding his relationship with the late Jeffrey Epstein.