Tina Fey has the perfect plan to get through the next three years of Donald Trump's presidency: cake. A lot of cake.
The comedian made a cameo appearance on Thursday's Saturday Night Live Weekend Update following a fraught week in America in the wake of the Charlottesville unrest and Trump's statements failing to denounce white supremacists.
Fey urged reasonable people at home not to counterprotest at further pro-white rallies planned for this weekend, including one in New York City. Instead, she said, go out and buy a sheet cake with the American flag on it.
"I know a lot of us are feeling anxious and asking ourselves, 'What can I do?'" Fey said.
"Instead of participating in the screaming matches and potential violence...find a local business you support, like a Jewish-run bakery, or an African-American-run bakery, order a cake with the American flag on it and just eat it."
Fey proceeded to gorge on the sheet cake and advised that next time you feel like shouting at a racist neo-Nazi, eat your feelings instead.
She said: "Next time you see a bunch of white boys in polo shirts screaming about 'taking our country back,' and you want to scream, 'It's not our country! We stole it from the Native Americans! And when they have a peaceful protest, we shoot at them with rubber bullets...but we let you chinless turds march through the streets with semi-automatic weapons.' When you want to yell that, don't yell it at the Klan. Yell it into the cake."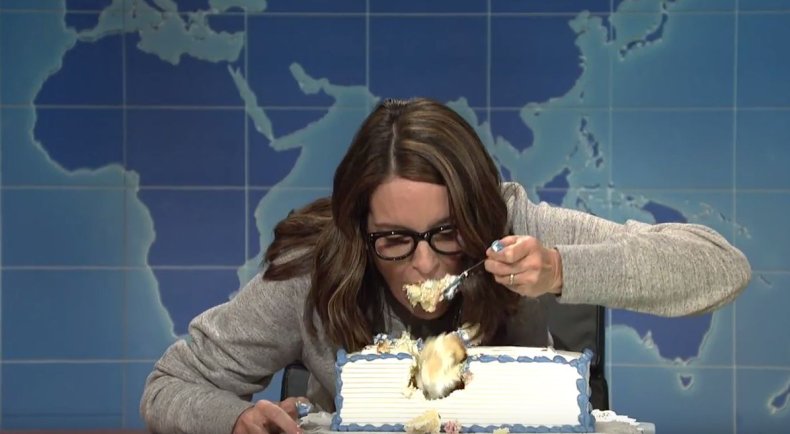 "Sheet-caking is a grassroots movement, Colin," she told SNL star Colin Jost. "Most of the women I know have been doing it once a week since the election."
Fey also attacked right-wing commentator Ann Coulter and so-called independent militias as she continued to stuff her face with sweet, delicious cake in an attempt to bludgeon her anger.
The 30 Rock creator saved her best shot for House Speaker Paul Ryan, however.
Fey said: "I say, where's Paul Ryan in all this? You're supposed to be the cool, young congressman, but you don't know how to 'at' somebody on Twitter? 'Racism is bad @realDonaldTrump,' you pussy."
In conclusion, Fey said, "I really want to say to all good, sane Americans to treat these rallies this weekend like the opening of a thoughtful movie with two female leads: Don't show up. Let these morons scream into the empty air."