Wordle is the viral daily word puzzle that gives brainteaser lovers six attempts every day to solve a randomly selected five-letter word.
It's back this week with a particularly tricky word to crack, so Newsweek is here to help with a handful of tips that should help you solve the puzzle before all of your tries are up.
The New York Times-owned brainteaser took the internet by storm after software engineer Josh Wardle finished the game during the COVID-19 pandemic. Since its success, a variety of other word games have been born, including the notoriously trickier Quordle, which asks players to solve four words daily, instead of the one.
Wardle sold his game to The New York Times in February, shortly after it became an internet sensation.
Players must place only real words into Wordle's color-coded grid, which indicates how close a player is to cracking the game.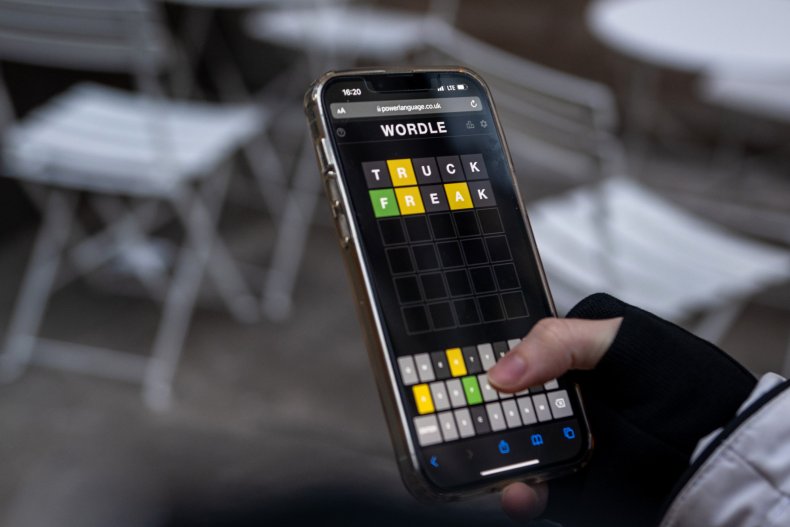 If you guess the correct letter in the right position, the tile on the grid will turn green. If you have selected a letter that is part of the day's answer, that tile will become yellow. Finally, if you have chosen a letter that is incorrect and not part of the Wordle of the day, the tile will remain gray.
The aim of the game is to solve each brainteaser in as few guesses as possible.
A good strategy to begin with for a first attempt is to select a word that contains as many vowels as possible, such as "aerial" or "audio" and to avoid choosing letters such as "x", "z" and "q" until you are certain that the day's word could contain these.
Note: The answer for June 20's Wordle #366 is at the bottom of this page, so to avoid spoilers, scroll down to Newsweek's clues below with care.
'Wordle' #366 — Five Hints for Monday, June 20, 2022
Puzzle enthusiasts can try to crack June 20's Wordle #366 answer with these five clues.
Hint #1: Today's Wordle for Monday, June 20, contains two vowels.
Hint #2: Merriam-Webster dictionary defines today's Wordle #366 as "advice, opinion, comment," "information fed into a data processing system or computer," and "power or energy put into a machine or system for storage, conversion in kind, or conversion of characteristics usually with the intent of sizable recovery in the form of output."
Hint #3: Today's Wordle begins with the letter "i" and ends with the letter "t."
Hint #4: Synonyms for today's Wordle #366 also include "aid," "consultation," "guidance," "information," "instruction" and "recommendation."
Hint #5: Today's Wordle #366 has two syllables.
'Wordle' #366 Answer for Monday, June 20, 2022
The answer to today's Wordle is "Input."
Wordle resets every day at 7 p.m. ET (4 p.m. PT), if you want to try again. Alternatively, you could challenge yourself today with some similar puzzles which can be found here.