Tom Brady GOAT Dispute Prompts Fans To List Serena Williams' Achievements
Tom Brady's triumphant Super Bowl win was another career-defining achievement for the veteran quarterback, prompting fans to crown him as the GOAT of athletes.
However, not all sports aficionados agreed, with a heated dispute playing out online as others pointed towards tennis superstar Serena Williams as contender for the title of Greatest Of All Time.
Brady's on-field performance last night secured him an impressive seventh Super Bowl victory—the most by any other player—and no doubt cemented him as the most successful quarterback in NFL history.
The 43-year-old quarterback has played in more Super Bowl games than any quarterback in NFL history. He has more playoff wins, more Super Bowl titles and just about every playoff passing record known in the NFL record books. His 34 wins are more than the next two players combined (Joe Montana 16, 3 players tied at 14).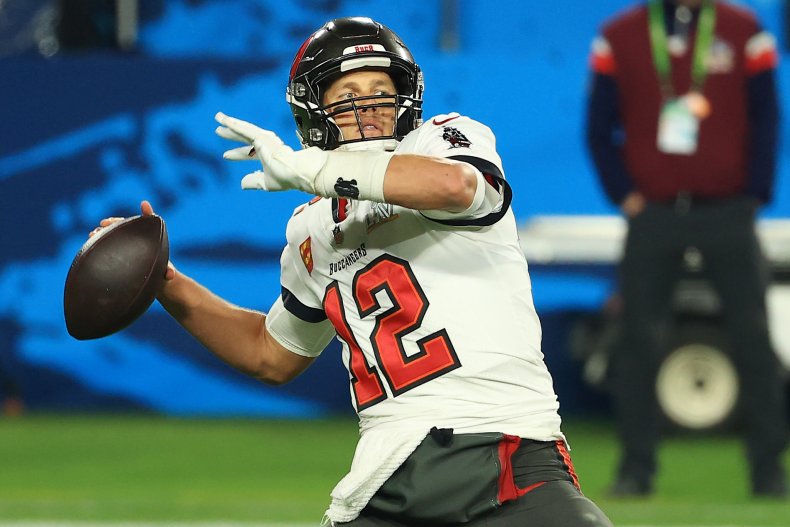 "So Jordan has 6 rings, and Brady has 7 rings. Is it now safe to say that Brady is the GOAT of all GOATS?" former New England Patriots wide receiver Donté Stallworth tweeted shortly after the game.
The question sparked a slew of fiery responses. "Wait until you learn about Serena Williams!" Bad Feminist author Roxane Gay replied as fellow author Saeed Jones followed suit, asking: "Wouldn't the obvious answer be Serena Williams?"
"Serena Jameka Williams has 23 singles grand slams, 14 doubles grand slams, 2 mixed double grand slams, 4 Olympic gold medals," another advocate for the tennis champ quipped. "She held all four grand slams at once twice in her career. Most hard court grand slams of ANY ACTIVE PLAYER (13). She won the AO pregnant. She's the GOAT."
Williams, 39, has broken multiple records in the sport, securing more Grand Slam singles titles (23) than any other player—man or woman—during the Open Era. The former world number one also holds the most Grand Slam titles in singles, doubles, and mixed doubles combined among active players, according to Statista.
Fans of Williams were also quick to point out her Olympic medal wins—an achievement out of Brady's grasp as the NFL is not an Olympic sport.
"Don't get it mixed up. Serena Williams has 23 grand slams, four Olympic gold medals, and cleared one of those titles while pregnant at the Australian Open," one woman said. "She is the GOAT of GOATS."
"These mediocre white boys aint got nothing on her," another woman added.
Both Williams and Brady have enjoyed decades-long careers playing at the highest level in their respective sports. Brady spent 20 years with the New England Patriots, who he took to nine Super Bowls, six titles and four MVPs before signing with the Tampa Bay Buccaneers last offseason. The Buccaneers earnt one of the NFC's three wild card spots, as Brady led them back to the playoffs for the first time in 13 years and to their first Super Bowl appearance in 18 years. As a solo player, Williams ranked as world number one in singles on eight separate occasions between 2002 and 2017.
Last night, Brady led the Buccaneers to a 31-9 win over the Kansas City Chiefs at Super Bowl LV in Tampa, Florida. He completed 21-of-29 passes for 201 yards and three first half touchdowns.
"I'm not making any comparisons," Brady said when asked where this win ranked. "Being down here and experiencing it with this group of guys is—every year is amazing, and this team is world champions forever."
Meanwhile, Williams is currently battling it out on court at the Australian Open in a bid to win her 24th grand slam singles title.