Tom Cruise's $136K BMW and Luggage Stolen Near 'Mission: Impossible 7' Set
The Mission: Impossible 7 production has been far from plain sailing and now the Tom Cruise movie has been hit with another issue after the actor's BMW and thousands of dollars worth of luggage were stolen on set in the U.K.
The actor was staying at the Grand Hotel in the city of Birmingham while filming scenes at the nearby Grand Central shopping center when the theft took place this week.
Local news outlets are labeling the robbery as "high tech" with Birmingham Live detailing a "four-step process" that allowed the keyless car to be unlocked by replicating the fob signal with a transmitter.
Luckily, local police managed to trace the vehicle—worth 100,000 pounds ($136,000) according to The Sun—and return it to Cruise who was reportedly furious over the robbery.
The police also released a statement, per The Independent, in relation to the incident.
It reads: "We received a report of a BMW X7 stolen from Church Street, Birmingham in the early hours of Tuesday morning."
The statement added that "the car was recovered a short time later in Smethwick" and that "CCTV inquiries have been made in the area that the car was recovered from."
Inquiries remain ongoing at this time.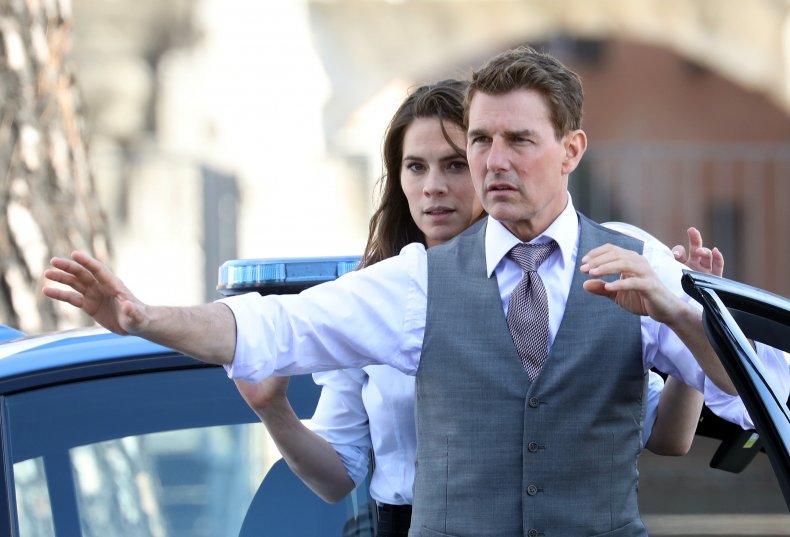 While filming the action blockbuster in England last week, Cruise landed a helicopter into the garden of a Warwickshire family.
The family had only been told an unnamed VIP needed somewhere to land as the closest airport, Coventry, was shut and inadvertently had a run-in with the Hollywood A-lister.
"I thought it would be kind of cool for the kids to see the helicopter land in the garden," Alison Webb told the BBC. "He [Tom Cruise] basically arrived and got out and it was like 'Wow.'"
She continued: "He went straight over to the children for a chat, then came over and elbow bumped us and said thank you very much. Then he said if the kids would like they could go up in the helicopter."
"It turned out to be an incredible day," she added. "It was surreal, I still now can't believe it happened."
Filming for the movie was previously shut down earlier this summer after crew members tested positive for COVID-19.
This came after another COVID-19 issue on set in December 2020 when a leaked recording purporting to be Cruise made headlines.
In the audio, a man who is reportedly Cruise, was heard angrily shouting about the breach of COVID-19 rules on set.
"You can tell it to the people who are losing their f***ing homes because our industry is shut down," Cruise allegedly said in part. "It's not going to put food on their table or pay for their college education."