How Tom Cruise's COVID Rant Compares to Other Famous Celebrity Meltdowns
Tom Cruise has been recorded ranting at the crew of his upcoming film Mission: Impossible 7 over COVID-19 guidelines.
As reported by The Sun, Cruise is said to have noticed two individuals hovering over a computer screen in violation of social distancing rules.
"We are the gold standard," Cruise shouts on the recording. "They're back there in Hollywood making movies right now because of us. Because they believe in us and what we're doing. I'm on the phone with every f****** studio at night, insurance companies, producers and they're looking at us and using us to make their movies. We are creating thousands of jobs, you motherf******. I don't ever want to see it again. Ever!"
"Am I clear? Do you understand what I want? Do you understand the responsibility that I have? Because I will deal with your reason, and if you can't be reasonable and I can't deal with your logic, you're fired," Cruise screams in the audio. "That's it. That is it. I trust you guys to be here."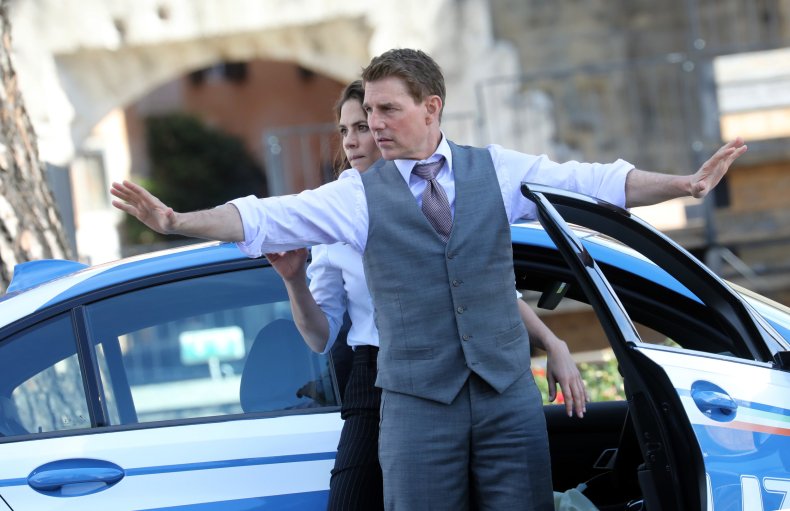 While Cruise's concerns over coronavirus are certainly justified, losing his temper in such an extreme manner is not.
The production of Mission: Impossible 7 has run into repeated hurdles. Earlier this year, the production faced difficulties from Norwegian authorities for housing both the cast and crew aboard privately chartered cruise ships in hopes of keeping individuals safe from the spread of the virus while filming in Norway.
The outburst has unsurprisingly prompted a wave of reactions and memes online as Twitter users share the audio.
Here we take a look at other times when actors have had similar meltdowns.
Christian Bale
Christian Bale famously was embroiled in a meltdown controversy in February 2009 when TMZ recorded audio of the Batman actor losing his temper on the set of Terminator Salvation.
Bale lashed out at cinematographer Shane Hurlbut for walking into his eye line during a take.
"F*** sake man, you're an amateur," Bale shouted in audio that was released on the internet. "I'm going to f****** kick your f****** a** if you don't shut up for a second! All right?" he said.
The actor later "apologized unreservedly" for the outburst, saying he "acted like a punk."
"I was out of order beyond belief. I make no excuses for it," he told radio hosts Kevin Ryder and Gene 'Bean' Baxter.
David O'Russell
Director David O'Russell lost it at actress Lily Tomlin on the set of the film I Heart Huckabees in 2014.
The American Hustle filmmaker was famously recorded calling Tomlin a "c***" and throwing things at her while storming off set.
Tomlin said that she and O'Russell later patched things up, telling The Hollywood Reporter: "But we've overcome it. It dissipates and it's gone."
Shia LaBeouf
Shia LaBeouf was arrested for public drunkenness in 2017. Videos then surfaced of the Honey Boy actor calling a police officer a "f***** bitch" and going on a racist tirade.
LaBeouf is in the news this week after his ex-girlfriend, singer FKA Twigs accused him of abusive behavior during their relationship.
Mel Gibson
Mel Gibson has been involved in a number of controversies for racist and anti-semitic outbursts.
In 2006, the Australian actor was forced to apologize to a Los Angeles police officer who claimed the actor had shouted abuse at him during an arrest, including a claim that "the Jews are responsible for all the wars in the world."
He later issued an apology asking Jewish people for forgiveness.
In 2010, audio was released capturing an argument between Gibson and his ex-girlfriend Oksana Grigorieva, in which he launches into a racist, sexist rant against her.
Charlie Sheen
Charlie Sheen's famous "tiger blood" meltdown happened back in 2011 before the Two and a Half Men star entered rehab.
Looking back on the incident, Sheen told Loose Women in 2019 that it was "surreal."
"It feels awful. I can't sit there and lie to you," he said. "Some of it is very surreal. To this day, I am not sure how I created such chaos and wound up in that headspace. It's as though there was some alien or demonic possession going on."
Newsweek has reached out to Cruise's publicist for comment.