Tom Price Quits Health and Human Services Amid Private Flight Scandal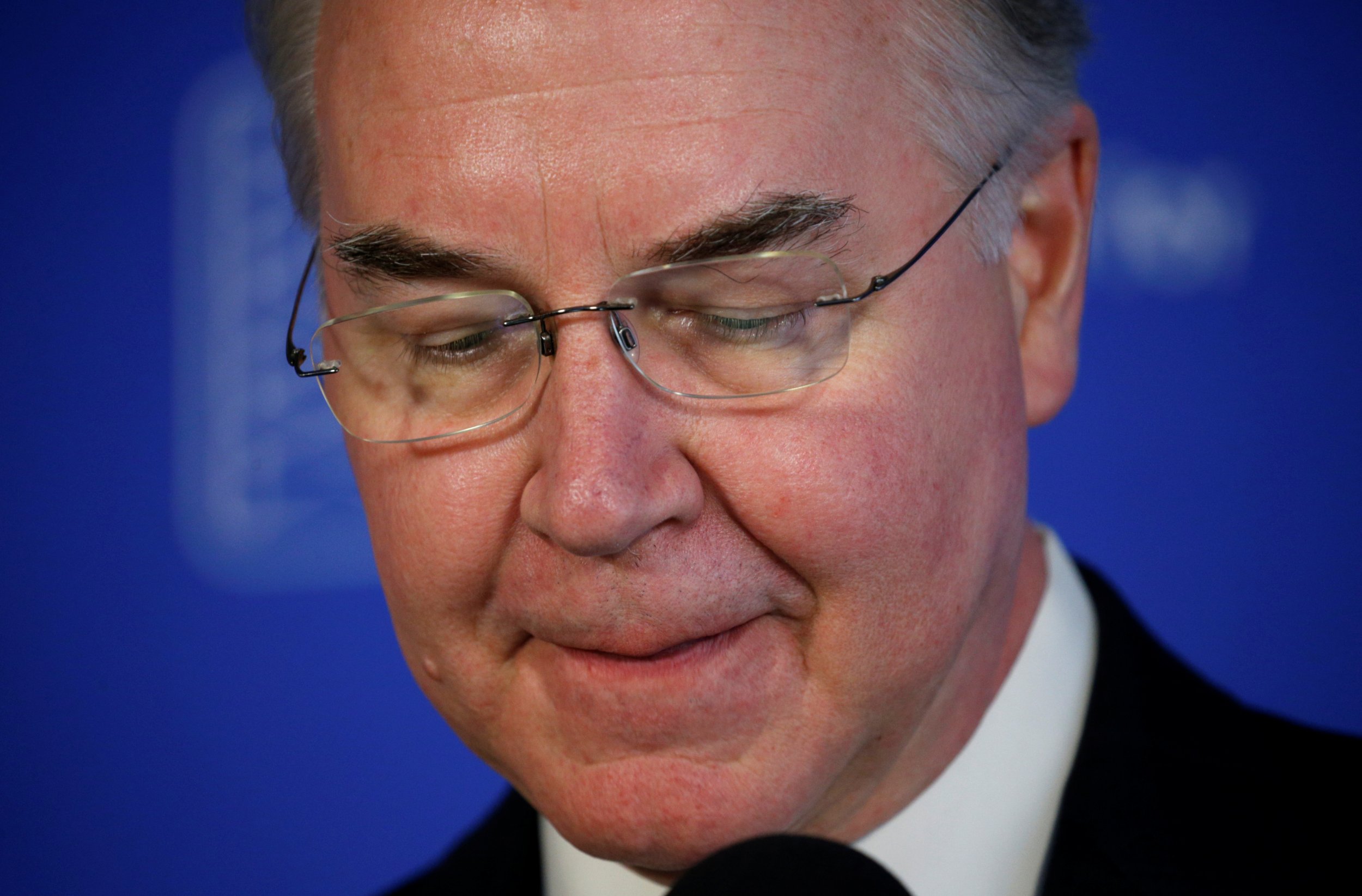 Tom Price, the embattled secretary of the federal Health and Human Services department, quit his job Friday amid a national scandal about his use of charter flights.
The White House announced Price's departure in a terse statement issued by the office of the press secretary.
"Secretary of Health and Human Services Thomas Price offered his resignation earlier today and the President accepted," said the statement, which hit press inboxes around 4:30 p.m., not long after Trump personally told reporters he would make a decision about Price's fate imminently.
"The President intends to designate Don J. Wright of Virginia to serve as acting Secretary, effective at 11:59 p.m. on September 29, 2017," the statement continued. "Mr. Wright currently serves as the Deputy Assistant Secretary for Health and Director of the Office of Disease Prevention and Health Promotion."
Price had come under criticism in recent days for racking up hundreds of thousands of dollars in bills by using charter planes instead of commercial airliners, as his predecessors had done.
On Thursday, he said he would reimburse the government $51,887.31 to cover the cost of his seats on the flights. He also vowed to stop using private aircraft for as long as he was secretary.
"I will write a personal check to the U.S. Treasury for the expenses of my travel on private charter planes. The taxpayers won't pay a dime for my seat on those planes," he promised.
But following that announcement, Politico reported that the cost to taxpayers of those trips was more than $1 million since May, double the amount previously believed.
"Use of military aircraft for Cabinet and other essential travelers is sometimes an appropriate and necessary use of resources," Raj Shah, White House principal deputy press secretary, told the outlet.
One of Price's predecessors in the Obama administration, Kathleen Sebelius, told Politico she only flew commercially in her five years in the post.
The White House pointed out to Politico that it approved fewer trips abroad on military planes than the Obama White House did in the first eight months of the administration: 77 now, compared to 94 then.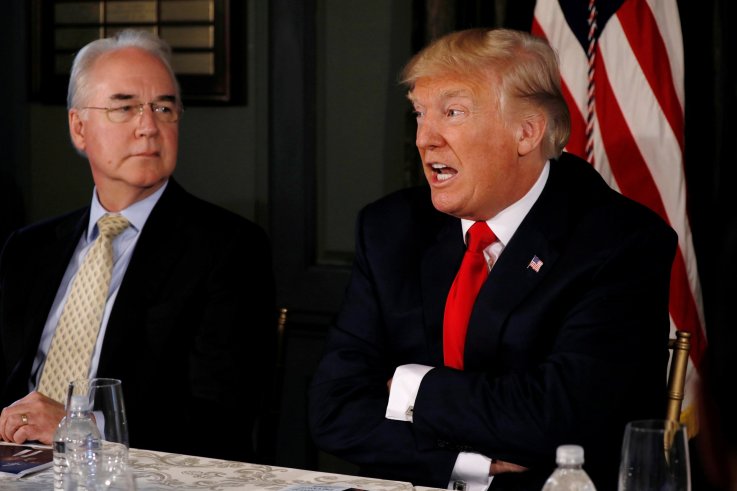 Lawmakers from both the House and Senate have called on Trump officials to disclose information about their use of private planes, which include military aircraft. Republican Sen. Chuck Grassley, chairman of the Judiciary Committee, on Thursday called for a prohibition on charter flight travel by officials.
The Office of the Inspector General is also reviewing the matter, and the Department of Health and Human Services has launched an additional internal review. Meanwhile, voices on the left, including Scott Dworkin, cofounder of the Democratic Coalition, had called on the president to fire Price over the matter.
Trump weighed in on Wednesday, telling reporters, "Personally, I'm not happy about it, and I let him know it."
White House Press Secretary Sarah Huckabee Sanders had told reporters Thursday that the administration was waiting for the results of the inspector general inquest before making decisions.
Other Trump officials, including Treasury Secretary Steven Mnuchin and EPA Administrator Scott Pruitt, also have been criticized for using private flights or requesting to do so.
The inspector general at the Treasury Department is looking into the Mnuchin matter, which included a request to use a government plane for his honeymoon over the summer.
Tom Price Quits Health and Human Services Amid Private Flight Scandal | U.S.