South Carolina's 7th Congressional District has only ever known Tom Rice as its representative, but his vote to impeach former President Donald Trump could be the beginning of the end of his time in office.
At least four people looking to oust Rice from office have targeted him for his decision to join nine other House Republicans in voting to impeach Trump for a historic second time on January 13. It's not the first time Rice has had to defend his seat during a primary and the election is still a year away, but in a district that went heavily for Trump, impeachment could present a hurdle for Rice's re-election.
"He will be an interesting test case and no one wants to be a test case," Matt Klink, a Republican political consultant told Newsweek. "The possibility of a Trump-backed primary candidate should concern Mr. Rice."
State Representative William Bailey hasn't committed to challenging Rice in the election but launched an exploratory committee after the impeachment vote. In the announcement, he said it was "obvious to everyone" that the 7th district doesn't have the "strong conservative voice" it needs in Washington, D.C.
"With the socialist Democrats now in control of the White House, the House of Representatives, and the Senate we need someone who will stand up and fight for conservative values, not vote to impeach them," Bailey said in the announcement.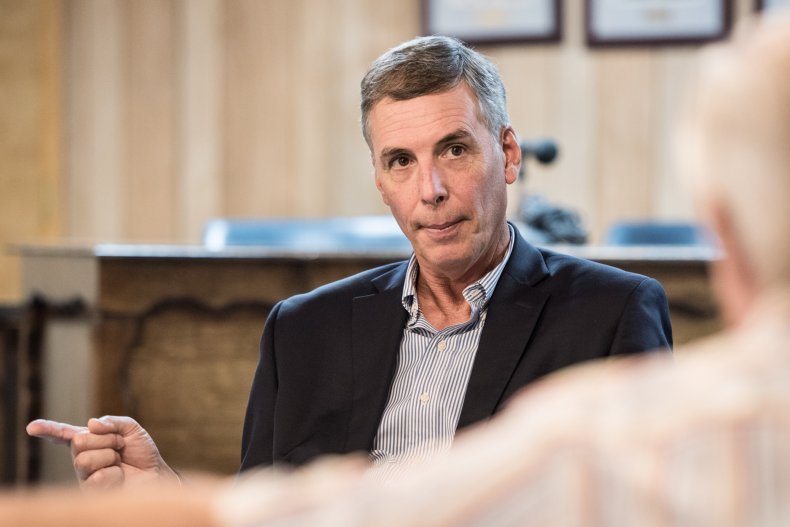 Horry County School Board Chairman Ken Richardson, who recently announced his candidacy, told WMBF Rice "didn't vote for what the people in his district wanted him to vote."
Rice criticized Trump for only offering "weak requests for restraint" as the riot unfolded at the Capitol, saying it was only by the "grace of God" and sacrifices from the Capitol police that the "death toll was not much, much higher." For the congressman, Trump's conduct surrounding the riot was a breaking point.
"I have backed this president through thick and thin for four years. I campaigned for him and voted for him twice. But, this utter failure is inexcusable," Rice, who was censured by the South Carolina GOP for his vote, said in a statement.
District lines are redrawn every 10 years and following the 2010 census, South Carolina gained a seventh congressional district. At the next election, in 2012, Rice won the seat, making him the first person to represent the 7th Congressional District.
Over the years, South Carolinians in the 7th Congressional District have stood behind Rice, who is in his fifth term in office. In 2018—the last time South Carolina had a primary election because the 2020 one was canceled—he defeated his challenger, Larry Guy Hammond, 84 percent to 16 percent. The district backed Trump in both 2016 and 2020.
Rice isn't worried about 2022, though. He told the Myrtle Beach Sun News opposition in a race is "nothing new" to him and he looks "forward to the contest." The congressman said endorsing a riot at the Capitol and an attack on the Constitution is not a "very defensible platform," and didn't see a strong argument against him if it's based on his time in Washington, D.C. Based on his voting record, Rice said people will have a "hard time saying I'm not a conservative."
However, with a heavily white, non-college-educated population, Klink said the electorate in the 7th Congressional District is "the Trump base."
"Even with Mr. Rice's conservative voting record, he should be worried and will almost certainly run hard in the primary (early) to fend off any Pro-Trump challenger," Klink said.