Tony Bobulinski, a former business associate of Hunter Biden, son of the Democratic presidential nominee Joe Biden, has supplied emails and text messages to the Wall Street Journal opinion page which allege that Hunter sought to use his father's role as Vice President to influence his business dealings in China.
In the opinion article written by Kimberley A. Strassel, Bobulinski alleged that he met Joe Biden to discuss Hunter's business dealings. He also said that in a May 2017 email, Hunter Biden sought to get Joe 10 percent equity from SinoHawk Holdings, a holding company of which Bobulinski was CEO.
Strassel also writes that in one text message, Hunter Biden said that "my Chairman gave an emphatic NO" to a version of the deal. Rob Walker, Hunter Biden's partner, said that Hunter "said his chairman he was talking about his dad."
Bobulinski's texts also allege that he met with Joe Biden, though he also said that the Bidens preferred to keep his name out of texts or emails.
Joe Biden's campaign said in a Thursday statement that he "has never even considered being involved in business with his family, nor in any overseas business whatsoever. He has never held stock in any such business arrangements nor has any family member or any other person ever held stock for him."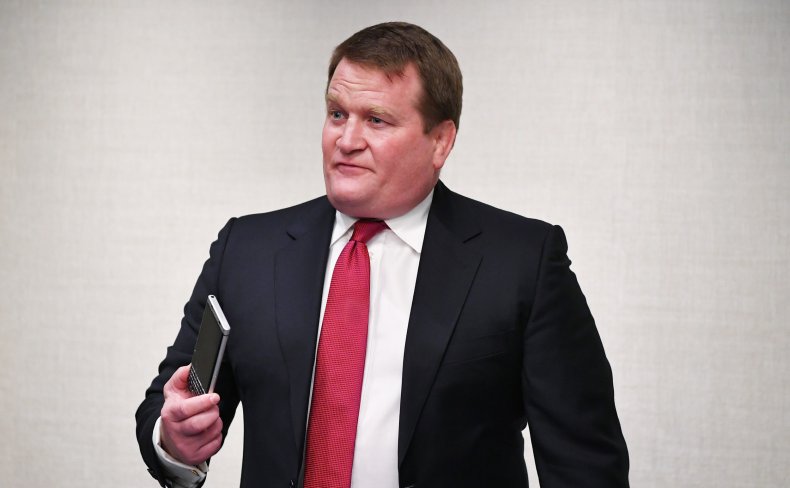 Shortly after the publication of Strassel's opinion article, the Wall Street Journal's news reporters released an article which stated that Bobulinski's records provide no evidence that Joe Biden ever used his political standing as a former vice president to aid Hunter's business dealings in China.
James Gilliar, one of Hunter Biden's business associates who recruited Bobulinski for the joint Chinese venture, told the publication, "I am unaware of any involvement at any time of the former Vice President. The activity in question never delivered any project revenue."
The Biden campaign hasn't yet said whether Joe ever personally met with Bobulinski. Newsweek contacted the Biden campaign for comment.
The statement from Joe Biden's camp also said that the allegations against the Biden family were "a desperate, pathetic farce executed by a flailing campaign with no rationale for putting our country through another four years of hell."
The Trump campaign has repeatedly promoted recent New York Post articles alleging that Hunter sought to leverage Joe Biden's vice presidential role to aid his business dealings in China and Ukraine. The Post's articles have been based on emails that haven't been authenticated by any mainstream journalistic outlet.
When asked about the accusations at the third and final presidential debate on October 22, Joe Biden said, "Nothing was unethical... Every single solitary person, when [Trump] was going through his impeachment, testifying under oath who worked for [Trump], said I did my job impeccably. I carried out U.S. policy. Not one single solitary thing was out of line, not a single thing."