Tony Hawk 'Perplexed' After Elevator Encounter With Couple in Viral Tweet
Legendary skateboarder Tony Hawk is not only known for his tricks but also his tweets.
The cultural icon has amassed 4.5 million Twitter followers. But even with his popularity, he constantly tweets about how some people think they are in his presence while others remain unsure.
On Thursday he tweeted from Billings, Montana, about an encounter he had with three strangers in an elevator that left him "perplexed." The tweet has been "liked" over 153,000 times.
"This just happened, and maybe this is where it all ends," he joked.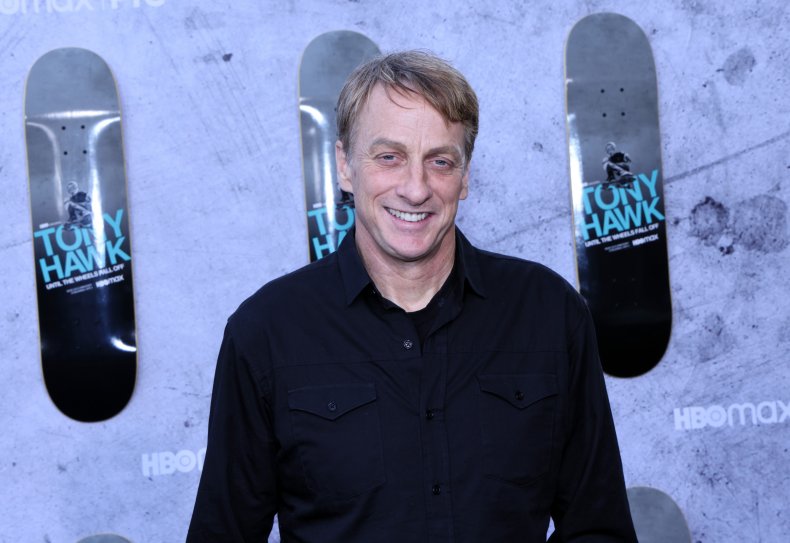 Hawk explained that he boarded an elevator with three people, including a husband and wife. The man made a sarcastic joke to Hawk, saying, "Anyone ever tell you you..." with Hawk replying "yes," adding that the man wasn't the first person that day to realize it was actually him.
"I'm sorry, I tried to stop him from doing the joke," the man's wife then said to wife before the couple exited the elevator.
But that wasn't the end of Hawk's amusement. After the couple departed, the other man on the elevator inquired to Hawk about the joke the woman referenced.
Hawk told the stranger he gets "mistaken identity a lot." When the stranger asks who Hawk gets mistaken for, Hawk tells him, "Tony Hawk."
"Haha you do look like him!" the stranger said before exiting the elevator on his floor.
Knowing who Tony Hawk is but being unsure about whether it's actually him or not is one of the platform's best long-running gags.
"Everybody knows who tony hawk is but nobody knows who tony hawk is," one user replied.
Another user replied with a meme of Hawk on an alternate cover of his famous "Tony Hawk's Pro Skater" video game, calling it "Tony Hawk's Existential Nightmare" and alluding to his older tweets about meeting strangers in random locales who think they met Hawk but aren't exactly sure.
The tweets have been published for nearly two years, with encounters coming all over the country.
One woman at a concert in California ran into Hawk at a concert and mentioned how she took a picture with him in Las Vegas years earlier, which her son thought was cool – so cool, in fact, that he ended up cutting his mother out of the picture and just putting Hawk up on his wall.
Another encounter with a young skateboarder in Michigan involved Hawk trying to convince the youth that he was actually Tony Hawk. Finally, the youngster told Hawk he thought he'd "look younger."
An "older dude" once saw Hawk at a skate park and yelled for the pro to do a kickflip. When Hawk obliged and did it, the man allegedly turned to his friend and said, "Holy s–t! He actually did it!
On Tuesday Hawk's life and career were memorialized with the release of the HBO documentary, Tony Hawk: Until the Wheels Fall Off. It currently has a 100 percent rating on Rotten Tomatoes, including an audience score of 80 percent.
The two-hour, 15-minute documentary was directed by Sam Jones and features current and former skateboarding greats, including Stacy Peralta, Rodney Mullen and Steve Caballero.