Too Hot to Handle is back for another season of sun, sea and celibacy on Netflix, as 10 singletons around the world stay in a luxury villa, couple up, and then try not to get intimate for their chance to win $100,000.
The location of the first season was a villa in Mexico, but for Season 2 the contestants are in the Caribbean.
Where Too Hot to Handle Season 2 is filmed
The THTH villa for Season 2 is on the island of Providenciales, part of the Turks and Caicos Islands. These islands are a British territory in the Caribbean that can be accessed via a 90-minute flight from Miami, Florida.
Specifically, the action of Season 2 takes place on the Turtle Tail Estate, a luxury villa that sold earlier this year for $20.25 million.
Per the estate's website, it has five bedrooms, though for the Netflix show another room in the property has been converted into a private suite to give another source of temptation to the THTH contestants.
Among the other amenities the housemates may get to enjoy are an infinity pool and hot tub, a fire pit, an outdoor shower and a gym.
The villa is available to rent to the general public, who also get use of amenities like a home cinema room as well as a private chef and the use of the villa's private beach.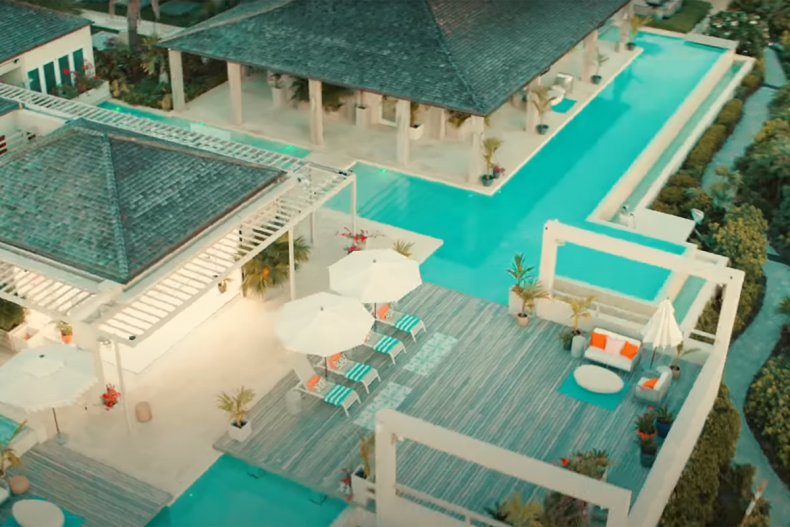 Currently, the villa is listed on Wimco Villas at $70,000 a week during the summer. This increases to $105,000 a week over Thanksgiving and $154,000 for a week over the holidays.
The Turks and Caicos Islands have historically been a vacation choice for many celebrities. Both Prince and Bruce Willis at one point had private villas in the territory, while Rihanna actually vacationed at the Turtle Tail villa in 2016.
Too Hot to Handle Season 2 filmed in the villa in September 2020. Per Variety, the streamer filmed two seasons at the villa back-to-back, following COVID-19 production safety protocols. At the time, Netflix unscripted series vice president Brandon Riegg called the villa an "island paradise."
In the lead-up to the first four episodes being released onto Netflix, the streamer released a video that saw Selling Sunset breakout star Christine Quinn show viewers around the villa.
"As you enter the property you're met with super glam furnishings and a bright, well-lit space. Perfect for seeing your roommates for who they really are," she says in the video.
The Too Hot to Handle filming location is certainly more glamorous than that of fellow Netflix reality series The Circle, which films in an apartment block outside of Manchester in the north of England.
Too Hot to Handle Season 2 Episodes 1 to 4 are streaming now on Netflix. Episodes 5 to 10 are coming on June 30.