Internet Loving Toothless Golden Retriever Whose Tongue Always Hangs Out
A toothless golden retriever has gone viral on TikTok, after his owner explained why his tongue sticks out of his mouth.
Since he was just a puppy, Jax the golden retriever was regularly getting sick and having serious complications every time. Jax's owner Erin Smith, 32, explained that, when he was 1 year old, he developed a severe dental disease, and despite her best efforts to save his teeth, they had to be removed.
Sharing a video on her TikTok account @agoldendogmom, Smith had responded to a person who asked why Jax's tongue hangs out. She explained that he has no teeth to contain it in his mouth.
The TikTok video detailing Jax's "story as a toothless dog" was posted on March 3, and it has already gained more than 435,000 views and 60,000 likes.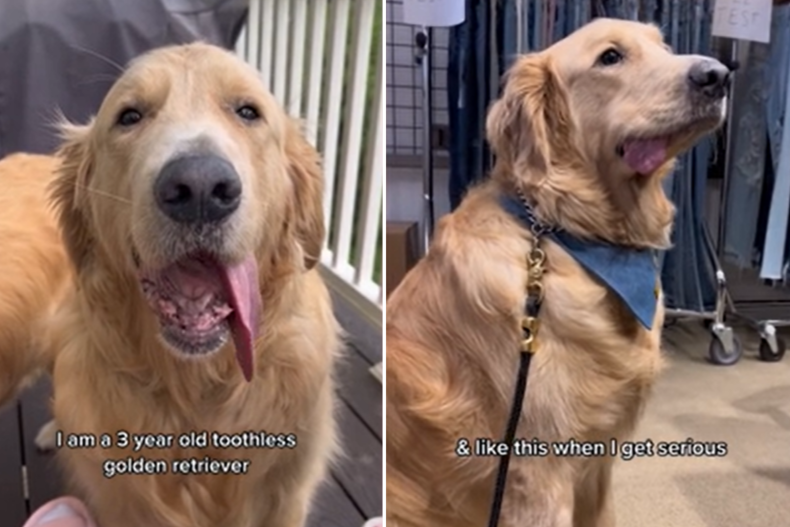 Details of dental disease in dogs can be found on Veterinarians.org, which notes that, on its own, it isn't fatal. However, if left untreated, dental disease can lead to life-threatening complications. It can spread to organs, potentially causing heart disease or kidney failure.
Smith, from Pittsburgh, Pennsylvania, has taken Jax to many specialists. Although the vets are yet to give an official diagnosis, it's thought that he could have an autoimmune disease that prevents his body from fighting off bacteria.
After sharing the story of her "special boy" on TikTok, Smith told Newsweek about the health journey that Jax has been on so far.
Smith said: "Jax has had bizarre health issues since he was a puppy. He gets sick very easily, and every time he gets sick, he has a very extreme reaction.
"We've dealt with everything from skin irritations, allergies, coughs, sensitive stomach and infections. He also has vitiligo, which makes his skin spotted," she added.
"The most logical explanation for all his issues is that his immune system does not work properly and isn't able to fight off disease or infection, like a healthy dog would. The vets suspect he might have some type of autoimmune disease, but we have never been able to diagnose anything officially."
Jax's teeth were removed in two phases; the first lot aged 1, and the second lot when he was 2.
However, Smith said that being a toothless dog doesn't keep Jax from doing much, and it certainly doesn't get him down.
"Jax developed severe dental disease as a 1-year-old, and the dog dentist thinks this is a result of not being able to fight off the normal bacteria that enters the mouth. We tried everything to save his teeth, but nothing worked." she said.
"After he had the teeth removed, he was much happier and healthier. He even gained some healthy weight back, which made us realize it was the best decision for him to be without his teeth."
Smith said: "Overall, he's a very happy dog without his teeth, and it doesn't keep him from much. He can't play tug of war anymore, and can't chew bones, but that's it. He still loves playing with toys, can carry things in his mouth, and eats great."
Since sharing the story of Jax's "iconic" tongue lolling out of his mouth, Smith now hopes to encourage other dog owners to trust their instincts about what's best for their pup's health.
Smith added: "Jax has gotten so much love from the video. He always had his iconic tongue out, so I started posting about him in the hopes that it would bring other people joy like it does for us.
"I also hope our story can inspire people to trust themselves to make the best healthcare decisions for their animals. It was so hard to make the decision to get his teeth removed at such a young age, but his health and happiness now has confirmed that it was the best thing for him."
Hundreds of TikTok users commented on the video to express their love and admiration for Jax. One person wrote: "Jax is so adorable! What a sweet story, so glad he's a happy pup and well loved."
Another TikTok user posted: "Jax you are so handsome! Don't let anyone tell you different."
Do you have funny and adorable videos or pictures of your pet you want to share? Send them to life@newsweek.com with some details about your best friend, and they could appear in our Pet of the Week lineup.