Adults over 65 years old need to be prioritized for the COVID-19 vaccine, and essential workers should be wearing N95 masks, according to one of the nation's top epidemiologists.
"If you look at the amount of vaccine we have coming into the system every day, you look at how the vaccine's being used, in fact 30 million out of the 54 million individuals 65 years of age and older in the United States will not have a drop of vaccine before April," Dr. Michael Osterholm said in an interview on PBS' Firing Line With Margaret Hoover that aired Friday.
Osterholm, who directs the Center for Infectious Disease Research and Policy at the University of Minnesota, said that he would like for every teacher to receive a vaccine. But "for the sake of this B.1.1 surge," he wants to see Americans older than 65 get vaccinated first.
He added his "immediate concern" is U.S. hospitals being overrun with a spike in cases of the U.K. variant. And despite the ongoing debate whether or not reopen schools before teachers are vaccinated, he upheld the "unpopular" opinion that older adults must get vaccinated before teachers or essential workers. Osterholm stood by evidence that schools, especially for young kids, can safely reopen without teachers getting vaccinated: "Please get as many of our 65-year-olds and older vaccinated."
Osterholm responded "absolutely" when show host Margaret Hoover asked if individuals who own N95 masks should be using them, especially if they are an essential worker who does not have the "luxury" of working remotely. He added that guidance on protection from the virus needs to be updated in order to protect these vulnerable worker categories.
"I think the real message here... is that we need the federal government to, really, update their recommendations on respiratory protection and, in a sense, bring them in to the 21st century," Osterholm said. He specifically pointed out the prevailing belief among experts that aerosols are important for transmission of COVID-19.
"it's not just the big droplets that occur nearby," Osterholm said. "What we need, really, right now, is, for [Occupational Health and Safety Administration] to do its job, [Centers for Disease Control and Prevention] has to do its job. And for CDC to do its job, it has to look at all this data and, I believe, come up with recommendations that say that this type of aerosol or airborne transmission is really very important."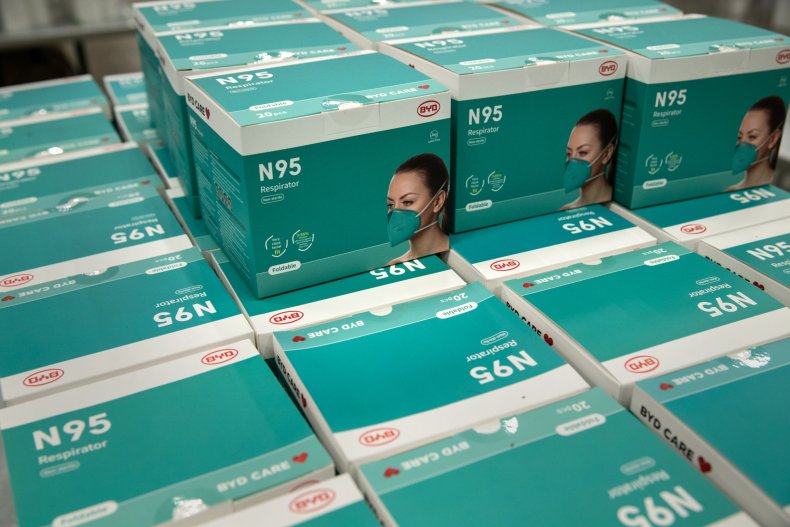 Nearly 2 million Americans received vaccines on Friday and the country's vaccination process is gaining momentum, according to an update from the Biden administration. White House Senior Advisor Andy Slavitt said on CNN on Friday that states will receive more doses of the COVID-19 vaccines than they "ever have received before" within the next week.
The delivery of about 6 million vaccine doses have been delayed due to severe winter weather, Slavitt said, impacting all 50 states.
Osterholm concluded by saying COVID-19 is a "chronic issue" alike the HIV virus that likely won't completely go away.
"This is really a big one, for certain, but it's almost a totally different kind of big one in that I don't have the hope, like I might with influenza, that it would one day attenuate or become less serious and no longer be the pandemic risk," he said.
"This one, I think, is gonna be with us for a long, long time."
Newsweek has reached out to OSHA and CDC for comment.