These Are the Top 10 2020 Conflicts to Worry About, and the U.S. Is One of Them, Report Says
A leading conflict monitor has identified the top 10 areas of international concern and the United States is one of them, owing to nationwide bouts of unrest between protesters and authorities, a pandemic-induced recession and a politically charged climate ahead of a presidential election.
The Armed Conflict Location & Event Data Project (ACLED) first predicted at the beginning of the year in their January "10 Conflicts to Worry About in 2020" report that "violent political instability is on the rise in the U,S," and that such hyperpartisan trends were "likely to intensify around the 2020 general election." Almost seven months later, the U.S. again makes the list in a mid-year update that finds "these existing risks were compounded by the social and economic fallout of the COVID-19 pandemic and an unprecedented wave of demonstrations sparked by the police killing of George Floyd."
While neither the sheer impact of the new coronavirus nor Floyd's death could not have been foreseen in January, these issues have been exacerbated by underlying divisions within U.S. society.
Now, "[b]oth developments have shattered the status quo ahead of the 2020 general election, simultaneously creating profound opportunities for change alongside new flashpoints for state repression, extremist attacks, militia clashes, and other forms of political violence," according to the new report published Tuesday.
Roudabeh Kishi, director of research and innovation at ACLED, explained what her team observed throughout the year.
"At the start of the year, we identified serious risks of political violence and unrest in the U.S., but the current state of affairs has definitely exceeded our initial forecasts," Kishi told Newsweek. "The onset of the COVID-19 pandemic and the massive surge in Black Lives Matter demonstrations significantly disrupted the political environment, amplifying existing risk factors even as they created new ones."
"The health crisis has been a major driver of unrest through its disastrous effect on the economy as well as its impact on daily life, while the BLM protest movement has triggered violent responses from both state and non-state actors alike," she added. "Ever-increasing polarization has only exacerbated the reactions to these drivers."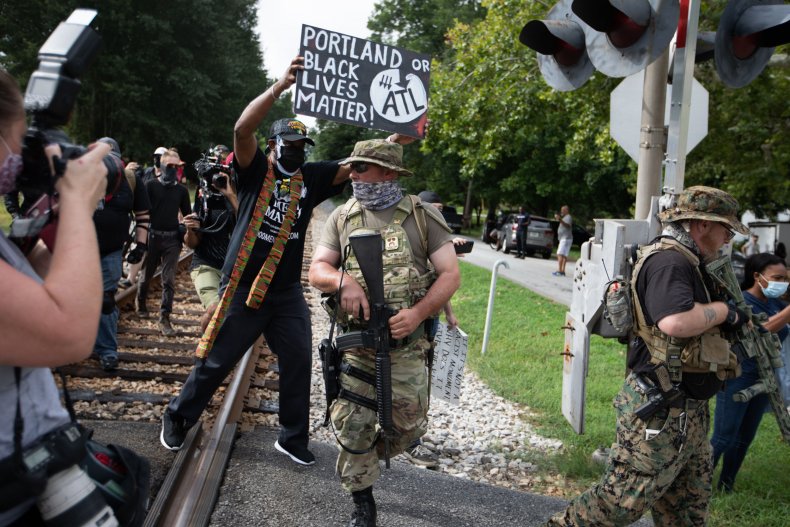 The U.S. shares the ACLED's list with insurgencies and unrest in Africa's Sahel region, cartel-linked violence in Mexico, a five-year civil war in Yemen, domestic tensions and disputes in India, ongoing infighting among factions in Somalia, Iran's overlapping internal and geopolitical crises, continued fighting after a breakdown of peace talks in Afghanistan, fears of fragmentation and clashes between minority groups and authorities in Ethiopia and multiple woes facing economically and politically embattled Lebanon in the wake of a cataclysmic explosion in Beirut.
These areas of global strife have attracted U.S. headlines to varying degrees, but scenes of civil turmoil, destruction and even death have become increasingly prominent at home. During last year's three-month period from July through September, "ACLED recorded more demonstrations in the U.S. than in almost any other country covered in the dataset, with nearly 1,400 events in July 2019 alone."
Events this July alone were up 42 percent, and the level of intervention by state actors has also increased. This involved the use of tear gas, batons and less-than-lethal munitions as well as the targeting of journalists, who have been arrested and fired upon while live on air in certain instances.
Also making their presence known in larger numbers were non-state actors such as militias and armed individuals looking to amplify their ideological leanings from both far-left and far-right backgrounds. ACLED found that the government's deployment of federal paramilitary forces would likely only further incite these groups, however, especially as concerns persist regarding the upcoming election process amid a pandemic and sharp political divide.
"All of these risks will intensify in the lead-up to the vote, threatening to boil over in November if election results are delayed, inconclusive, or rejected as fraudulent," the report found.
Newsweek recently cited current and former federal officials who expressed concern as to how President Donald Trump's administration may respond to a close election, especially as he wielded the Department of Homeland Security's authority in new ways. These fears were compounded by a recent Government Accountability Office report that ruled Trump's top two DHS appointees were "not legal."
"We wholeheartedly disagree with the GAO's baseless report," a DHS spokesperson told Newsweek before issuing a formal response via an eight-page letter that "shows not only that the GAO's legal reasoning and treatment of the evidence are deeply flawed, but also how the timing and authorship of the opinion both reveal it to be a brazenly partisan product issued by supposed nonpartisan agency."
The reaction has done little to assuage concerns from organizations such as ACLED, however, which see developments such as Trump's announcements that "the only way we're going to lose this election is if the election is rigged" and voicing concerns about vote-by-mail fraud amid the pandemic as "doing much to cultivate an environment in which the election outcome will be inevitably mired in controversy," as Kishi told Newsweek.
"This underscores the risk of increased disorder along the lines we have already begun to see, such as a forceful state response to protesters unsatisfied with the election process, or non-state actors and counter-demonstrators violently taking 'justice' into their own hands," she added.